'Tis the season… for violent protests, mass arrests, and the shuttering of stores, museums, and popular tourist destinations in Paris.
On Saturday morning (Dec. 8), more than 200 people were arrested across the French capital, ahead of a fourth weekend of protests by the so-called gilets jaunes ("yellow vests"). Instead of avenues packed with shoppers in the run-up to Christmas, there have been sporadic clashes between protesters and police firing tear gas along the city's famed Champs-Elysées avenue.
Iconic Paris attractions like the Louvre, Eiffel Tower, and Grand Palais are closed for the day, as are stores in central shopping districts, like the Galeries Lafayette department store. Police cordons and checkpoints have been set up in some areas.
The yellow vest protests, which were spawned in opposition to a rise in fuel taxes, has morphed into a movement citing a laundry list of grievances, calling for everything from a higher minimum wage to the removal of president Emmanuel Macron and dissolution of parliament. Last weekend, the protests were particularly violent, with widespread vandalism and car burnings across Paris. The Arc de Triomphe was defaced, spray-painted with an angry message: "We have chopped off heads for less than this," a reference to the death by guillotine of king Louis XVI.
Trying to preempt more violence this weekend, more than 8,000 police, as well as a dozen armored vehicles, have been deployed in Paris, with another 81,000 officers sent throughout the country to try and maintain order. According to reports, the violence today is much reduced compared with last weekend.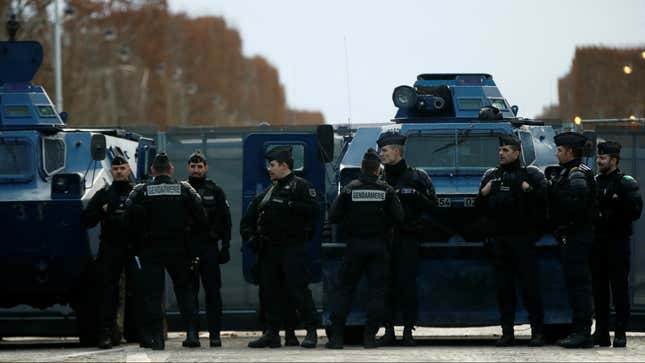 Although Macon has agreed to postpone the fuel-tax increase, the yellow vest movement has maintained its momentum. "The movement has given birth to a monster," interior minister Christophe Castaner said yesterday at a news conference. "Everything leads us to believe that rioters will try to mobilize again." The protests haves no leader and are largely organized via social media. Polls show that a majority of people in France support the protests (link in French).