Microsoft and Lululemon Athletica couldn't be further apart in terms of what they sell, or how they operate. But the two struggling companies share a common problem: Both are in a desperate search for a new CEO, following the pending departures of leaders with big personalities.
And as the share prices of both companies show, the success of the new leaders who fill those vacancies won't just depend on good salesmanship. It will also depend heavily on managing the expectations of investors, whose views of the companies' values rest largely on their opinions of the departing CEOs (Steve Ballmer at Microsoft and Christine Day at Lululemon). Take a look:

Lululemon's next CEO has a tough act to follow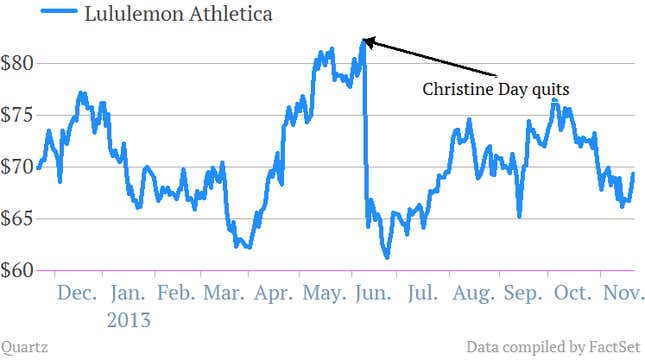 Day, who took the helm at Lululemon in 2008 as a 20-year veteran of Starbucks, is famed on Wall Street for transforming the athletics company into a global powerhouse, which for many reasons is considered a remarkable retail feat. Granted, Day stepped down following an embarrassing see-through pants scandal, but her positive impact on the company remains intact. The company's annual revenue and market value both surged by 500% during her tenure. 

Following that kind of growth won't be easy for the incoming CEO. And her successor has to make up for operational mistakes like these since she announced her resignation, as well as a damaging gaffe by its founder, who tried to blame the company's problems on female body shapes. As a result, the company's most recent earnings represent its first declining profit growth 15 quarters. Sales growth has also declined. Buckingham Research analyst John Zolidis describes Lululemon as a "classic case of a small company that rode a wave of demand, grew too fast, and is over-earning."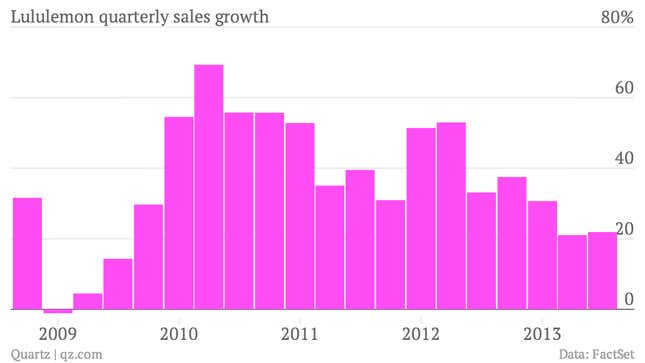 To compensate, the next CEO, Zolidis says, will need to convince investors that sales growth should take a backseat to improving the company's supply chain, distribution and IT systems—investments that won't pay off in the short-term.
Microsoft's next CEO doesn't
As for Microsoft, since outgoing CEO Ballmer announced plans to step aside, the company's shares are up nearly 16% and flirting with their highest levels since the dot-com boom. Microsoft investors couldn't be more eager to welcome the company's third leader in 38 years.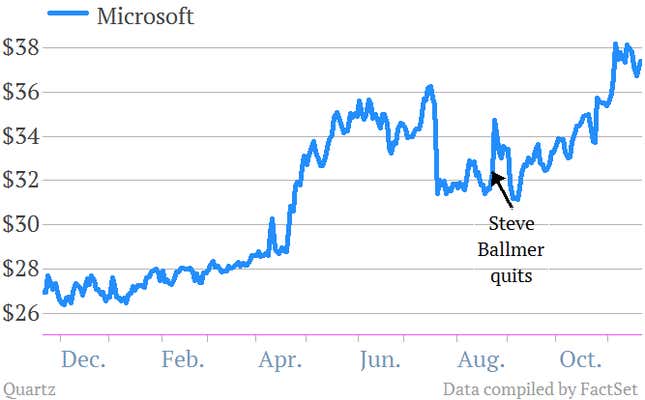 Compared to the challenges ahead at Lululemon, the gig at Microsoft is undeniably much bigger; the company has 26 times the market value and 16 times as many employees. But Ballmer's strategic missteps suggest that the bar for his successor is much lower. In fact, the next CEO at Microsoft is arguably set up nicely to succeed.
Once the undisputed leader of the technology sector, Microsoft became a follower under Ballmer, spending huge sums trying to establish a foothold firstly in online search, and now in consumer devices. The company failed to anticipate the seismic shift away from PCs and into mobile devices, and its Windows operating system and related software is grasping for relevance as Apple's iOS and Google's Android dominate.
Yet, for all Ballmer's mistakes, the company remains highly profitable, with fast-growing and promising enterprise software and cloud computing businesses. And the next CEO will still have a mountain of cash to play with, even after shareholder-friendly initiatives like share buybacks and dividend increases.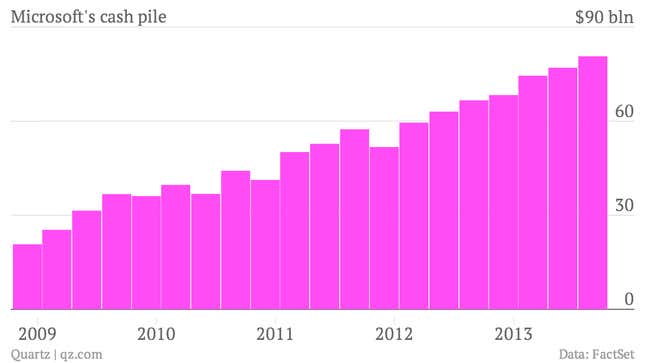 Microsoft's board wants the next CEO to transform the company into more of a devices and services organization. Since recent devices like the Surface tablet have underwhelmed consumers, and represent only a fraction of Microsoft's overall business, the incoming CEO has nowhere to go but up.