Brokerage app Robinhood announced on Dec. 13 that it's rolling out a bank-like checking and savings service that pays surprisingly high 3% interest rates. It seemed like there should be a catch, and now we know what it is: today (Dec. 14), the corporation that Robinhood claimed would protect the accounts says in fact it will do no such thing.
Robinhood had indicated that cash in the accounts would be insured up to $250,000 by the Securities Investor Protection Corporation (SIPC), which offers protection on funds held at broker dealers. However, SIPC president and CEO Stephen Harbeck says the group is meant to insure money in brokerage accounts used for trading and holding stocks and bonds, not cash parked in checking and savings accounts.
"SIPC protects cash that is deposited with a brokerage firm for one limited purpose….the purpose of purchasing securities," Harbeck said in an emailed statement. "Cash deposited for other reasons would not be protected. SIPC does not protect checking and savings accounts since the money has not been deposited for a protected purpose."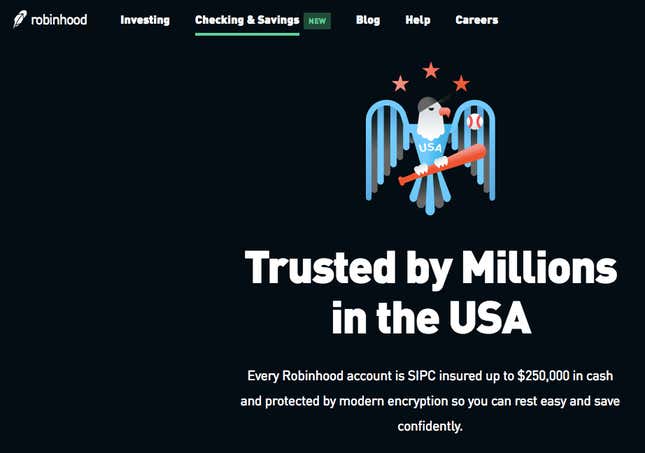 In the US, SIPC is commonly thought of as the brokerage-account equivalent of the Federal Deposit Insurance Corporation (FDIC), which insures traditional bank accounts. But there are key differences, even beyond the types of accounts covered. The FDIC is a federal agency backed by the full faith and credit of the US government. SIPC is a nonprofit membership group. It has stepped in in the past to help investors who had accounts with defunct companies like Lehman Brothers, but protecting checking and savings accounts would fall outside of its remit.
Harbeck told Bloomberg (paywall) that his organization wasn't contacted in advance about Robinhood's new checking and savings service before it was publicly announced.
A spokesperson for Robinhood couldn't immediately be reached for a comment.
Robinhood, which got its start with no-fee brokerage, had said it was starting the savings service on Dec. 13, and payment cards tied to the accounts would begin to ship next month. The Menlo Park, California-based company said it could offer a market-leading interest-rate by investing the money in things like Treasuries and by collecting Mastercard interchange fees—a payment-card levy paid to cardholders' banks by retailers' banks.
Investors should always remember one key piece of advice: If something offers a higher interest rate, it's usually because it's riskier.