It's the most wonderful time of the year!
It's also a particularly dangerous time of the year. From risky roads to nutmeg overdose, there are plenty of ways the holidays might be out to get you.
In fact, researchers that analyzed 25 years of death certificates in the United States found that emergency rooms saw more fatalities on Christmas Day, Boxing Day and New Year's Day than on any other.
Beware of heart attacks
In particular, the holidays see an increase in heart-related deaths. Researchers have noticed this trend again, and again, and again, but there's no clear indication of the reason. Some think high blood pressure, or stress, excess alcohol consumption and rich foods could be the culprit. Others speculate the increase is linked to winter weather. However, a study of heart attacks in New Zealand showed that even when Christmas and New Years are celebrated in summer, a surge in deaths occurs. Here's the chart from that study: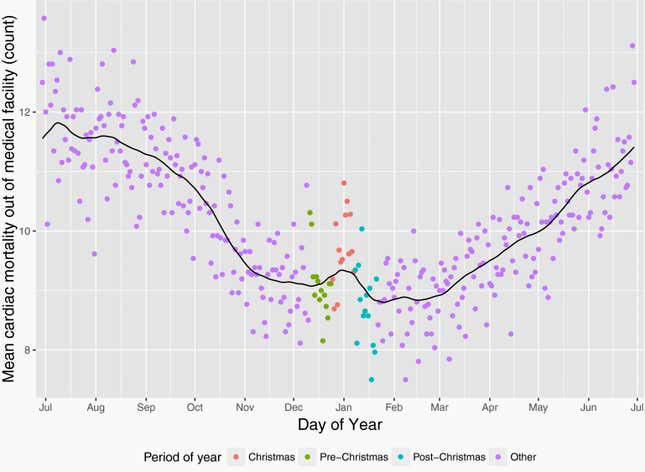 Beware of car crashes
Road injuries and deaths also spike at this time of year. The Insurance Institute for Highway Safety analyzed data on driving deaths between 1986 and 2002 and found that while the majority of dangerous driving days are in the summer, December 23 and January 1 are among the five most fatal. In more recent years, the only day with more car-crash deaths than July 4 (the US's independence day) is January 1 according to a Quartz analysis of US National Highway Traffic Safety data. At least 3,162 people have died in the 24 hours following midnight on New Years Eve between 1994 and 2017.
Beware of feasting
While heavy drinking and over eating can cause heart attacks, choking, and alcohol poisoning—the not-so-innocent nutmeg can also kill you. In large doses this spice of the season can make you very ill. Historically, nutmeg has been used as a recreational drug, and overdose can occur. However it takes eating an uncomfortably large amount to feel its psychological and toxic affects. For this couple, that meant about 10g.
Beware of the tree
In the weeks leading to Christmas, it's tradition to bring a large, highly flammable item into the home. Hence, between 2011 and 2015 U.S. fire departments responded to an average of 200 Christmas-tree fires per year. Intriguingly, data from the National Fire Protection Association show a quarter of those were intentional.
Just beware of… everything
You may fee safe inside, but don't turn your back on your tinsel. A breakdown of the afflictions caused by Christmas-related items in 2017 show an additional range of holiday injuries: from adults falling off light-adorned roofs and dropping artificial trees on toes, to children munching on candy-colored glass bulbs, according to the National Electronic Injury Surveillance System, a repository of consumer-product related injuries that occur in the US.
Also, mistletoe and poinsettias are mildly poisonous. So don't eat them. And maybe just avoid the holidays altogether this year.