Two of its nationals may be under detention in China amid a serious diplomatic fallout, but that hasn't stopped Canada from stirring the hornets' nest over a topic that's particularly taboo.
The Canadian embassy in Beijing yesterday (Dec. 18) posted a message (link in Chinese) marking the 70th anniversary of the Universal Declaration of Human Rights on Dec. 10 on its account on social network Weibo. But the post—which comes amid a particularly tense time in relations between Ottawa and Beijing—went on to say that Dec. 10 also marked the 10th anniversary of "an equally important document" that was "drafted by a writer who later won the Nobel Peace Prize." The embassy invited Chinese readers to guess whether they knew who that figure was, with an added hint: "The person drew his inspiration from the works of [Czech dissident] Vaclav Havel, the person pictured here."
The post, which remains up as of today (Dec. 19), has over 1,000 likes, but users are no longer able to view the 1,300 or so comments that were left on the post.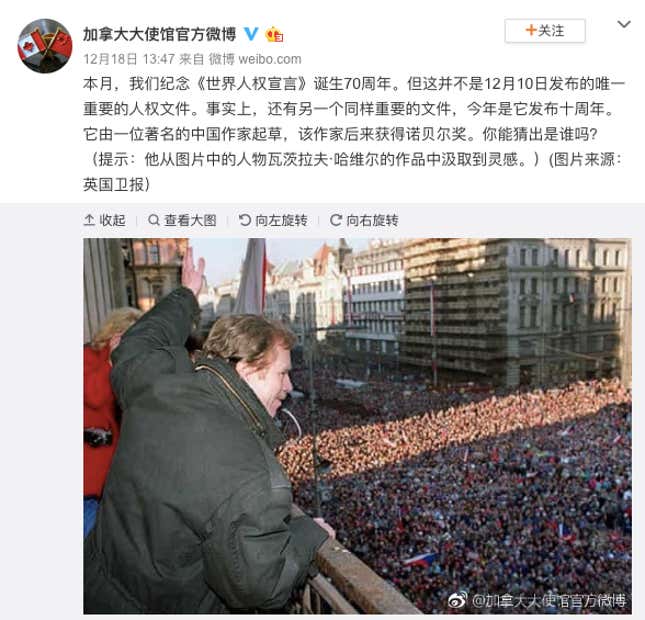 The post was referring to Charter 08, which called on the Chinese state to fundamentally change its character and abandon one-party rule. Signed by more than 300 democracy activists in 2008, the charter was co-authored by the late Liu Xiaobo, who died of liver cancer at age 61 in 2017 while in Chinese custody. He was tried for subversion and convicted in 2009 for writing seven sentences, a total of 224 Chinese characters, and given an 11-year sentence. He was awarded the Nobel Peace Prize in 2010.
On the first anniversary of Liu's death in July, Canadian foreign minister Chrystia Freeland released a statement marking the occasion and expressing support for his widow, Liu Xia, who now lives in Germany thanks to behind-the-scenes efforts by German diplomats to secure her exit from China.
At the Nobel ceremony in Oslo (video), the medal and diploma were placed on an empty chair as Liu was in prison. Norwegian actress Liv Ullmann read the statement Liu had written prior to his sentencing: "I have no enemies and no hatred."
Following the Nobel Peace Prize ceremony, Norway was punished economically and diplomatically by China for years, and Beijing—embroiled in a spat with Ottawa after Huawei chief financial officer Meng Wanzhou was arrested this month in Vancouver—has warned of "serious consequences" for Canada. In the weeks since the arrest, two Canadian nationals—a former diplomat and a businessman—were detained on the grounds of conducting activities that jeopardized China's national security. Meng has been granted bail, and the two Canadians, Michael Kovrig and Michael Spavor, have been visited by Canadian diplomats.