Donald Trump is so desperate for $5 billion to build a wall on the US's southern border that he will shut the government days ahead of Christmas to get it, the latest news out of Congress suggests.  But the president's supporters are already chipping in in case that doesn't work, thanks to a crowdfunding campaign started by a military veteran who previously crowdsourced money for  Brett Kavanaugh.
Brian Kolfage, an Air Force veteran and three-time amputee with a purple heart for his service, set up a page this week on popular crowdfunding site GoFundMe. Called We The People Will Fund The Wall, it asks the president's supporters to donate $1 billion, explaining that "if the 63 million people who voted for Trump each pledge $80, we can build the wall."  That would equal "roughly $5 billion dollars," he writes. "Even if we get half, that's half the wall. We can do this."
(Kolfage's assertion about the cost of the wall is incorrect—the entire thing is estimated to cost nearly $20 billion; Trump was originally looking for $5 billion in this year's spending bill to start building).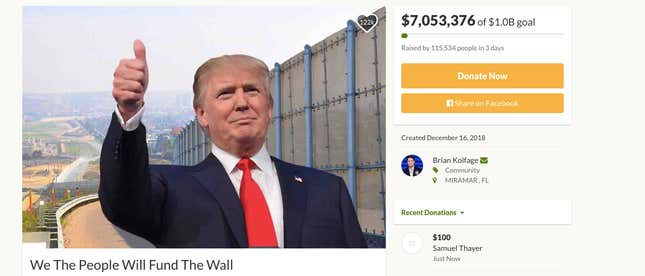 Three days after the campaign started (on Dec. 18), over 115,500 people have donated a collective $8.7 million (and counting) to the cause, many of them in $5 increments. Kolfage promises he's not scamming them, and offered up his home address for check donations. "People who try to scam you will not be upfront with their information, they will hide and not use their name," writes Kolfage, who also adds that he has a website and has been on Fox News.
Kolfage was on Laura Ingraham's program on Fox in October of this year, after he claimed a news page he ran on Facebook, Right Wing News, was taken down by the social media company. The story was picked up by Fox & Friends as well. In his Ingraham appearance, Kolfage noted he had "raised over $600,000 for Justice Kavanaugh with John Hawkins," who founded Right Wing News. (According to the crowdfunding page for Kavanaugh the campaign now closed short of $500,000, after some people withdrew money due to the change of beneficiary).
Hawkins started a Go Fund Me for Kavanaugh around the time of his contentious nomination hearings that initially raised about $600,000; when Kavanaugh said he couldn't accept the money, Hawkins pledged to donate it to the Catholic Archdiocese of Washington DC. Quartz's calls to the Archdiocese were unanswered late on Thursday afternoon, so it unclear if they received the cash.
What will happen to the money that Kolfage has raised for the wall? That's a bit murky. "We have contacted the Trump Administration to secure a point of contact where all the funds will go upon completion," his Go Fund Me entry claims, adding "we have many very high level contacts already helping." If the goal of $1 billion is not achieved "we will refund every single penny," he writes. Kolfage, who also launched another GoFundMe for a "legal investigation into Facebook" on Oct. 20, did immediately respond to Quartz's emailed questions.
When the fundraising effort will end is also not yet clear. What is, however, is where the money will be kept until it is spent on the wall: "We will hold all funds and not release a single penny until we have all legal aspects covered," the page reads. There are no clarification as to who the "we" in the description is.
GoFundMe's rules prevent fraudulent use of the pages, which includes mention of "content or campaigns that are fraudulent, misleading, inaccurate, dishonest, or impossible." But Kolfage has no legal requirement to donate, return, or show accountability for the money he raises, so long as he keeps the terms of his fundraising as vague as they are (he doesn't mention deadlines for returning money, for instance, or specific ways in which it will be donated). As the Kavanaugh precedent shows, pages that change the target of their donations aren't necessarily penalized.
The #FundTheWall campaign has no clear path to donate the money, and there's little chance that individual Americans will raise the $20 billion needed for the entire wall; however GoFundMe is currently featuring it on its home page.