Feeling bombarded with video ads whenever you go online? Get used to it, because the online video advertising revolution has only just begun.
New research from Macquarie Equities suggests the potential of video for delivering ads online is still largely untapped. And 2014 could be a watershed year. Facebook is expected to embed videos into its users' news feeds after running trials throughout 2013.
Online ads are more effective than traditional TV commercials, Macquarie argues. They are more memorable and more likable; a study by the Interactive Advertising Bureau and Nielsen says viewers are twice as likely to enjoy an online ad, and to remember the brand and message, as with a TV ad. (A UK study by YouGov two years ago reached a different conclusion, but agencies may since have gotten better at crafting ads for online audiences.)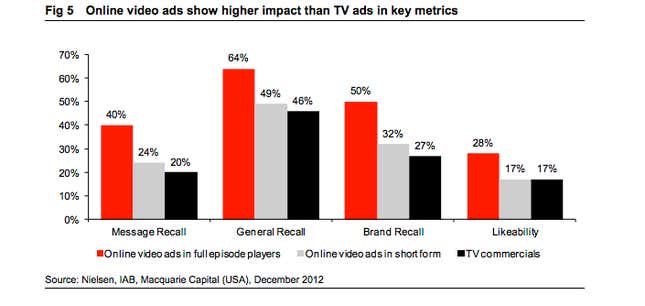 What's not in dispute is the fact that it's much easier for advertisers to target specific audiences online. New forms of ad trading like "programmatic buying" allow advertisers to bid for individual users instead of broadcasting a TV ad to an entire city or country, or buying space all across a website or in every copy of a newspaper. That makes their spending, in theory, more efficient.
Yet, despite these advantages, advertisers have been slower to move online than their audiences. Desktops, laptops, mobile phones and tablets now account for some 42% of all time spent consuming content, Macquarie found, but attract only 27.9% of total US ad spending. In contrast, traditional TV has 38.4% of the viewing time and 42.1% of the ad dollars, while print media has less than 5% of the time spent, but still captures nearly 20% of the dollars.
Macquarie expects online video to rip ad dollars away from both print and TV and to be the fastest growing segment of the industry for the next five years. Online video is also likely to lure dollars away from traditional, static online ads, which yield questionable results.  If that's right, Google (through YouTube) and Facebook are best placed to benefit. Their reach online is bigger than anyone else's, and it's approaching the power of TV: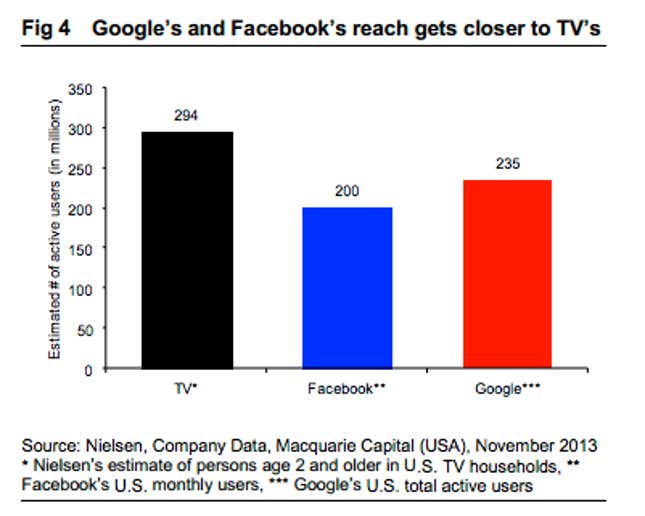 Which means when you log into Facebook or search for something on YouTube, expect to be met with more and more video ads, tailored specially for you.