MoviePass is getting desperate.
"TIME IS RUNNING OUT 🎁 Up to 53% off MoviePass Select Plans," MoviePass emailed me on Dec. 23, one of 16 emails it has sent me, a former subscriber, since the start of this month. Other subject line snippets include "There's Still Time" (Dec. 20) and "GET IT BEFORE IT'S GONE" (also Dec. 23).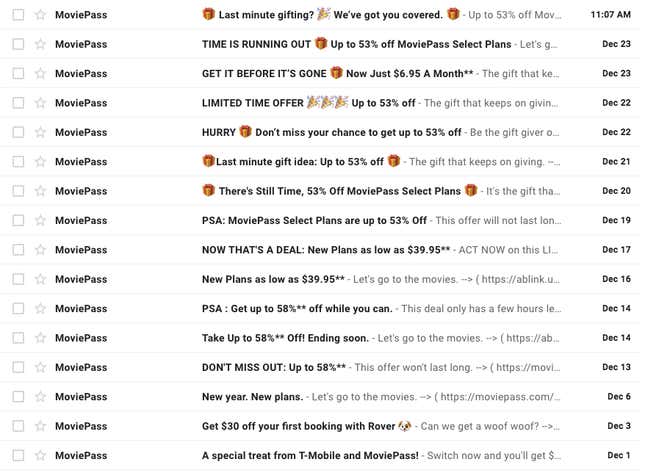 MoviePass was warning about the 53% off deal, but it might as well have been describing itself. Helios and Matheson, the analytics firm that bought MoviePass earlier this year, is quite literally running out of time. The company has been reduced to the wannest of penny stocks, closing Dec. 24 at $0.01 per share. It was crippled by MoviePass's popular and brutally unprofitable $9.95-a-month plan—which let subscribers see one 2D movie in theaters every day—and the debt it assumed in an attempt to keep MoviePass going.
Helios and Matheson is now in imminent danger of being delisted from the Nasdaq. On Dec. 19, the company was notified by Nasdaq that it had failed to lift its stock price above $1 per share over a 180-day period, and that Nasdaq had deemed Helios and Matheson unable to "cure the deficiency" in its stock price. Barring an appeal by Helios and Matheson, Nasdaq said, its stock would be delisted and suspended from trading on Dec. 28.
MoviePass curtailed and then abandoned its $9.95 plan over the past few months, finally introducing three new plans at tiered prices on Dec. 6. The highest tier "red carpet" plan includes any three movies per month, including opening weekends, and one showing in a premium format such as IMAX or 3D. It starts at $19.95 a month. From a business perspective, the pricing is much more reasonable. But compared to what MoviePass used to offer, it's no wonder the company is having trouble getting customers to come back.