Light-sensitive film was a technical achievement mastered by Americans. It was dominated by once-mighty industrial giant Eastman Kodak for decades. Now, just as film seems on the brink of obsolescence, US film exports are experiencing an unlikely resurgence.
During the first 10 months of 2013 the US exported $273 million-worth of bulk film rolls—the raw material that is cut into the type of film that eventually ends up in cameras and x-ray machines. That's more than the previous three full years combined, and the best January-to-October period since at least 2002, before digital cameras began decimating the film business. Most of it was headed to China.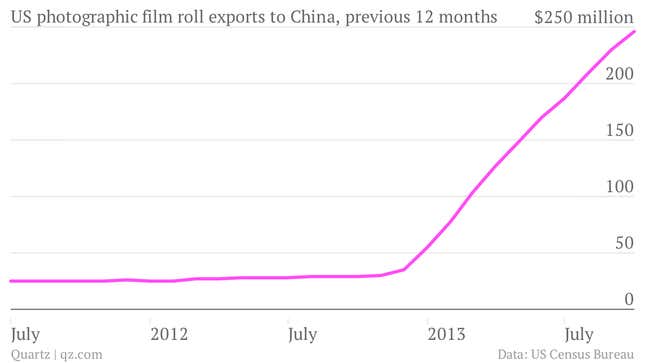 The bulk of this outsized increase in trade was seen at only two ports, both in California: Long Beach and Oakland.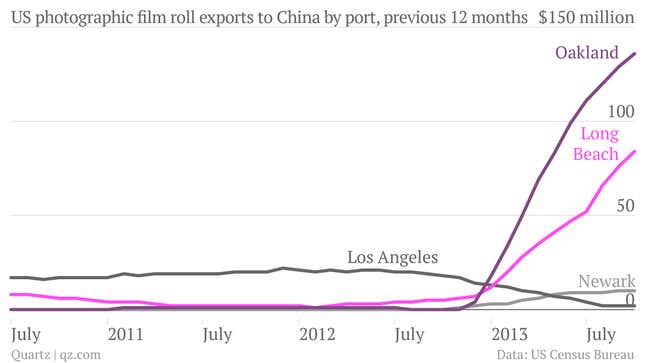 A Quartz analysis of bills of lading at these ports compiled by Zepol shows that 255 of the 467 shipments to China mentioning "film" in 2013 can be traced to Carestream Health. Carestream is a manufacturer of medical films and equipment that was created when Kodak spun off its medical division in a 2007 sale to private equity firm Onex (pdf). Still headquartered in a Rochester, New York building across the street from Kodak, 79 of 152 shipments to China could be connected to the company in the same period in 2012.
Robert Salmon, a spokesman for Carestream, confirmed to Quartz that its business is growing and that China is the largest market for medical films. The film is made in the US, but Salmon said the cutting and packaging happens in China.
Affordable x-rays
China's appetite for film has a lot to do with a landmark reform in 2009, which pledged to provide universal health care. Analog x-ray machines, several times cheaper than the most advanced digital ones, were a cheap and easy way to serve rural areas, where clinics are small enough not to need digital records.
China's rural population alone outnumbers the entire populations of the US and euro zone combined, according to the World Bank, so the health-care reform has created enormous demand for the machines and the film they use. The Chinese market for analog x-ray devices grew 42% from 2008 to 2012 according to GBI Research, while the global market remained flat.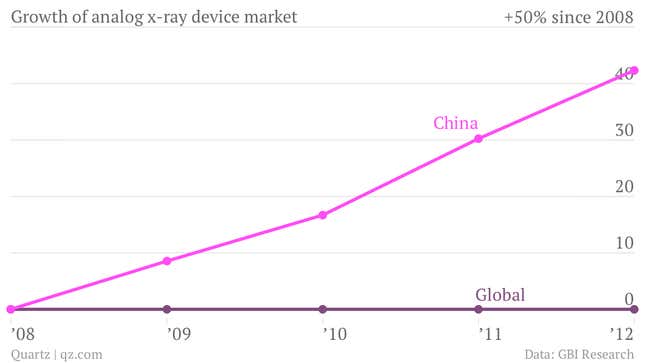 In the developed world the market for analog x-ray machines is effectively defunct, according to Niharika Midha, a diagnostic imaging analyst at GlobalData. In China, however, GlobalData's research counts more than 20,000 hospitals—a figure that is rapidly increasing as a result of the 2009 reform and doesn't include clinics or smaller imaging facilities. Midha estimates there are another 10,000 specialized imaging facilities in China. China's market for analog x-ray is five times larger than the US's, Midha says, and its share of the global analog x-ray market grew by one-third from 2005 to 2012.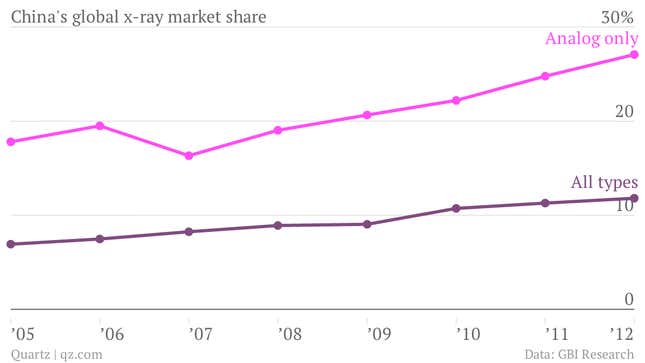 Carestream's growth is in sharp contrast to the rest of the US film manufacturing industry. US exports of photographic film (including x-ray film) have fallen 69% since their peak in 2000, adjusted for inflation.
But Carestream's film bonanza may be short-lived. Analog x-ray machines have a life of only five to seven years. By the time China's devices reach the end of their lives, many Chinese clinics will likely be able to afford to retrofit their analog machines with digital scanners or buy digital systems at the cheaper end of the scale. Luckily for Carestream, the company makes those types of devices too.