Remember the taper? In a US congressional appearance on May 22, Federal Reserve chair Ben Bernanke startled the markets by suggesting the US central bank could start to ease up on its bond buying program "in the next few meetings." That marked a major change from what the bond market had been expecting. As a result, bond prices fell, interest rates—which move in the opposite direction—rose and mortgage rates—which take their cues from bond yields—shot higher. Take a look: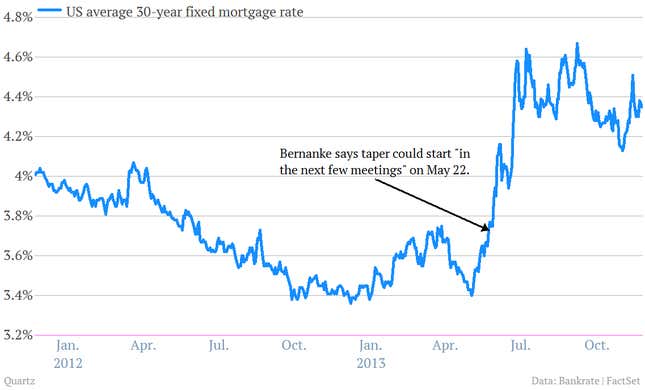 At first, it was unclear if higher mortgage rates would hurt the housing market. In fact, there was something of a surge in new home sales in June as buyers who had been dawdling rushed to lock in low interest rates before they moved even higher.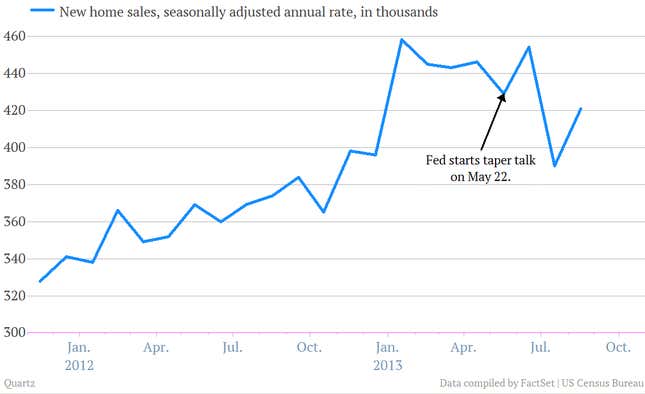 And just released pending home sales data for October also show a fifth-straight monthly decline, as the index fell to its lowest level since last December.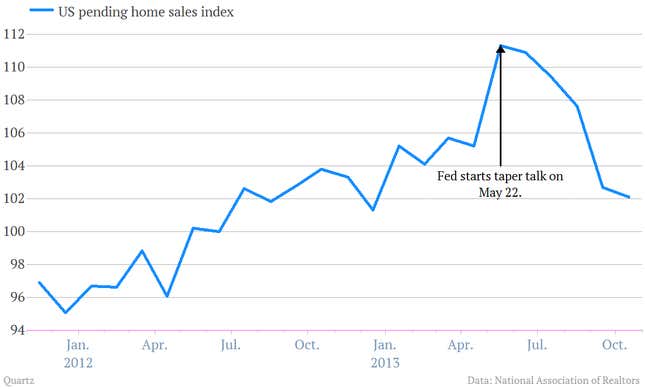 That said, there's no sense prepping for another housing disaster. "With other data showing the recovery in the labor market still on track, and confidence moving up again, we expect home sales to start trending up again in coming months," wrote economist Jim O'Sullivan, of High Frequency Economics, a consultancy.
In fact, the recent softening of housing indicators likely have more to do with the sector cooling off, rather than tanking, after housing went into overdrive for a while. Here's a look at existing home sales, which have continued to clock at an annualized pace of more than 5 million even with higher mortgage rates. (They'd fallen to less than 4 million during the darkest moments of the recession.)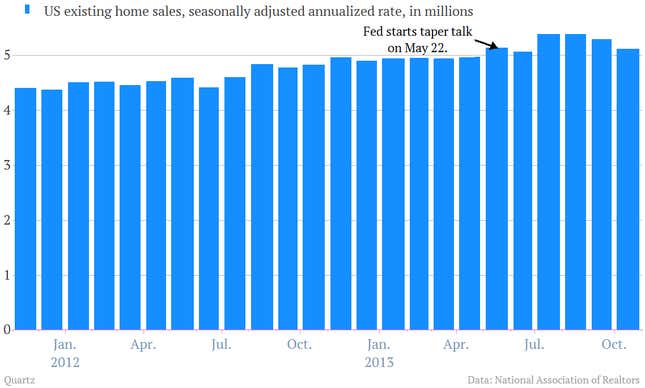 On the other hand, after the Fed worked so long and hard to try to get some movement in the US residential real estate market, it's a bit curious that they'd immediately turn around and douse it with water by talking up the taper. (Especially since the Fed ultimately decided not to start cutting back on its bond buying program in the fall.)