Industry reports from investment banks are turgid things, rarely fit for human consumption. A recent report about big data from boutique bank GP Bullhound, however, contains this gem.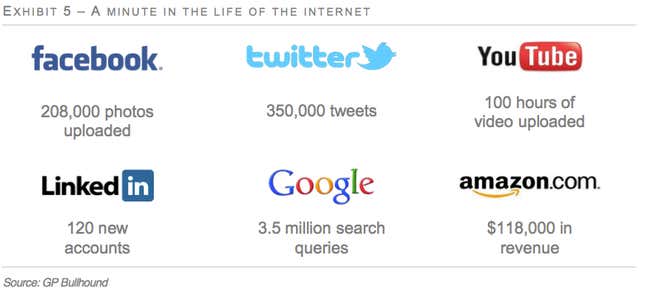 This is not entirely accurate: The number of photos uploaded to Facebook every minute now exceeds 243,000 (pdf, p.33). But it is a wonderful little cross-section of what happens on the biggest, most recognizable services on the internet.
Yet it remains a snapshot. To better understand what these numbers mean, it is worth looking to a similar set of figures released by Intel in March 2012. (Warning: hideous infographic to follow.)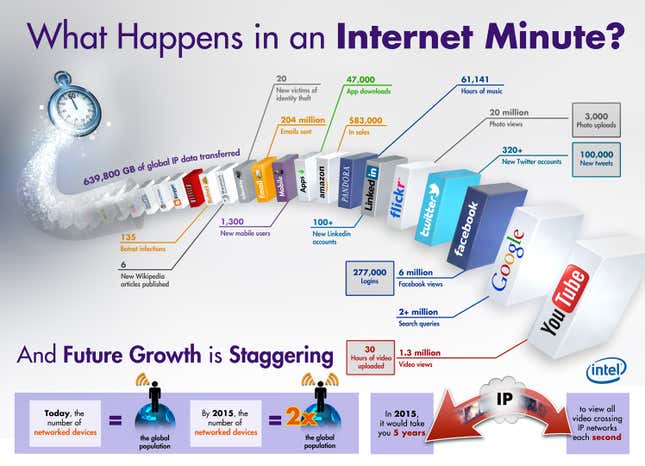 Bear in mind that these are very different metrics. The number of hours uploaded to YouTube can't compare to the number of photos uploaded to Facebook because the former could very well come from fewer, longer videos. And some numbers are missing, though they can be found elsewhere. Still, the two sets of numbers make for an interesting comparison.
Here's how they came out:

Expressed in terms of percentage growth, one minute on the internet has grown along these lines: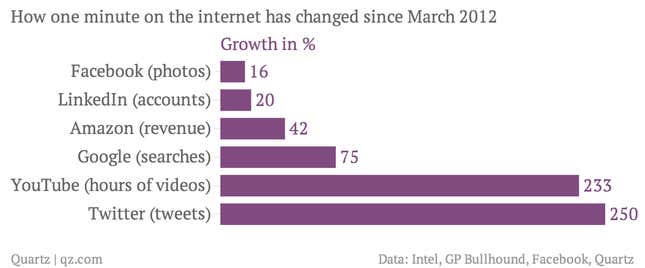 One reason the internet minute is now richer is simply that there are more people online (Excel file). The proportion of the global population using the internet rose three percentage points to 38.8% this year. More significantly, average global broadband speeds are up 17% on last year. Together, those two things mean that more people than ever are searching, uploading, networking and buying. As Google and Facebook continue their campaigns to bring the rest of the world online, expect the internet minute to get denser—and the revenues of the world's biggest internet businesses to grow larger.