Where does Europe end? Geographically, this is an easy question to answer. Geopolitically, not so much.
The European Union's "Eastern Partnership" initiative was launched in 2009 to bring six post-Soviet countries—Armenia, Azerbaijan, Belarus, Georgia, Moldova and Ukraine—closer to the EU, primarily via trade agreements. The outcome, to be unveiled at a summit in Lithuania later this week, has been disappointing. In September Armenia broke off talks with the EU and announced that it would join the nascent Eurasian Customs Union, alongside Belarus, Kazakhstan and the group's paymaster, Russia. Last week, Ukraine did the same—a much bigger blow to the EU's ambitions, given Ukraine's size, mineral wealth and strategic position. Now, only tiny Georgia and Moldova are expected to sign trade agreements with the EU this week.
Ukraine's U-turn sparked huge protests in Kiev over the weekend. As many as 100,000 people took to the streets on Nov. 24 in favor of closer integration with the EU. Sporadic clashes between dwindling ranks of protestors and police are continuing; jailed opposition leader Yulia Tymoshenko announced a hunger strike yesterday (Nov. 25).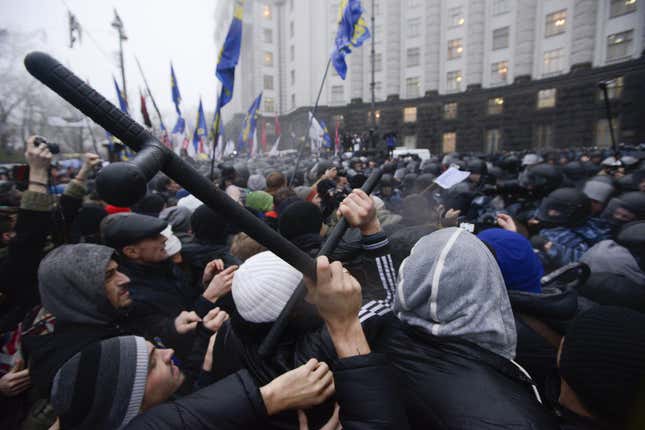 In an unusually blunt statement (pdf), the heads of the European Council and European Commission condemned Russia's threats of retaliation against Ukraine if it signed a deal with the EU. Russia blocked imports of Ukranian chocolate in July, the equivalent of an economic warning shot; a heavier broadside could mean Russia cutting off Ukraine's gas supplies.
That threat, as well Russian support for Ukraine's flailing economy, means staying close to Russia was probably a better short-term bet for Ukrainian president Viktor Yanukovych. He is no doubt also counting on Moscow's support when he faces re-election in 2015.
For the EU, however, Ukraine is just the latest in a series of setbacks to further enlargement. Croatia became the EU's 28th member earlier this year, after a decade of negotiations, but few expect the other official candidates to join any time soon. Iceland is no longer interested, Macedonia's bid is stuck over dispute about its name, and Turkey's prospects look as distant as ever.
Meanwhile, anti-EU political parties are growing in strength inside the union, aiming to dismantle its institutions from within. Brits are evenly split on how to vote in a promised referendum on EU membership. Now that Russia is pulling other potential members into its orbit, the EU could be about as likely to shrink in the next few years as it is to grow.