Step into the shoes of a US government employee. Just days before Christmas, you learn that the federal government will shut down. The agency you work for will no longer be funded, the immediate future of your salary is uncertain, and now you're tasked with informing the public online before the lights go out.
Looking at the varied collection of federal agency website alerts, you can almost imagine the emotions of the people who had to make them.
Alarmed
USA.gov's pop-up notice not-so-subtly suggests there's no need to panic. But if you want to panic, feel free.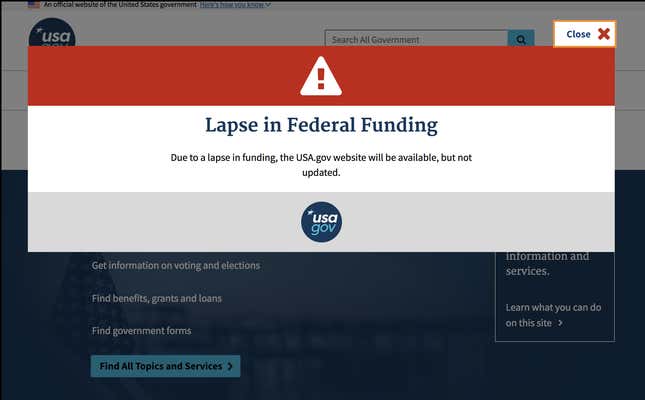 Concerned
The National Archives are also wary, but really hope you don't worry: After all, the Ronald Reagan Museum and the George W. Bush Museum remain open for business.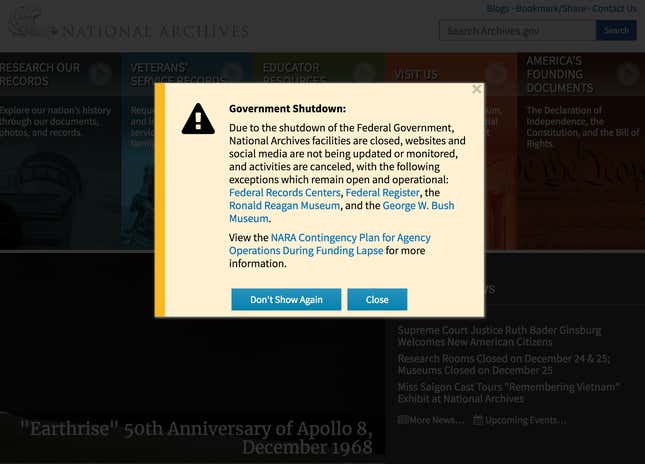 Keeping calm and carrying on (panicked but on the inside)
What would Good Housekeeping do? When the U.S. Small Business Administration is down, they subdue the panic with style. The yellow alert bar matches the lemons and the shutdown notice is but a "special announcement."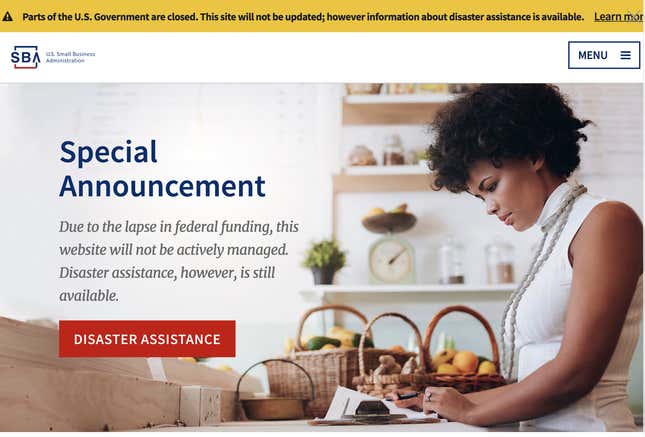 Indecisive
Overheard at the National Institute of Standards and Technology:
— Where shall we put the shutdown notice? We really don't want anyone to miss it. A banner? No, an alert bar. Or, perhaps in an article box?
— Just put it everywhere.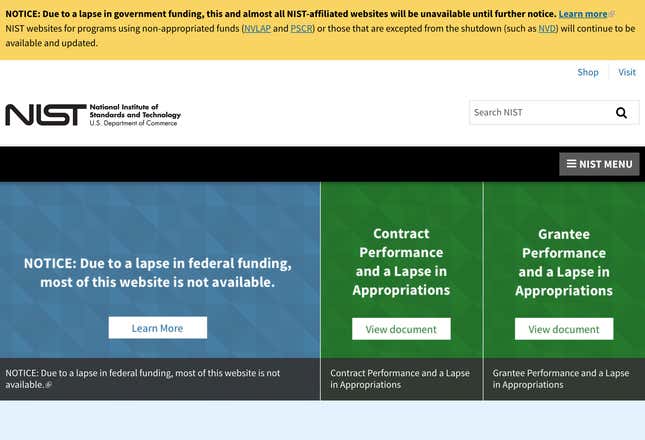 Indifferent
For Homeland Security it's just another day, just another information bar.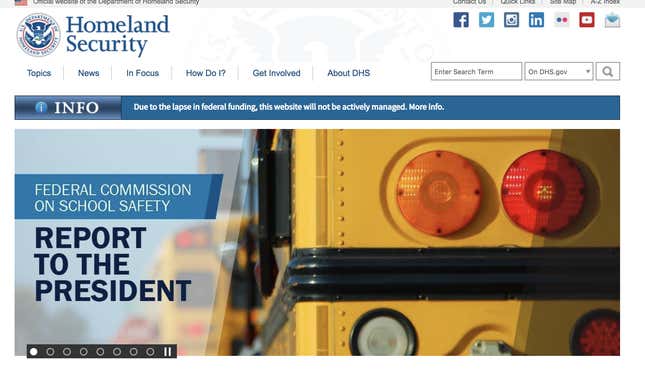 In it for the art
The National Oceanic and Atmospheric Administration's website was already beauty incarnate. Then came the alert banner. The orange couldn't be more perfect. The symbol has a slight bevel; the importance of the information reflects the hierarchy of the typeface. Friend, your attention to detail has not gone unnoticed.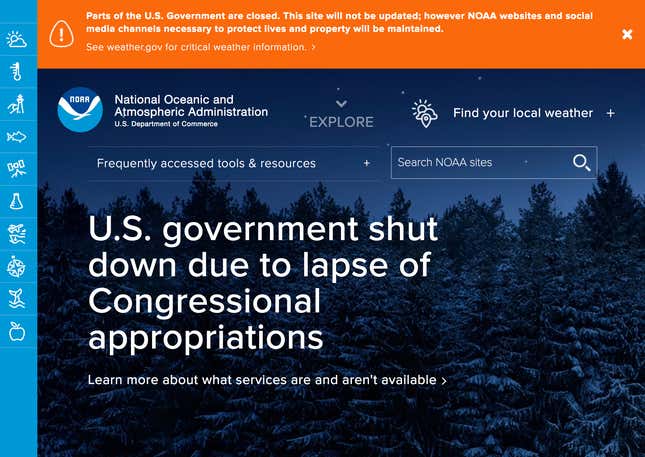 Practical
The Bureau of Industry and Security knows three things to be true: 1) The website is not being updated 2) They're part of the Department of Commerce 3) Some people just gotta print.
This is now on my fridge.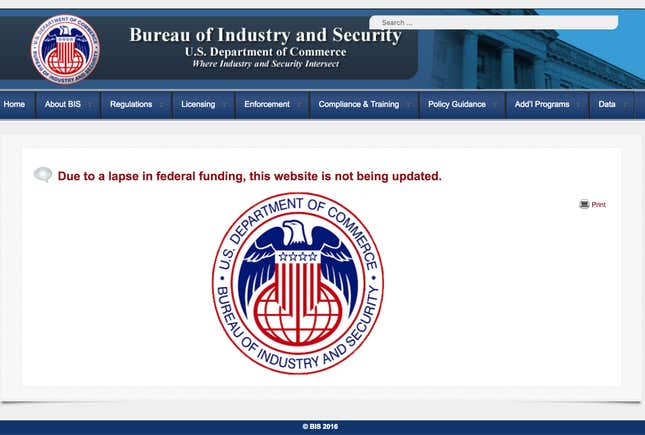 Over it
The Economic Development Administration is already over it. Let's just put the thing up. Wrong red; illegible text. Done. Let's all go home.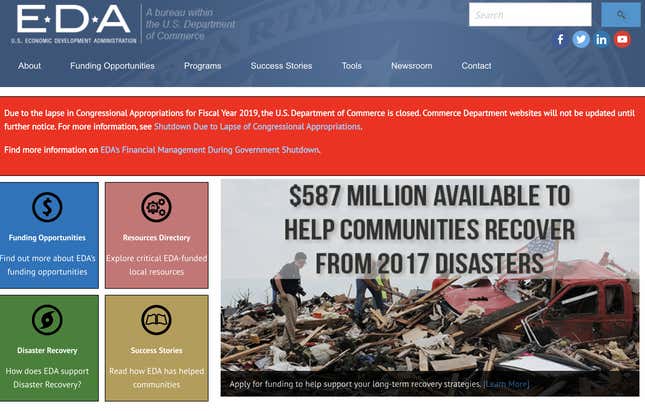 Indignant
You want a shutdown? I'll give you a shutdown.
The International Trade Administration shutdown notice is one part indignant protest, one part cry of existential anxiety, and one part brutalist art piece.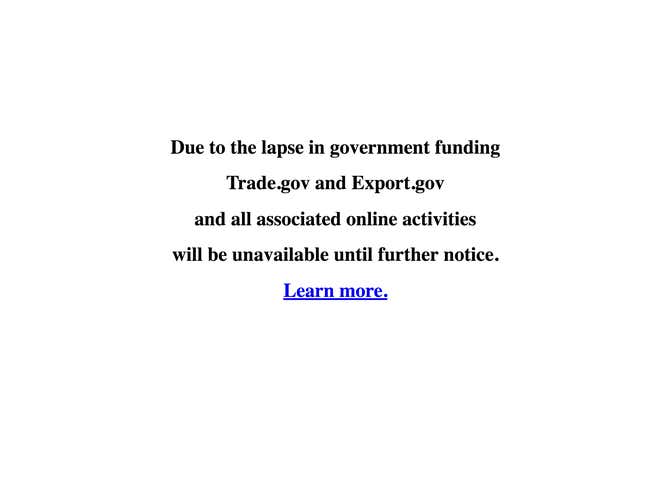 Proud
Wait … proud?
Hey United States Patent Office? No need to brag.