Peppa Pig, once namechecked by the Chinese government for being too "gangster," will now be ushering in the Lunar New Year in 2019 on the big screen in the Year of the Pig.
A feature film starring the British cartoon icon, translated as Peppa Pig Celebrates Chinese New Year, will hit theaters in China on Feb. 5, the first day of the holiday. The film is a co-production between Entertainment One, which holds the rights to Peppa Pig, and China's Alibaba Pictures, and according to a recently released trailer (link in Chinese), it tells a story of how two Chinese children—and their friend Peppa—celebrate the festival with their families.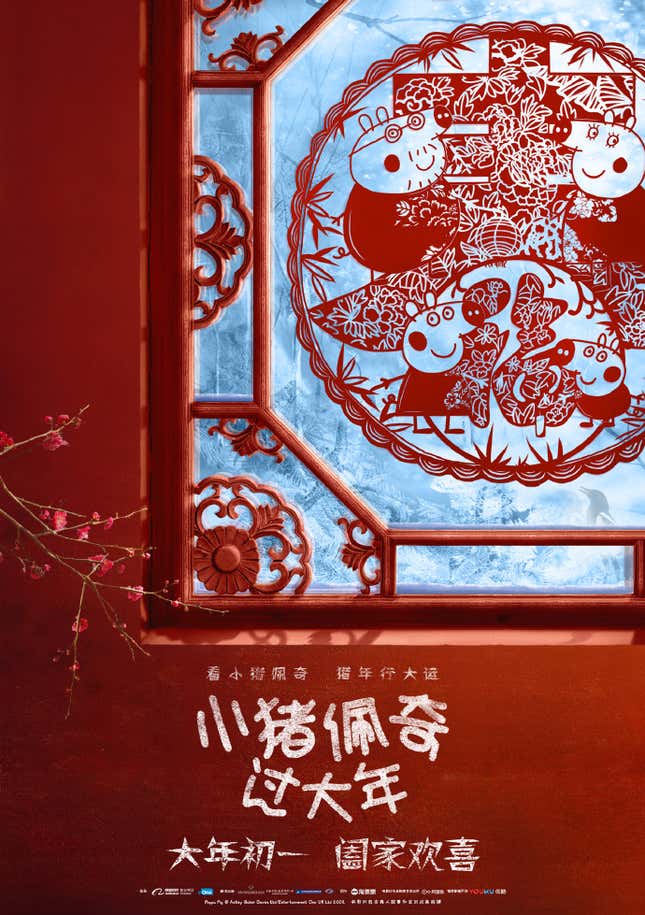 In the film, Peppa, who speaks Mandarin—and appears in her original un-gangster-like self—is friends with two children nicknamed Jiaozi (dumplings) and Tangyuan (glutinous rice ball), both foods traditionally eaten during the festival. She is tasked with getting Jiaozi, a three-year-old boy, out of bed, after both fireworks and a dog failed to do so. The family's home, meanwhile is decorated with Peppa Pig paraphernalia, including paper cuttings welcoming the new year.
The film marks the full rehabilitation of Peppa Pig, which had a tumultuous 2018 in China after its image was remade on the internet by fans into a shehuiren—a Chinese slang term meaning "gangster." Images of the pig smoking while adorning gold necklaces, sunglasses, and tattoos proliferated on Chinese social media, and became a symbol of living an unconstrained life free of societal pressures. Peppa Pig's gangster transformation quickly caught the attention of the Chinese government, with state media calling the pig "subversive," while videos of Peppa mysteriously disappeared for a while from Douyin, one of China's biggest streaming platforms.