Sometimes it seems like New Year's resolutions are made to be broken. For people weighing whether to delete Facebook in 2019, that's especially true on the last day of the year, when a digital tsunami of messages blasts through Facebook's servers as the clock strikes midnight across timezones.
Facebook Messenger's 1.3 billion users send more greetings, gifs, videos, and emojis on New Year's Eve than any other day of the year. The company won't disclose how much traffic specifically flows through its systems on NYE, but it's a lot: Facebook's apps process on average more than 100 billion (pdf) messages each day. The company says Messenger, its second-most popular service behind WhatsApp, is more popular than SMS messaging ever was.
But as 2018 winds down, a growing number of people have their doubts about the social network. Some have simply drifted away, while others are alarmed at the way Facebook-collected data has been used for everything from election manipulation to inciting genocidal violence in Myanmar. (Getting rid of the Facebook app and Messenger isn't enough. To fully rid the company from your life, you have to delete WhatsApp, and Instagram, too.)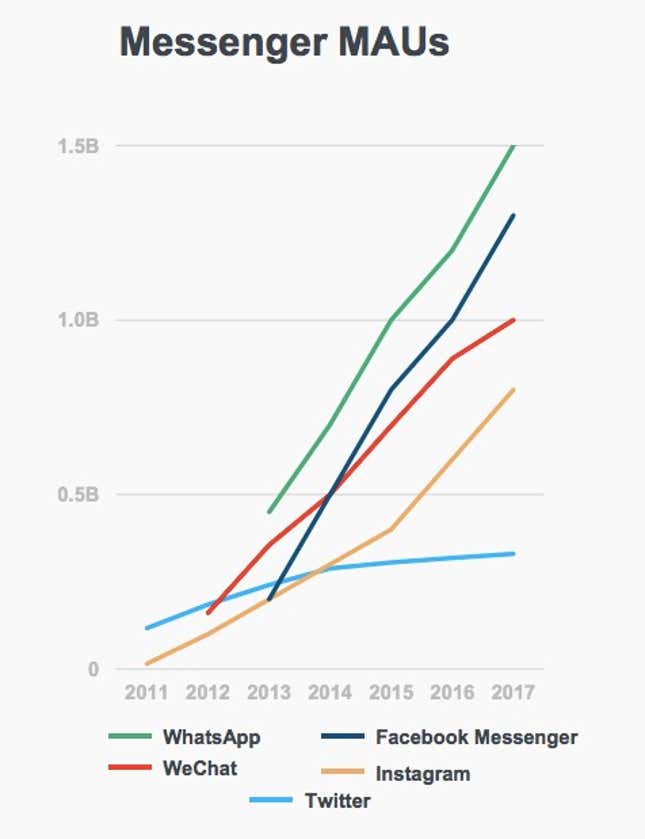 And as the backlash grows, there are signs that Facebook's message platforms are becoming more important.
"People share more photos, videos and links on WhatsApp and Messenger than they do on social networks," Facebook founder and CEO Mark Zuckerberg said in an October earnings conference call. "People feel more comfortable being themselves when they know their content will only be seen by a smaller group and when their content won't stick around forever. Messaging and stories make up the vast majority of growth in the sharing that we're seeing." It's worth noting that Facebook-user messages haven't always been kept private from companies like Spotify and Netflix, according to a New York Times report (paywall).
After a year of relentless negative press, Facebook needs to get its messaging business off to a good start in 2019 on day one. That starts with keeping the system from crashing on its busiest day of the year. To do so, a small team of engineers in New York does extensive load testing in advance to try to simulate the barrage of NYE messages, according to IEEE Spectrum magazine. The goal is to make sure users can can send and receive messages in 100 milliseconds or less—about the same amount of time needed to bat an eye.
The system is highly complex. Users can set up large group chats, and also receive a digital receipt each time a message is sent, delivered, or read, which multiplies the total number of messages that have to processed. They're more likely to send videos and photos on NYE as well.
A risk is that the system slows down and users resend their NYE tidings, piling even more traffic into a system that's already laboring to keep up.
If all hell begins to break loose, one option is to shift the flow of messages to a server that isn't overwhelmed. If things get really crazy, engineers may activate the "Iris service," according to IEEE, which triages the message traffic. Read receipts could be discarded for a while to make sure composed messages get through faster. The accuracy of Messenger's green dot—which is meant to show whether a user is online—could also be curtailed.
In addition, messages could be "batched" if they're going to the same user or require similar resources, a measure that may slow the system down but will allow the messages to continue to get through. The idea is to suspend some bells and whistles to keep the system up and running, rather than letting it collapse.
It's one of those jobs where no news is good news. As Facebook strives to convince users to stay with the company, "no news" may well be Zuckerberg's 2019 resolution as well.