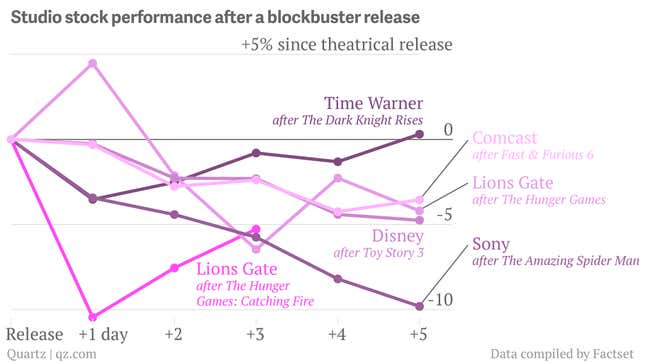 Want to drive down the price of your movie studio's stock? Simple: just release a record-breaking blockbuster film.
That's exactly what happened to Lions Gate Entertainment after the studio opened its second Hunger Games film, The Hunger Games: Catching Fire last weekend to an astounding $161.1 million domestically—the most successful November opening of all time and the studio's biggest opening weekend ever—with $146.6 million more pouring in from 63 foreign markets. On Monday Nov. 25,  LGF shares plummeted 10% (down $3.53 to $30.23), hitting a four-month low.
However, Wall Street isn't hitting the panic button. "It's a self-fulfilling prophecy," B. Riley senior analyst David Miller told the Wall Street Journal. "Expect a sell-off on the Monday after the film's opening; it happened after the first Hunger Games film." Indeed, LGF shares rose 73% in early 2012 until The Hunger Games opened in March to $152 million domestically, and then fell 6.5%  in the following week.
The post-blockbuster stock dip has become a surprisingly common occurrence in recent years. Here's why: just as Hunger Games fans spent months eagerly awaiting the film's opening weekend, investors were likewise buying up LGF shares, causing the stock to double in the past year. This mirrors activity around an eagerly-anticipated new tech products, like iPhone and iPad releases, as investors buy in anticipation of a big event, then try to unload their shares to those suddenly interested in buying in after the gargantuan sales figures come out.