As Donald Trump's presidency ends its second year, the US has failed to spend most of the money already allocated for a wall on the Mexico border or build a single foot of new wall there.
The president will address the nation tonight (Jan.8) at 9pm US eastern time, and plans to travel to the southern border again this week, as part of his ongoing attempt to pressure Democrats to approve more federal spending for the border wall.
His administration has funded eight 30-foot-tall wall prototypes and Trump staged a press event to inspect them in California. Yet hundreds of millions allocated for the wall remain unspent, and there has not been a single foot of new wall built on the border with Mexico in his term, according to reviews of Homeland Security contracts, extensive surveys of the border by USA Today and calculations by multiple news outlets.
What the US has spent on the border
Trump's administration has so far spent just 6% of the $1.6 billion allocated for any physical barrier upgrades on the southern border in the fiscal 2017 and 2018 budgets, according to calculations by Senate Democrats, including Patrick Leahy of Vermont:

The $109 million "expenditure" figure there, however, does not take into account funds that are promised to companies through signed contracts that have not yet been completed (and therefore are not yet paid).
Nearly 60% of those funds have been promised in contract awards made through the Army Corps of Engineers via  Customs and Border Protection (CBP), a Department of Homeland Security spokesperson said. That includes 35 of 40 miles of replacement wall funded by the fiscal 2017 budget and $700 million of the $1.2 billion funded in the 2018 budget, she said.
In other words, the DHS has committed about 60% of the money for physical barriers via new contracts, while 40% of the money remains uncommitted. In fact, the government shutdown over the wall is stopping the agency from committing more money to build it. "An additional approximately $300 million is ready to award as soon as the government reopens" the DHS spokesperson said.
Two companies received most of this money and a third small company was awarded a contract for fencing. (None responded to Quartz requests for comment.)
Barnard Construction Company, up to $400 million
In November, the company received a $172-million contract for 14 miles of "Primary Pedestrian Replacement Wall" in Arizona that could increase to 32 miles, for a total cost of $324 million. In January 2018, Barnard was also awarded a $76-million contract to replace 20 miles of vehicle barrier near Santa Teresa, New Mexico.
Barnard—based in Bozeman, Montana, where Ryan Zinke, Trump's former interior secretary was born— specializes in dams. hydropower projects, and water and sewer infrastructure, according to its website. It has a history of federal contracts that predates the Trump administration and contributed more than $100,000 over the last two election cycles, mostly to Republicans. It has built tunnels, but not walls. 
Slsco Corporation, $292 million
In October, Slsco received a $145-million contract to build "six miles of levee wall system" in the Rio Grande Valley and a $147-million contract in June to replace 14 miles of scrap-metal wall east of San Diego's Border Field State Park. The Galveston, Texas company's previous publicly disclosed federal government experience appears to be mostly with supplying emergency shelters, hurricane-response teams, and repair assistance for homeowners after storms.
D&B Hoovers estimates Slsco's annual revenue to be $8 million. Slsco is part of a conglomerate called the Sullivan Interests, owned by three brothers in Texas. The conglomerate's only reported campaign contribution is $8,000 to a Texas campaign.
West Point Contractors, $22 million
The company got a September 2018 contract to replace four miles of pedestrian fencing in El Paso, Texas with steel bollards. The Tucson, Arizona company has 35 employees, and its previous projects were mostly parking lots and bridge repairs, with the highest costing just over $4.5 million. The company doesn't have any significant reported campaign contributions.
Why it has been slow going
Fiscal 2017 DHS outlays were $2.2 billion less than appropriated, in part "due to slower-than-expected spending for procurements and construction for customs enforcement and border protection infrastructure projects," treasury secretary Steve Mnuchin and federal budget director Mick Mulvaney said in October 2017. A year later, DHS outlays were nearly $10 billion less than appropriated, due in part to delays on the money actually being handed over to the agency—building the wall became such a political fight that DHS's budget was held up in debate over last year's government spending bill, too (it was finally approved last March).
And the border issue is complicated by the fact that in many of the places where a wall can be built a barrier is already in place. More than 650 miles of the 2,000-mile border already have some sort of wall or fence, CBP officials have said.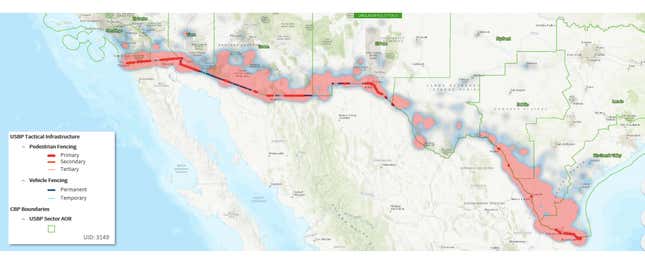 Some of the rest of the border area is virtually unbuildable at this time—there are landscape features in the way, like the Rio Grande river, or the federal government needs to seize land from US landowners, a contentious issue even before Trump took office.