Donald Trump is traveling to the US border with Mexico in another effort to garner public support for funding a border wall. Whether he can get Americans behind the plan is unclear, but the trip will definitely impact two things—federal spending and Fox News' ratings.
Trump will land in McAllen, Texas this afternoon (Jan. 10), where he is to discuss security with border patrol officials and be interviewed by Fox News personality Sean Hannity.
The trip—which includes a 30-minute stop at the Rio Grande—comes as the federal government shutdown nears the record for the longest ever. Both houses of Congress have passed a spending bill that would keep the government running, but Trump refused to sign it because it didn't include money to build a wall.
Trump has clung to his promise to build a wall even though  immigration and law enforcement experts say it would be ineffective against crime and drugs and most Americans don't support it. Democrats, who now control the House, have refused to pass a new spending bill with that funding. Senate majority leader Mitch McConnell won't reintroduce the earlier bill because it doesn't have the president's support.
Flying Trump to Texas will cost US taxpayers more than $300,000. He's flying the smaller of two planes that travel as Air Force One, a trip that will cost approximately $285,128, based on the plane's hourly operating rate of $35,641, and the White House's stated travel time of about four hours each way. The Marine One helicopter, used to transport Trump to the Washington-area base where the presidential planes are kept, operates at a cost of $28,812 per round trip, based on Defense Department figures. Additional outlays include the unspecified cost of Secret Service protection and on-the-ground transportation.
McAllen, Texas, launching pad of the Trump administration's brutal family separation policy, is home to a children's detention facility known as the "dog kennel" because of its chain-link fencing. The town's biggest problem isn't illegal immigrants, the mayor recently told the Texas Standard, it's legal asylum seekers who are coming in numbers too large for the town to absorb.
Major US networks are likely to broadcast some of Trump's roundtable, and the White House will show it on its YouTube channel. The only major media outlet that will sit down with Trump during the visit, however, is Fox News. Trump will discuss "his ongoing battle with Democrats on the government shutdown," with Hannity from McAllen,  Fox News said. The sitdown will appear on air later tonight during Hannity's regular 9pm US Eastern time slot.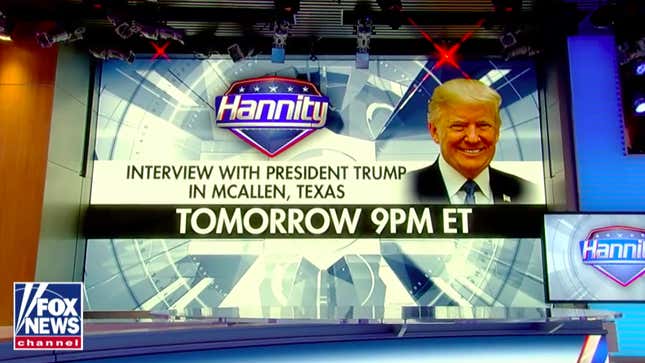 Trump himself has been reluctant to go on the Texas trip, which, he said this week was "not going to change a damn thing," in his battle to get funding for a border wall, the New York Times reports. The trip was the brainchild of Bill Shine, the White House's top communications official, a former Fox News executive.
Hannity did not travel with the president to Texas, and won't be using any government transportation while in Texas, a person briefed on his trip told Quartz. Department of Homeland Security secretary Kirstjen Nielsen, Customs and Border Protection director Kevin McAleenan, White House press secretary Sarah Sanders and Shine, as well as Republican Texas senators Ted Cruz and John Cornyn boarded Air Force One with Trump.
Hannity was an early booster of Trump and his early support helped lift his talk show's ratings in 2016. Having Trump, his son Donald Jr., or Trump's attorney Rudy Giuliani on his show provided a lift for Hannity's ratings early in Trump's presidency. Recently, however, televised interviews of Trump haven't attracted as large of an audience on Fox or other channels.