For those pinning their hopes on a strong German economy to pull the euro zone out of its malaise, some bad news: Germany's job market is in a bit of a slump.
The number of jobless jumped by 10,000 in November, well above expectations, according to data released today. It was the fourth consecutive monthly rise in the ranks of unemployed; there are now 52,000 more Germans out of work than there were at the start of the year. Some economists worry that the proposed introduction of the country's first-ever minimum wage will discourage hiring even further.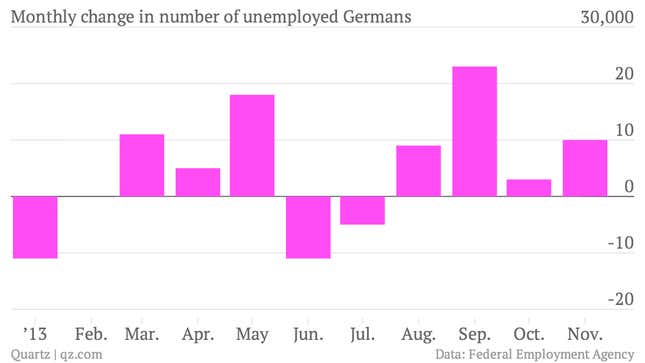 But some perspective is warranted. This year's job-market weakness stems, in part, from the economy's previous strength. An analyst told Bloomberg that the German economy may have reached its "natural rate of unemployment," meaning that it can't go any lower without concerted government stimulus. Such a stimulus could come in the form of a boost to Germany's traditionally low level of public investment. But this is a key point of contention between the political parties slated to form a "grand coalition" government later this year; the left-leaning Social Democrats are pushing for more spending while Angela Merkel's Christian Democrats are keen on keeping taxes and borrowing in check.
The European Commission puts the latest German jobless rate at only 5.2%. That's much lower than other large economies in the euro zone, so any apparent weakness in the German job market needs to be judged on a relative scale. But any way you look at it, there is not a lot of scope for Germany's economy to grow much faster, which is bad news for the less well-off euro members looking to it to lead the way out of the continent's economic doldrums.