After a busy week at the world's largest gadget trade show, Quartz's time in Las Vegas has come to a close. We've eaten delicious fake meat, met more than a few robots, seen TVs larger than our apartments, and taken in as much as we could of what the 4,400 exhibitors at CES had to offer.
In past years, we've deemed a company or product to be the winner of CES as, in our opinion, it best embodied the spirit of what the consumer electronics show is supposed to be: New technology, just on the horizon, that we believe will have an outsized impact on our lives. This year, we didn't feel like there was anything that lived up to that. Here's why:
Who won CES: No one
This CES, the prevailing theme was two incredibly rich companies, Google and Amazon, fighting over selling essentially the same product (their virtual assistants, Assistant and Alexa, respectively). Companies that would have once stood on the quality of their own product have suddenly made compatibility with Amazon or Google's ecosystem into defining characteristics of their own devices. The result is a sea of similar and disappointing products, with a few standouts, like Bell's autonomous helicopter concept, a few 8K TVs, and a new VR headset from HTC. None were big enough to lay claim to being the "winner" of the conference.
A little over a decade ago, the smartphone revolutionized the way we communicate and live, but now that just about every phone is really good (even the cheap ones), it's supremely difficult for a manufacturer to differentiate its offerings without resorting to gimmicks. Instead, tech companies are less focused on putting new gadgets in your pocket and more focused on surrounding you with them.
Thirstiest company: Still Google
Just like last year, the search giant plastered Vegas with advertisements for its Google Assistant, including a wrap around the town's monorail, an amusement-park-style ride, and enormous gumball machine filled with free swag. Google also hired hundreds of people to wear white Google Assistant jumpsuits and represent the company at partners' booths.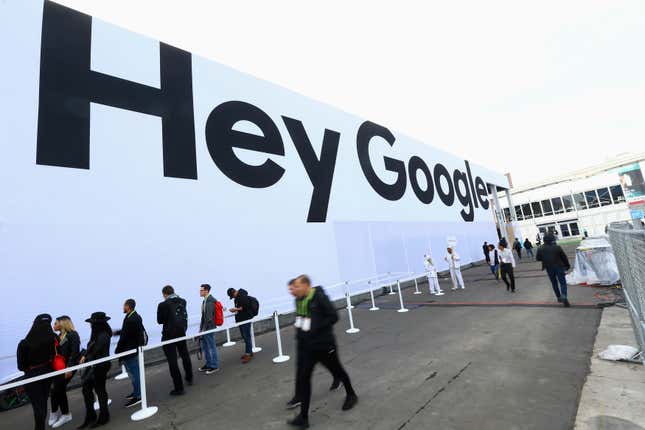 The cure for the common car ride: Audi
Car companies are preparing for a future where vehicles do most of the driving, rather than humans, by making it more entertaining to be a passenger. Among the auto companies showcasing technology to entertain riders was Audi, whose startup Holoride created a VR experience with Disney that moves with the car to prevent motion sickness. Audi itself turned a sedan into a low-rider that can shake and vibrate along with the action in a movie that passengers are watching.
Just about every automaker in attendance brought along a futuristic concept car, intending to showcase both how they're thinking about what it's like to ride along in a self-driving car, and what the car of tomorrow will look like. Mike tried to document every one that he saw, and the sheer number at this technology conference continues to be surprising, especially considering one of the world's most important car shows, Detroit's North American International Auto Show, starts on Monday, Jan, 14.
Tastiest in show: Impossible Foods
Food-tech company Impossible Foods unveiled a new recipe for its lab-made, plant-based "meat" that is tastier and better for you than its original formula. The new recipe is designed to be sold in grocery stores and cooked by home chefs. And it makes more than burgers: Tacos, empanadas, tartare, and other dishes using the meat were served up during the tech conference.
Most impactful product: DS3
Procter & Gamble, one of the world's biggest consumer-packaged-goods companies, showcased a line of new soaps and other cleaning products that don't contain water or require plastic packaging. The small, square swatches, called DS3, activate when they're placed in water. So far the company has been testing the products on Indiegogo. If it fully comes to market, as P&G plans, the line could eliminate tons of water and plastic waste, and would be easier to transport than heavy, water-based bottles of soap and detergent.
Honorable mention: Source hydropanels
The panels aren't for power, but capturing ambient water vapor in the air and converting it into potable water. The company, Zero Mass Water, has shown the product works in humanitarian efforts and even embedded in public works projects. Conceptually, it's like a big dehumidifier, tuned to the task of making drinkable water. The promise of infinite clean water without the need for infrastructure could be a world-altering technology.
Biggest surprise: Samsung is a robot company now
While Samsung is known for producing just about every electronic gadget under the sun, it's generally focused on more traditional products, like washing machines, TVs, and phones. That's why it was such a surprise that the company's biggest announcement at CES this year was a new division focused on robotics. The company showed off three robots, and three exoskeletons meant to aid people with mobility issues. Samsung was quick to say that these robots, which it's been working on in Korea for over six years, won't be available for purchase this year, but they signify a new direction for the company, as they're focused on wellness.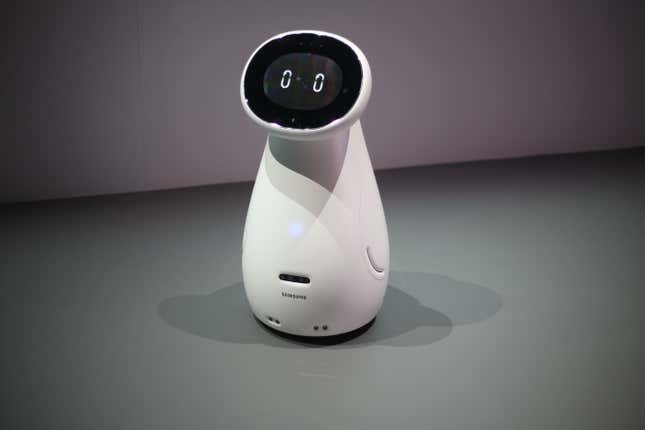 Samsung's stout and cutesy Bot Care robot is meant to help people keep track of their medicines, as well as monitor their vitals and send information to their doctors. The company couldn't confirm whether it was running through approval processes in the US (like HIPAA compliance or approval from the Food and Drug Administration), but it's possible it's too early to be thinking of those.
Samsung also showed off a robot meant to be used in retail or customer service settings that's nearly as cute as the Bot Care, and can be used to place and deliver orders at a restaurant, or to help customers find products in a store. Samsung is far from the only company working on products like these, but few of them have the resources at their disposal that Samsung does.
5G is finally arriving
The theme of CES is always "more." Higher resolution, faster processors, bigger screens. So it only makes sense that every major tech company is championing 5G, a connectivity technology solely focused on delivering "more" to consumers. 5G, which means the fifth generation of wireless cell networks, promises our smartphones and ancillary devices will have the ability to stream 4K video, download a movie in seconds, and allow developers to write bigger and more robust apps.
Even though large telecom and technology companies are stoked on 5G, it will likely be an uncomfortable transition for us, the consumer. Its speed relies on a more dense network of specialized towers than existing infrastructure, meaning it's not just a switch carrier can flip from 4G to 5G. Coverage will likely be spotty in early rollout, and it's also likely to be a more expensive service at first.
CES by the numbers
Quartz reporters Dave Gershgorn, Mike Murphy, and Ashley Rodriguez spent the last five days in Las Vegas. Here's a quick rundown of what we did:
Total miles walked by Quartz reporters: 88.38
CES Daily Briefs written: 4
Dollars lost gambling: $2
Dollars won gambling: $48
Casinos visited: 12
Backup battery charging power used: 32,387 milliamp hours
Events attended: 17
Events missed: 27