I have six smartphones sitting in front of me and they're all exactly the same.
One might have an aluminum exterior, one might be slightly larger, but really that's about it.
I recently picked up the new Apple iPhone 7 Plus, and I think it's pretty decent. I also looked at the Google Pixel, and thought that it wasn't too bad either. I've reviewed a (non-exploding) Samsung Galaxy S7, a OnePlus 3, and have a LG V20, a LeEco Pro 3, and some phones that all look roughly the same when you flip them over in front of me.
While there are some discrepancies over build quality—I personally think Samsung's new phones (that don't catch fire) are a little sturdier than, say, LeEco's new phones—they all pretty much pack the same set of features that any consumer would want in a new phone: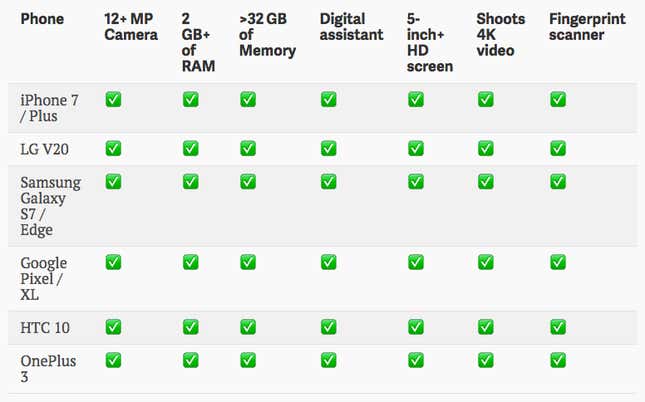 There isn't really a reason to get excited about any one new smartphone anymore. Mobile technology is so advanced, and there's so much packed into any smartphone—from budget models to a company's newest flagship—that it's often difficult to differentiate between models.
When Apple released the iPhone 7 earlier this year, many were disappointed that it looked, and for the most part, functioned, so similarly to the iPhone 6S and 6 before it. At the time, analysts speculated that this is because it's getting more difficult to innovate every year, even for a company like Apple. Every competitor has pretty much caught up to Apple in terms of design, and it now often lags behind others when it comes to new hardware features, such as waterproofing or NFC payments, both of which Android phones had before Apple.
So what features should you be on the look out when buying a new phone? What things have companies touted as their distinguishing feature in the past, that is not as true anymore?
Camera quality
Google's new phone was recently rated by the independent camera benchmarking site DxOMark to have the best camera ever put into a cellphone. Following right behind it are the HTC 10, the Samsung Galaxy S7 Edge, the Sony Xperia X Performance, and the iPhone 7. DxOMark hasn't reviewed the LG V20 yet, nor the iPhone 7 Plus, with its extra depth-perceiving camera, but having played around with both, it's likely they'll also fall near the top of the list.
Most of the flagship smartphones on the market today have a powerful camera, decent editing software, and can push your photos out to Facebook, Instagram, Snapchat, email, or wherever else you want your snaps to go. Cameras will likely continue to get sharper, smaller, and faster—as much as physics allows—at an incremental rate. Every phone you buy from now on will likely have the best mobile camera you've ever used.
Storage
One of the most common complaints with smartphones is that because of the amazing cameras they all now have, we tend to run out of storage space to save all our photos and videos. Most new phones have one of two possible solutions.
The first answer is that new phones are shipping with more storage space. With the iPhone 7, Apple upped the base storage level in its cheapest model to 32 GB—to double what it was in the iPhone 6S. Every other phone sitting in front me also has at least as much storage, and some of them, including the iPhone, have models available in 128 GB. Shoot as many photos and download as many games as you'd like—it's probably going to take you as long as you have your phone to fill it up completely.
The other answer is offloading content to the cloud. Phones like the Nextbit Robin and Google's Pixel have novel solutions to this storage problem. The Robin actually offloads anything you don't actively use—like apps, games, pictures, and videos—to its cloud, and users can return them to the phone at the tap of a button. It's like having a smartphone with unlimited storage capacity, even though it only has 32 GB built in. Similarly, Google uploads all videos and photos shot on the Pixel to its Google Photos cloud at full resolution for free. The Pixel also starts at 32 GB, but offloading all the images you shoot will massively increase how much space is available on the phone.
Speed
Similar to storage complaints, people often whinge that their phones start to lag with age, especially when new software is installed. While there's no way to guarantee a phone's longevity, it's worth considering that all the phones in front of me have at the same amount of memory (or more) as the maximum available in the top-of-the-line Apple laptop about a decade ago. New software will likely always require more processing power than what came before it, but the rate at which computing hardware has advanced over the last few years has been rather astounding.
Build quality
Not every phone has the same level of industrial design that Apple is known for (it literally wrote the book on it), but they're coming close. The Samsung Galaxy 7s are well-built phones, as is the Pixel. The iPhone and Galaxy 7s are both waterproof, and the Google Pixel has been called "one of the most durable phones of 2016." Many of these phones also have versions of Corning's Gorilla Glass, a toughened glass that protects the screen from shattering when dropped—at least more so than a regular piece of glass.
What it comes down to
Smartphones are so similar in design, operating system, and abilities, that many companies have resorted to using gimmicks to try to differentiate their products. Samsung, for a while, went off the deep end, attempting to jam as many random apps, hand gestures, and styluses into its products as possible. Newer models have pared back the number of proprietary apps and features. Now Samsung is trying to differentiate itself with virtual reality, 360-degree photography, and other add-ons. Google is using its virtual "Assistant"—a supercharged version of the voice assistant it's had built into Android for years—and Apple is trying to stand out with its dual-camera in the iPhone 7 Plus, and, well, being Apple.
But really the decision for what smartphone to buy comes down to whether you prefer iOS or Android, and then whether you want a home button, and where you'd like your fingerprint scanner to be placed. These phones are all about as good as each other, most of them costing between $500 and $700, without any cell carrier subsidies. What you're left with is what brands you're loyal to and how big a fan you are of rose gold.
Is there hope for the future—will smartphones become exciting again? Absolutely. Some analysts are referring to 2017 as a "supercycle" for Apple, meaning that the company plans to get out of the iterative rut it's found itself in recently, with a bevy of new products, instead of the marginal upgrades it's presented for the the last decade or so. The company will be releasing its tenth-anniversary smartphone, which is likely to be a complete overhaul of the iPhone. There's talk of entirely new screens with curved edges, that the phone could be made of a new form of scratch-resistant ceramic, and that there could be a massive 5.5-inch version hitting the market. Samsung is also expected to unveil an updated version of the Galaxy S7 (likely called the S8), to replace the gap in the market created by its exploding (but very useful otherwise) Note 7.