For the price of an Apple Watch, you can now get a book of pictures of the Apple Watch.
Apple announced today that its next expensive product will not be another wearable, computing device, or dongle, but rather a brilliantly white coffee table book. Designed by Apple in California is both the tagline that has graced the backs of Apple products for the last twenty-odd years, and the name of Apple's new book, which is a photo-laden look back over some of its most iconic products in that stretch of time.
The book will contain 450 photographs of Apple devices, chronicling the company's design team's "two decades of innovation." The book opens with the iMac, the first product former CEO Steve Jobs launched when he came back to the company in 1998, and careens all the way through to last year's Apple Pencil, which many have seen to be a design failure.
Apple has made some truly great products over the last two decades. The original iPhone kickstarted the mobile revolution that has now led a billion of iPhones being sold in less than 10 years, and billions more smartphones being sold around the world. The iPod upended the music industry when Steve Jobs first promised to put "1,000 songs in your pocket." And the MacBook was also a very nice line of computers.
But in recent years, Apple has fallen into a rut. Its only real new product line in six years, the Apple Watch, has not set the world on fire as the iPod, iPhone, or to a lesser extent, the iPad, did before it. Apple has seen falling revenue, falling growth, and slow iPhone sales in recent quarters, and the company's newest iPhone and MacBook laptops have underwhelmed. So what better way to remember the good times than to release a greatest hits album?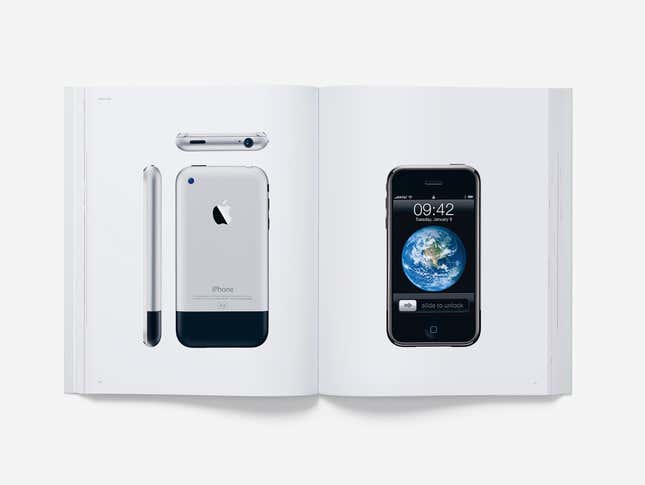 "This archive is intended to be a gentle gathering of many of the products the team has designed over the years," design lead Jony Ive said in a release. "We hope it brings some understanding to how and why they exist, while serving as a resource for students of all design disciplines," he added. This seems fitting, given that the book costs about as much as the average college textbook.
In the release, Apple said that this book "was developed over an eight-year period." If that's the timeframe that the company is working within to produce a picture book, it shouldn't be that surprising that it hasn't launched many entirely new products in recent years.
Much like Apple's phones, tablets, laptops, desktops and watches, its new hardbound product brochure will also come in two sizes, for some unexplained reason. The smaller, 13-inch tall book will cost $200, and the larger, 16-inch tall version will cost $300. Both will be available from Apple's website. It's unclear whether AppleCare will be offered on the books. It also appears that the book does not have a headphone jack.
In case you're looking for a different stocking-stuffer from Apple this holiday season, it's worth noting that a 64 GB iPod Touch, a 64 GB Apple TV, a 32 GB iPad Mini 2, and an Apple Watch Series 1 all cost as much or less than the larger coffee-table book.