Quartz's time at the Consumer Electronics Show in Las Vegas has come to a close, and we've reflected on a week of being inundated with gadgets, technology, and pitches.
Below is a list of which companies we believe won CES, which tried the hardest, and which embodied the spirit of the world's largest consumer electronics show.
Who won CES: Nvidia
Rather than a breakout startup or one gadget that blew the show floor away, the talk of the 2018 Consumer Electronics Show were the mishaps of the show—the failed demonstrations, the flooding of Vegas and the subsequent power outages in one of the main halls.
But in the background, one company solidified itself as a stalwart contender for winning the year: Nvidia. The company announced that it had a new chip custom-built for self-driving cars, and that it was working with more than 320 partners who would use the technology to power their vehicles. It also announced a gaming monitor the size of a television, creating a new class of large-screen devices with the refresh speed required for professional gaming.
These new pieces of hardware represent new areas of growth in two of the company's most important revenue streams, gaming and automotive. While the company was built on gaming hardware, CEO Jensen Huang projects automotive chips as a huge area for future growth. In the next year or so, Huang expects that the bulk of chips used for self-driving cars will be put into datacenters to simulate how the cars will drive, followed by then selling the in-car chips as consumers and enterprise customers actually purchase autonomous vehicles.
"Everything that moves will be autonomous someday," he told investors during a November 2017 earnings call. "It could be a delivery vehicle, it could be little robots that are moving around warehouses, it could be delivering a pizza to you."
Gaming hardware, which made up 59% of the company's revenue last quarter, is another area with potential for growth, thanks to the popularity of e-sports. Games are typically played on 24″-32″ monitors; bigger screens have more pixels to refresh per second, making it difficult to manufacture large panels that can also keep up with the fast-twitch pace of professional gaming. But Nvidia's new 4K 65″ Big Format Gaming Displays operate at 120Hz, the same speed as the professional gaming monitors, despite being as large as TVs.
The company also released a new PC beta of its service for streaming games to low-speed computers, called GeForce Now. The service was previously available for Mac users, as hardware for Apple typically isn't used for high-end gaming. While other companies are also positioning themselves to be the Netflix or Spotify of gaming, Nvidia has an advantage in access to datacenter hardware and expertise in its optimization, which would typically be a large expense to other companies.
And to cap it all off, Nvidia's CEO didn't have any embarrassing mishaps or security vulnerabilities to answer to onstage—which is always a boon.
Thirstiest company: Google
Last year, we declared Amazon's Alexa to be the winner of CES, as the voice-assistant technology was the talk of the convention, appearing in just about every new device on the show floor, even though Amazon didn't have its own booth. The popularity of Amazon's Echo devices has continued since last year, with the company launching a range of new voice-controlled devices in September.
This year, it seems that Google did not want to get left behind in the war for the living room smart speaker. Ads for Google Assistant were plastered on every surface around Las Vegas, including wraps covering the town's monorail service, billboards on the MGM Grand casino and McCarran Airport, and "Hey Google" banners were affixed to the booths of every smart-device company across all the show floors.
Google also had a house outside the Las Vegas Convention Center, complete with a slide, staff walking around in white suits with beanies that said "Hey Google," and massive gum-ball vending machines set up at all the expo centers. The machines contained a range of prizes, from Google Home Mini speakers to OpenTable gift cards. The lines to pull the lever on the machines and win a prize were the only ones that rivaled the length of the lines for taxis. Cheers when someone won a big prize reverberated throughout the halls.
But unlike Amazon last year, Google's buzz was not organically generated. It likely paid exorbitant amounts of money for its advertising and spent countless hours organizing signs at booths and its army of white-clothed staff wandering the halls. Last year, Alexa was everywhere due to the company opening up the voice platform to be integrated into nearly any kind of smart device and only requiring final approval from Amazon, without any real marketing push from Amazon itself.
Whether this move will pay off for Google against Amazon in the smart-speaker war (Amazon is believed to have over 70% of the market currently locked up), is unclear, but one thing was clear: Google really, really wants the world to know that it makes a voice speaker system, too.
Best gadget: Razer's Project Linda
Every year CES brings a fresh look at the computer; last year Razer debuted a laptop with three screens called Project Valerie (which was promptly stolen). This time Razer is selling the dream of your smartphone doubling as your laptop; the company's newly-released smartphone drops into the space usually occupied by the touchpad on a laptop shell, then connects to the monitor, keyboard, and hard drive via USB-C.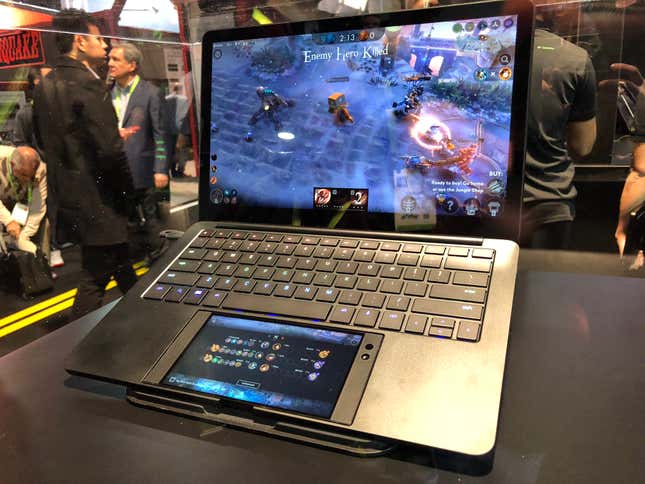 Razer is a company that markets to "gamers," a poorly-defined sector of consumers who typically gravitate between games on mobile devices like Honor of Kings and games that require the processing power of a desktop computer or game console.
Project Linda is the device meant to bridge that gap, at a reduced cost since the laptop shell doesn't have a costly processor or RAM. Mobile games work natively on the laptop's larger screen, as well as the typical cadre of laptop tasks like word processing and browsing the internet. For games that demand more robust hardware, Razer has partnered with Shadow, a company that remotely runs PC or console video games and streams them to your computer to play, akin to Netflix. And if you don't want to rely on the streaming service, Razer sells an external graphics card that will do the heavy lifting.
This idea, along with the Samsung DeX that Quartz reviewed last year, tests the waters for a merger between the desktop and mobile computing landscapes. It's not a matter of computing power anymore, as phones are now as powerful as the laptops we use everyday, but form factor. While the DeX renders the phone useless in its dock, Project Linda repurposes the phone's screen as a touchpad, which can also passively display information. Will this device be the future? Probably not, but it could be an early draft of what's to come.
Most fun product: Modobag
The best parts of CES are not the new televisions, cars, fridges, or cameras. It's not the iterative upgrades to products we already understand and use—it's the weird, interesting, and sometimes innovative products that bring you joy to experience. They're rare to find, but as we said in this week's special CES Daily Brief, they're often found in Eureka Park, the ground floor of the Sands Expo Center, which is reserved for early-stage companies and products.
This year, we saw robot chess boards, a robot with Dave's face on it, an analog game of Pong, recyclable one-use batteries, and personal VR roller coasters. All of them epitomize the strange but wonderful things you can find at CES if you look beyond the flashy booths from the multinational corporations. But one that really stuck out for us as being simply fun, and honestly quite silly, was the Modobag.
It's a piece of luggage that can charge your devices through USB ports, but also happens to have a small hidden handlebar and stirrups that turn it into a tiny electric motorbike that you can use to zip around airports at up to 8 mph. We tested them out in the crowded Eureka Park show floor, darting in between bemused or confused attendees, tipping over when we turned too sharply. It's the hardest we laughed all week.
This product does not need to exist, but it does, and it happens to be a lot of fun. Drake has one. You can back the company on Indiegogo, and perhaps it'll bring a small amount of joy into your life, or at least get you to your flight a little quicker.
CES by the numbers
Quartz reporters Dave Gershgorn and Mike Murphy spent the last four days in Las Vegas, and were joined by tech editor Matt Quinn for two. Here's a quick rundown of what we did:
Total miles walked: 70
CES Daily Briefs written: 4
Uber, Lyft, taxi, bus, monorail and Humvee trips taken: 25
Dollars lost gambling: $295
Casinos visited: 13
Games of Scrabble lost to robots: 1
Backup battery charging power used: 37,191 milliamp hours
USB sticks received: 9
Backs thrown out: 2