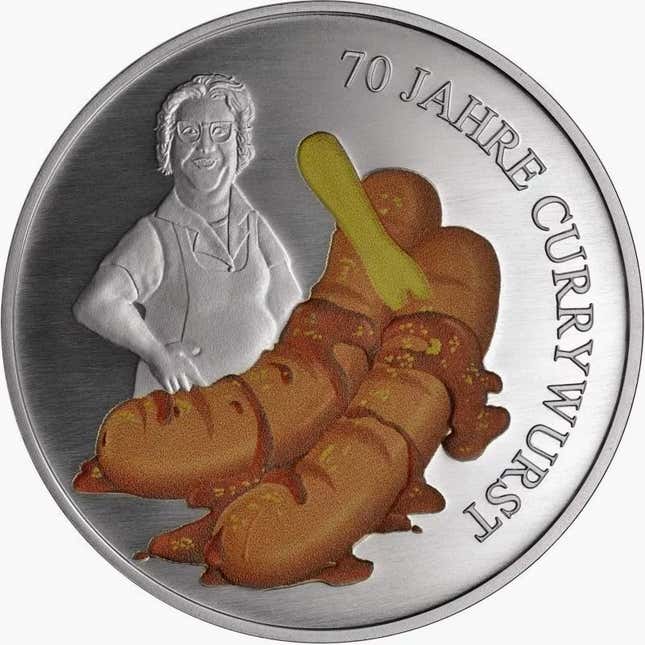 It's a shiny piece of metal that combines two German favorites: cash and bratwurst with curry sauce.
This seemingly priceless combination can be yours for just €13 ($14.90), thanks to the Staatliche Münze Berlin, a mint based in Berlin that produces 20% of all Germany's euro coins. The mint just released a commemorative coin celebrating 70 years of currywurst, on sale for numismatists and sausage fans alike. (Sadly, it's not legal tender.) Some 2,500 are available for purchase.
The coin celebrates seven decades since Königsberg-born housewife Herta Heuwer first opened up a snack stall in western Berlin. On Sept. 4, 1949, as local lore goes, foot traffic was light, and she had time to experiment, mixing sweet peppers, paprika, tomato ketchup, and curry powder, then serving the resulting sauce hot over a sliced, fried bratwurst.
In doing so, she invented a Berlin classic—and a cult sensation for cash-strapped students, hungry barflies, and hordes of tourists alike. Some 800 million currywursts are eaten in Germany each year, according to the Berlin Currywurst Museum: it's alleged to be a favorite of current chancellor Angela Merkel, and her predecessor, Gerhard Schröder.
Heuwer died in 1999, taking the particularities of her recipe with her. (She is said to have kept it a secret from even her husband.) The stall itself continued to grow, employing 19 women at its height, before closing down in the 1970s. That hasn't stopped hundreds of other sausage stands and beer halls across the world from taking a stab at the currywurst, however, with some of Berlin's most upmarket versions retailing for more than the cost of the coin commemorating the dish's invention—and served with a glass of champagne.
In this silver coin, Heuwer and her creation are celebrated for perpetuity, though the artist's impressions of both are a little unflattering, to say the least.