Last month saw the release of two highly-anticipated gaming systems, the PlayStation 4 and Xbox One, but it seems that the new generation of consoles hasn't spawned a new generation of gender awareness.
To promote the UK launch of its PlayStation 4 console, Sony took out a two-page commercial in The Sun on Nov. 29, marking the first time the newspaper has sold its infamous page three—usually reserved for a topless female model—to an advertiser.
Sony joked about the placement of its ad, which read: "Apologies to Rosie, 22, from Middlesex. Today's page 3 is for the players." It sparked criticism of sexism, largely because of its pun on the word "player." (Rosie still appeared topless in the newspaper—bumped to page five.)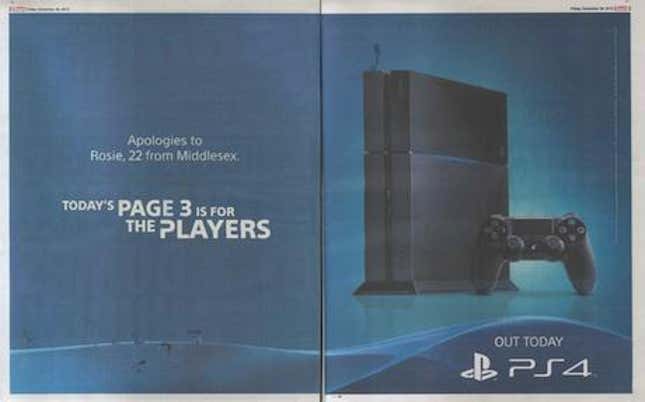 Following suit, Microsoft's earned its own spot in the PR limelight last week after the company featured a letter on its website aimed at encouraging non-gamers to welcome the new Xbox One into their living rooms. This line was singled out for being particularly offensive:
"Hey honey, Not sure if you've heard, but Xbox One is now available. That means we can start playing games like Dead Rising 3. I know, I know. You'd rather knit than watch me slay zombies."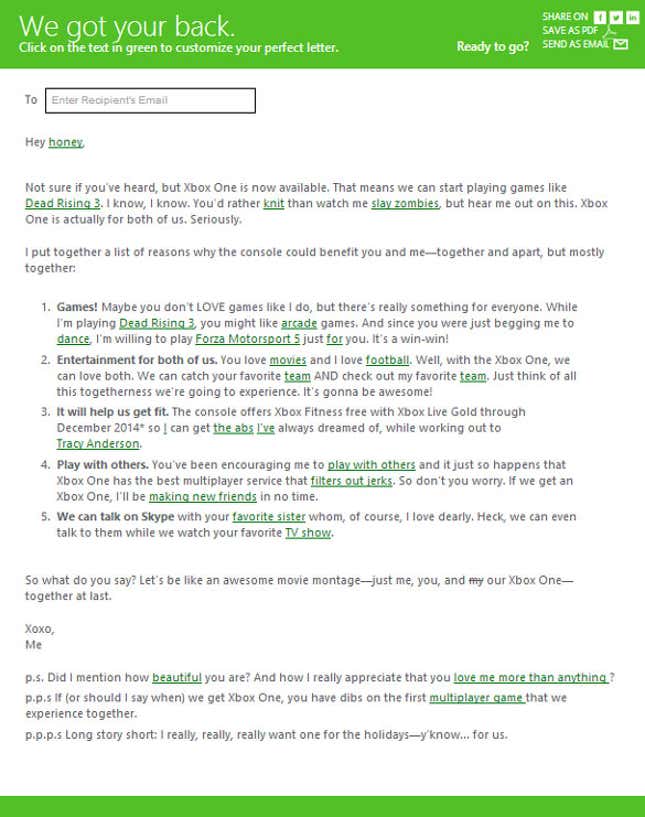 Microsoft has since taken down the letter and apologized after a flurry of criticism on blogs and Twitter.
There is no shortage of fodder illustrating sexism in the gaming industry—from female characters' body shapes, seductive poses, and skimpy clothing in the virtual world to the disdain shown to women gamers, women bloggers and even women executives at gaming companies. 
But seeing as 45% of all gamers are women, it's just bad strategy when the sexism emanates from companies' own marketing efforts. As TechCrunch pointed out, a company like Microsoft—worth more than $300 billion and with above-average female representation at the leadership level—should know better.
It's not the first time that Sony and Microsoft have misjudged their marketing. Last year, a Sony print ad released in France depicted a woman with four breasts, on both her front and back, to advertise the Vita, a dual-sided handheld device. In 2012, Microsoft was attacked for hiring female dancers to promote a software update, for inviting trade show guests to a burlesque party and for including "boob" references in its coding. Sexism across gaming ads isn't specific to these companies; as Games Radar notes, it's hard not to make the commercial sexist when the game it's advertising is "just as shallow and unforgivable."
But this time should have been different. Earlier this year, a Sony executive said that the PS4 would aim to branch out beyond its traditional user base of young males and appeal to women, who tend to favor the Nintendo Wii or Microsoft's Kinect technology over Sony's consoles. And Microsoft, which recently bragged that 39% of its Xbox 360 users are female, marketed its Xbox One console as the ultimate home entertainment device for any living room, pitching it as more than just a gaming console to lure non-gamers.
As the Guardian points out, Microsoft's marketing faux-pas was either an intentional stunt to make headlines or a clueless oversight by the companies. Neither is particularly promising.