Donald Trump declared today (Jan. 17) he was grounding Speaker of the House Nancy Pelosi's upcoming trip to visit troops in Afghanistan "in light of the 800,000 Great American workers not receiving pay," alluding to the expense of flying military aircraft there.
Hours later, his wife Melania Trump was on board a US military plane to Palm Beach, Florida, where the couple have a private club, on a flight that Quartz calculates cost US taxpayers $35,000.
In a letter to Pelosi that the White House made public just after 2pm eastern time, Trump stated that Pelosi's upcoming trip to "Brussels, Egypt, and Afghanistan," was a "public relations event."
Later in the day, Pelosi's deputy chief of staff, Drew Hammill, corrected the record. Pelosi, he said, had planned to head to Brussels with other lawmakers to meet with "top NATO commanders, U.S. military leaders and key allies–to affirm the United States' ironclad commitment to the NATO alliance." After that, added Hammill, Pelosi had expected to visit US troops in Afghanistan "to express appreciation & thanks to our men & women in uniform for their service & dedication, & to obtain critical national security & intelligence briefings from those on the front lines." There was no planned stop in Egypt, he said.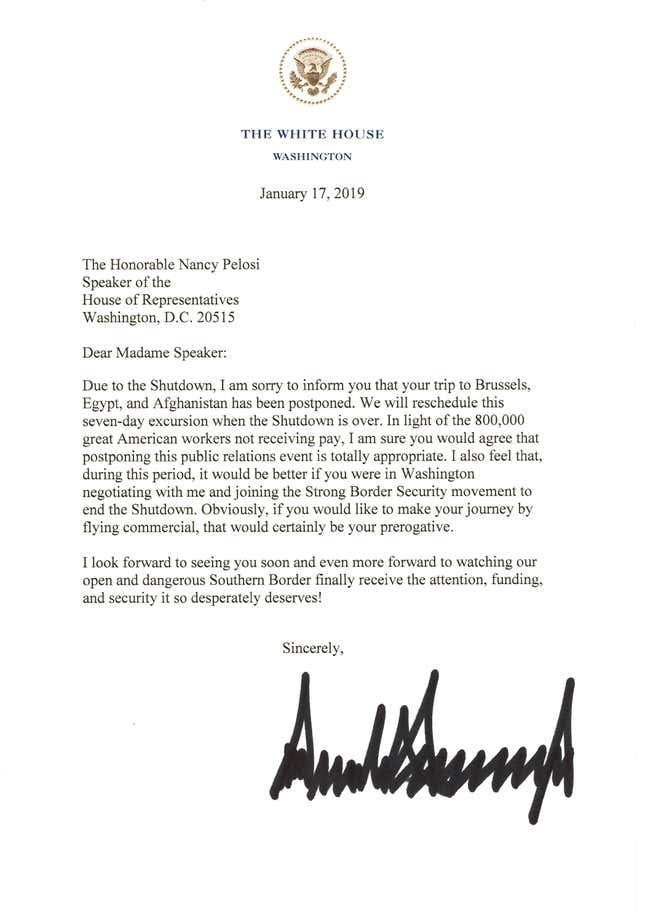 "Obviously, if you want to make your journey by flying commercial, that would be your prerogative," Trump wrote in his letter. Pelosi, like other members of Congress on official business since Sept. 11, 2001, would likely have flown on a US military aircraft, particularly as her planned visit included a stop at a US military base. The five-day trip was supposed to depart today, the Wall Street Journal reported, and run through the Martin Luther King Jr. holiday on Monday.
Just a few hours after the letter was made public, a military-aviation buff (who previously was one of several planespotters to identify Trump's surprise Dec. 26 flight to Iraq) saw, on a flight-tracking system, a US Air Force plane with the call sign normally used for the first lady, "EXEC1F," was in flight from the Washington, DC area.
The first lady's spokeswoman didn't immediately respond to a request for comment, nor did the White House. But CNN reported soon after the plane-spotting that the first lady had taken a government plane to Florida, and had landed in West Palm Beach at 6:45pm eastern time.
The first lady appears to have flown from Joint Base Andrews outside of DC in Maryland to Palm Beach aboard a US Air Force C-32A, a modified Boeing 757, which costs $14,087 per hour to operate, according to figures supplied earlier to Quartz by the Department of Defense. The flight from DC to Palm Beach takes about 2.5 hours, for a total flight cost of $35,217.50.
By comparison, a smaller Air Force C-37A, which is a modified Gulfstream V, costs just $8,227 per hour, and so would have cost approximately $20,000 for the total 2.5-hour flight. Previous presidents have used C-37As for personal travel. First ladies normally use military aircraft for security reasons, but there have been exceptions, like Barbara Bush's 1991 commercial flight to reassure nervous Americans concerned about terrorism. A last-minute ticket on a commercial airline between Washington DC and West Palm Beach, purchased today, would have cost roughly $750.