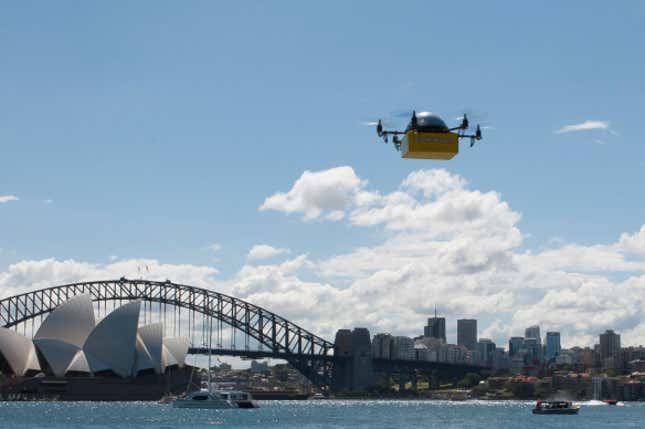 That Amazon is readying a fleet of drones to drop off packages to customers seems like yet another example of the company's cutting edge. The project could go live as early as 2015, after the US approves laws for commercial use of unmanned aerial vehicles (UAVs), but a slew of companies around the world are already leaps ahead of Amazon.
Flirtey, the drone of Zookal, an Australian textbook rental startup, will begin dropping off book orders to Sydney residents as soon as March 2014 (here's video clip of Flirtey in flight). Zookal's fleet of six Flirteys can deliver packages within two to three minutes, locating the customer via the Flirtey Android app. The drones' anti-collision technology prevents them from smashing into things—something that's proved a challenge for other Sydney-based drones.
While the Australian flight authority still has to approve Zookal's plans, commercial drones are allowed to fly within 122 meters (400 feet) of the ground.
Australia's looser regulations could help make it a commercial drone pioneer. "As one of the few countries in the world to allow commercial drone activities, Australia is uniquely placed to create a new drone industry and shape the development of regulations in this space," Zookal CEO Ahmed Haider told The Verge. The company's joint-venture partner, a startup called Vimbra, is now signing up other businesses for drone deliveries, reports PandoDaily.
Breathing down Zookal's neck is Shunfeng Express, one of China's biggest parcel delivery services, which began testing drone delivery back in September. The city police where SF Express is testing its drones, which can fly as high as 100 meters, are so far permitting the drone flights. According to Chinese media reports, SF Express insiders say the company has successfully completed drone testing (links in Chinese).