As a caravan of Central American immigrants headed toward the southern US border last November, US Customs and Border Protection (CBP) started stockpiling ammunition and riot gear for its officers.
Government filings from the time show multiple expenditures related to the caravan. One, for $108,464, is labeled: "AMMUNITION FOR CARAVAN EFFORT." Another, for $16,906, reads: "EMERGENCY PURCHASE OF RIOT GEAR IN RESPONSE TO CENTRAL AMERICA MIGRANT CARAVAN."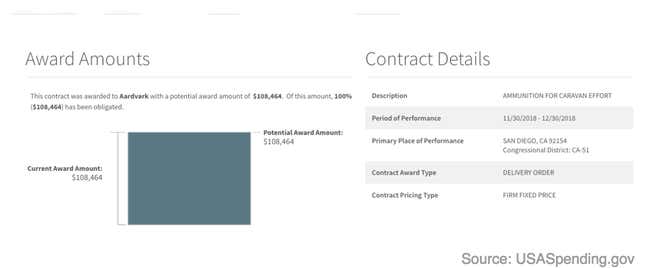 Donald Trump has portrayed the large groups of migrants seeking asylum in the US as a national emergency, warning Americans about "some very tough criminal elements" traveling within them.
Those statements have been widely debunked. (The Washington Post, for example, called Trump's tweets a "caravan of phony claims," and gave them four Pinocchios, its rating for the biggest whoppers.)
Many of the migrants are women and children fleeing violence and poverty at home. The bulk of them have stayed in Mexico, where they are waiting for a chance to make their asylum claims at a legal port of entry.
In late November, the Border Patrol quickly dispersed a crowd of immigrants on the Mexican side of the border, in Tijuana, using tear gas. At the time, CBP said it was in response to rocks thrown at its agents across the border barrier.
The ammunition expenditure does not specify what exactly was purchased, but the category, according to its federal supply code number, includes .40mm projectiles filled with steel balls, fragments, or slugs; baton rounds (plastic or rubber bullets); tracer rounds; and "irritant producing projectiles," such as tear gas. A CBP spokesman said he was unable to respond to Quartz's request for details on the thinking behind the purchases due to the government shutdown.
Federal spending records show additional tactical purchases by CBP related to the caravan's impending arrival. Here are some of the items it got in November. Many were for use in the San Diego, California, area, which the agency refers to as Region IX.
Not all of the purchases were for ordnance and riot gear; CBP also spent $21,000 on water, $16,800 on Drip Drop hydration mix, and $10,268 on MREs—Meals Ready to Eat.
This article has been updated with additional detail about the federal supply code under which the ammunition was purchased.