The Pharaohs of Egypt—who developed the luxury industry of enlarging a duck's liver to some 10 times its normal size and then slathering the harvest on toast to enrage film star Kate Winslet—have handed French president François Hollande a formidable gastroeconomic stimulator as his Socialist government waddles towards the end of its second year of fiscal crises.
"We wish we could have more foie gras here in France," Hollande announced to the 30,000 French citizens connected to the gavage business shortly after his May 2012 move into the Elysée Palace. "We sometimes cannot, due to lack of purchasing power."
Indeed, with France rolling in 84 new taxes in the past two years, youth unemployment brushing 26% and public expenditure creeping above 57% of GDP, some 10,000 tonnes of duck and goose liver last year left the country. That added up to €1.36 billion ($1.84 billion) worth of the stuff. "Foie gras is good for France!" the front page of the newspaper Le Parisien's Economie supplement proclaimed last week.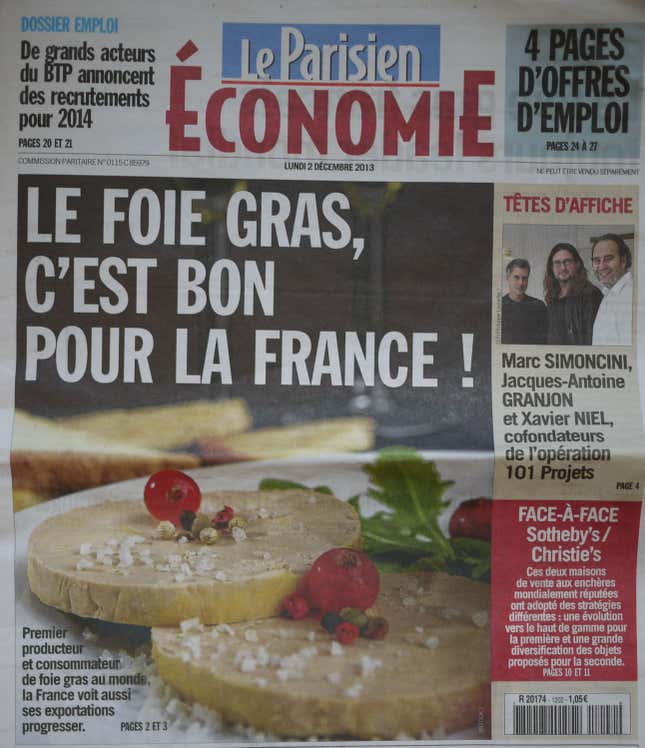 The all-time-high export numbers, cause for joy at the Ministry of Finance and woe among bargain-hunting holiday foie gras shoppers, have opened a barn full of statistics, newspaper articles and seasonal TV documentaries on the importance of exporting waterfowl liver in hopes of keeping the French economy afloat and Hollande's approval rating from falling to a single digit.
"Foie gras is likely our strongest economic indicator," says Paris publisher Philippe Larmine, upset that a 180-gram tin of 2013 Christmas foie gras costs €22, almost €2 more than last season. If there was a Global Foie Gras Index, which there isn't, at least not yet, it would show that France last year plucked €2.4 billion of duck and goose liver. Global production hovers around 26,000 tonnes annually and, with only 6,800 tonnes farmed outside the country, France has a commanding lead of the market. It helps that France is the world's biggest foie gras consumer, and that the production has been outlawed in places such as California for animal rights concerns. Non-French foie gras is mostly Hungarian, and is arguably less tasty.
Which is perhaps why France's 400 foie gras enterprises last season exported 56.7% of their production, according to Marie-Pierre Pé, a member of the Inter-Professional Committee on Foie Gras, who adds that California's 2012 ban on the production and sale of foie gras was an exercise in "polemical" quackery.
And, of course, the Americans are just doing it wrong. "French ducks don't suffer," Pé says.