It's been a tough year for Infosys, the poster child of India's outsourcing industry. For the first time in its 30-year history, the company missed its revenue goal—and that, too, for two consecutive quarters. (Shares plummeted Oct. 12 on a weak earnings report.) But the bigger issue is that the company has fared very poorly compared to its top Indian information-technology peers and has shrunk in size even as the other players keep growing. Its market capitalization tanked more than 25% in the last six quarters. The media bash it. Investors are fleeing. Infosys has become everyone's punching bag.
Should this be the case? Conversations with Infosys's leadership and clients, past and present, lead me to believe the battle ahead is extremely difficult—but surmountable. Let's remember where Infosys has come from. The company was founded in 1981 by six engineers with a small investment of $250. Today, it has grown to be a 150,000-employee company with more than $7 billion in revenue. While it was not the first to offer low-cost offshore resources, Infosys revolutionized the Indian tech space with a unique management style, a highly profitable and fast-growing business, and tall leaders–paving the way for many to start on similar model.
What we are seeing today is a transformation from essentially an entrepreneurial experiment that started 25 years ago—wherein Infosys's charismatic founders managed everything—to a more mature, traditional, and institutionalized organization expected to be run by professionals. Many Infosys followers, too, need to learn this journey. Thus, just as Infosys once served as the model for the IT sector, so it can again. In fact, it must.
First, the bad news: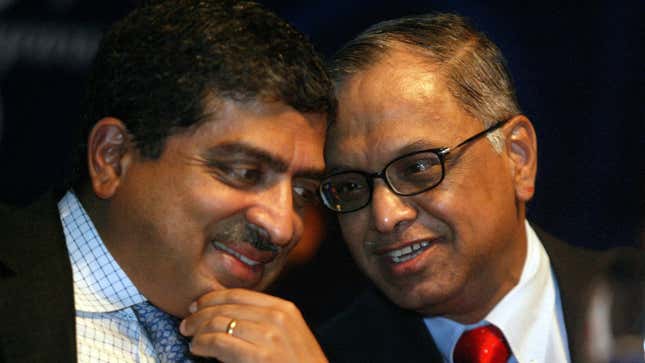 1. The biggest hurdle Infosys faces today is a void in top leadership. CEO S Shibulal has been on the job since mid-2011, and is constantly being compared to his trailblazing predecessors Narayana Murthy and Nandan Nilekani. But Shibulal is more of an operations person than a thought leader. Since he has taken over, the company has seen several organizational changes and senior executive exits. And uncertainty is all that seems certain for Infosys. As he himself said in a recent interview on CNBC, Shibulal will continue as CEO only for another 18 to 24 months. He has also indicated that the new head will come from within the company, citing three names and creating an awkward competition among the trio. So expect another leadership overhaul at Infosys in the next two years with new organization structure and executive churn. In fact, within a month of Shibulal's vow, one of the three candidates, V Balakrishnan, CFO and a board member was shunted out of the CFO position to manage a very small business unit. Alas, the company might be busy dealing with internal shifts, rather than spending time with clients and fighting competition.
2. The exit door. During latest quarter ended on Sept. 30 alone, Infosys lost more than 7,800 employees–more than 5% of its total headcount. In prior quarters too it had seen an even higher number of staffers leaving company , witnessing attrition rates soar to almost 20%, more than peer Tata Consultancy Services' 10%-12%. The company did not increase staff salaries this year during appraisals—and placement agencies and head hunters say Infosys employees are actively looking to leave. This clearly indicates that the staff churn at Infosys will only go up in the coming two quarters.
3. Infosys doesn't have control of its story. While Infosys is busy fighting some of these issues, there has been aggressive spread of bad news and media stories to clients. While it has not lost any major clients—yet—they are keeping a close watch.
But there is good news, too. A lot of it. Here are some of Infosys' strengths that remain, despite the downturn:
1. Infosys has good market understanding. Every time I interview senior business leaders at Infosys, such as a member of its executive council or the head of a practice, I find them better versed with the market situation and what clients are looking for, compared to other IT firms.  They are some of the smartest in the industry.
2. Infosys has strong client relationships. Infosys has seen tough quarters in recent time, but it has been successful in adding 30+ new logos every quarter barring one in the last two years; this shows its ability to still win over the competition and create opportunities of future growth. While it has struggled to grow its newer and smaller clients impacting overall growth, it has grown existing top client relationships. Six quarters ago, Infosys had 113 clients giving business of more than $10 million each annually; today that number has grown to 132. The number of $50 million clients annually also grew from 27 to 41.
3. Infosys has deep pockets. With more than $4 billion cash on its balance sheet, Infosys is in a strong position to make substantial investment–be an acquisition or internal investment to create new capability or build solutions. In fact in September 2012, it acquired  Swiss-based SAP consulting company Lodestone for $350 million, adding strong consulting and business transformation capability, along with nearly $200 million in revenue.
4. Infosys is an early adapter. The company was amongthe early movers to harness emerging technologies such as Enterprise Mobility to help clients improve productivity of its moving staff and cloud computing. It has made substantial commitments to prepare itself to change business models. Infosys has a long track record of creating intellectual property-based assets and solutions. Today it has developed more than 40 of its own platforms to deliver business processes on a new engagement model that generates more than $350 million and is one of the fast growing business units. Clearly, as adoption of some of these new technologies and engagement models go mainstream, Infosys will be prepared to tap those.
What now?
With these strengths and challenges can Infosys recover its lost glory? Especially when on one side clients—already benefited from labor arbitrage—look for the next level of offshore benefit, and on the other side, age-old advantages of Indian firms have vanished and top American companies like Accenture and IBM too can compete on the low-cost model. Fundamentally Infosys, and its  industry peers sailing in same boat, need to undergo radical transformation. They need to take some serious steps, rather quickly.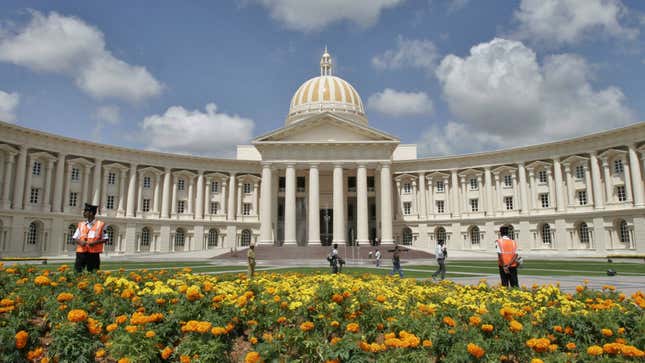 First, Infosys needs to get out its denial mode. During its latest earnings calls, the management blamed the economy, the struggling financial and telecommunications sectors, and slow decision-making by clients as a reason for poor performance, rather than accepting any internal issues at play. It has a good strategy based on solid client relationships, and is well-aligned with new market reality. But the company needs to show strong ability to execute that strategy. Second, Infosys now fully commit to initiatives like acquisitions and new pricing models, make some tough decisions which may dilute profitability in the short term and possibly increase risk in engagements because of outcome based pricing. Third, it has to bring stability to the organization, galvanize employee confidence in the company to restrict employee turnover, and energize all client-facing teams to show more aggression. Fourth, it needs to curb the tide of negative publicity and should leverage its founders like Murthy (who better articulate the company's mission and remains a darling of the media) rather than solely banking on its current leadership. Lastly, Infosys' leadership also needs to remember, time is running short. If progress is not made, the company will be caught between an employee exodus and challenges stemming from attrition on one side and decreased client confidence on other. Let us hope Infosys grabs this last window of opportunity.