In America, retailers are fretting about one of the shortest Christmas shopping seasons in recent history—there are six fewer days between Thanksgiving and Christmas this year than last. Given the fanfare around the holiday shopping season in the US, you could be forgiven for thinking that the weeks leading up to Christmas are a matter of life or death for retailers in the country.
But according to an analysis of retail sales data by Quartz, American shoppers are positively subdued in November and December compared with their counterparts in some other countries: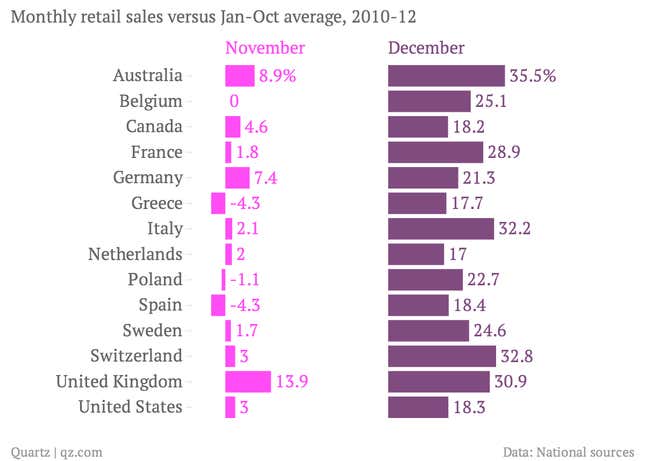 The Brits in recent years have spent some 14% more in November and 31% more in December than the average month in the rest of the year. This "full-on consumer orgy," in the words of one retail analyst, has been kicking off earlier each year in Britain, where the lack of a traditional starting point like Thanksgiving in the US or Advent in continental European markets gives retailers a freer hand to keep pushing holiday promotions earlier in the calendar. This may also explain Australians' enthusiasm for shopping in November and December (in addition to the summer weather). Varying gift-giving traditions could explain the differences in spending trends elsewhere.
The holiday season isn't just about shopping binges, of course. There's also binge eating and drinking. The Brits and Aussies distinguish themselves on this score, too. When comparing spending on food and drink services—essentially, restaurants and bars—in December with the average month during the rest of the year, few other countries come close. (The data is patchier for this category, however, so fewer countries are in the sample.)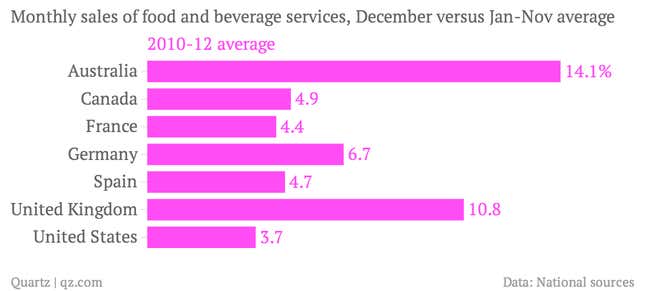 All of those Australians out on the beach and Brits hitting the booze at the Christmas office party make for a roaring trade, it seems. Revelers in other countries may be every bit as gluttonous during the holidays, just not in public. Perhaps it's because they don't spend so much time out shopping.