Figures released by the US Census Bureau today reveal that the US exported more in October than ever before: $193 billion. One of the largest, and most reported, components of the increase was petroleum products, driven by the US energy boom. But while US energy production has sustained the long-term growth in exports, the most influential US export in October was neither oil nor gas—it was soybeans.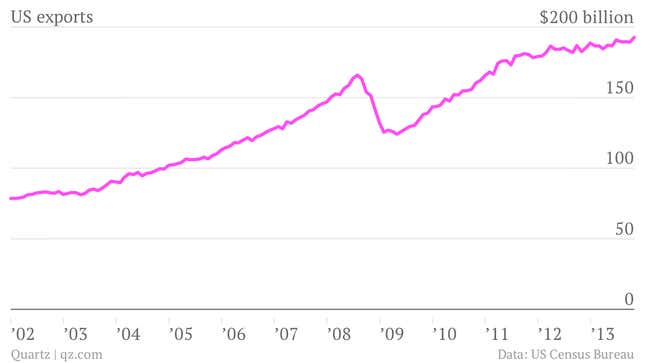 Soybean exports increased $3.0 billion from September to October, accounting for $3.95 billion of the US's exports, according to the Census Bureau's Foreign Trade Division. The surge was the largest of any commodity—3.5 times larger than the increase in oil—and coincided with the peak of the US soybean harvest (pdf, p. 25).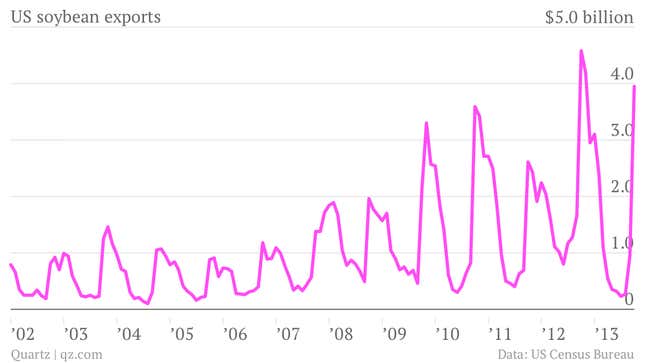 It's worth noting that soybeans account for a much smaller portion of US exports than oil; they made up 1.6% of US goods exports in 2012 compared with non-crude oil and gas's 6.63% of merchandise exports. The impact of soybeans on exports is also seasonal; In the six months following the 2012 harvest, exports fell to $0.55 billion from $4.58 billion. For those reasons, oil and gas remain a bigger driver of US export growth long-term. Non-crude oil and gas is on pace to be the US's top export again in 2013, following top billing in 2011 and 2012.
But as for what led export growth from September to October, soybeans ruled the day. Exports of oil and gas only grew $869 million from September to October.
Growth in other export categories also contributed to the spike: 859 of 1,286 mid-specificity product categories tracked by the Census showed increases in exports. Declines were logged on 366 categories. The largest losses were in wheat and civilian aircraft. Wheat exports—another seasonal grain—were down $457 million. Civilian aircraft—affected by the very nature of a low volume high price business—were down $360 million, about the price of a single Boeing 747 aircraft.