Until the start of last year, the Canadian stock ticker "POT" was held by Potash Corp. of Saskatchewan, the world's largest potash producer. Then it merged with a Calgary-based competitor. Now, following a lottery of some 40-odd hopefuls, the trading symbol has been gifted to tiny Vancouver-based cannabis company Weekend Unlimited Inc., whose stock rose by almost 150% in the wake of their Friday (Feb. 1) win.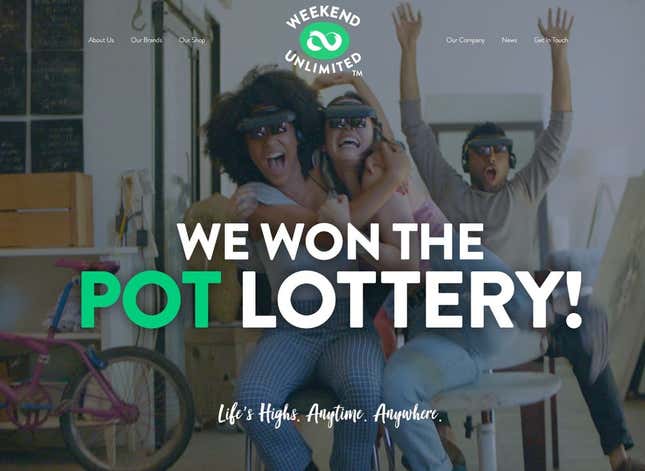 The kicker? Weekend Unlimited was doing quite well on the ticker front already: Before winning big last week, the company traded under the almost-as-buzzy YOLO ("you only live once"). Who'll be taking over that symbol remains to be seen—presumably it would be a tough call for the Hill Street Beverage Co. (current ticker: BEER).
What is surprising, as Bloomberg's Matt Levine notes in his Money Stuff newsletter, is the choice of a lottery as a means of awarding the spoils. "You run a market! Sell the thing! If you've gotten "significant interest" in the POT ticker, as the TSX says it has, you should auction it off to the highest bidder, not raffle it off to the luckiest."
Well, maybe—but in true, friendly Canadian fashion, the lottery was the chosen option, and Weekend Unlimited the chosen victor. The company seems optimistic about the symbol's potential effects. In a statement, director Brian Keane said he hoped the stock ticker and the company's entry on the OTC Pink Market would "raise our visibility within the investment community and will help to broaden our shareholder base."
How much it will actually benefit the company remains to be seen: At least one study suggests there's value to be had in a "congruent ticker symbol" (e.g. DELL for Dell). On the most basic of levels, this seems to make sense: If you're an amateur looking to invest in pot, you could do worse than starting with POT—though opting for WEED may be better yet: It's the ticker for comparative monolith Canopy Growth Corp.