US troops have hung new coils of razor-sharp concertina wire on the American side of an existing border fence in downtown Nogales, Arizona, covering the steel-slatted barrier in some places from top to bottom.
As many as four rows of razor wire were added to the existing two rows of wire troops previously attached to the 25-foot fence in November. About 2,350 active-duty troops were deployed to the southern border by Donald Trump address what he calls a national-security crisis. (The Pentagon disagrees.)
"That wire is lethal, and I really don't know what they're thinking by putting it all the way down to the ground," Nogales mayor Arturo Garino, a Vietnam vet and former law enforcement officer, told the Nogales International newspaper.
Raul Grijalva, a Democratic congressman who represents Tucson, called the additional wire "nothing more than a spectacle by the Trump administration to reinforce his twisted narrative of rampant lawlessness at the border," a mischaracterization that "couldn't be further from the truth."
The Nogales city council is set to consider a resolution today (Feb. 6) demanding the wire be removed. It describes the "sharp razor-like blades…designed to entangle its victim as the razors slice/cut deeply into the flesh and causes indiscriminate injury which can be fatal" and argues that the "initial concertina wire was installed at a height where it would only indiscriminately harm or kill anyone who actually scales the border wall."
Coiled concertina wire strands on the ground are "typically only found in a war, battlefield, or prison setting, and not in an urban setting such as downtown Nogales, Arizona," the resolution says. "No military force or the use of military-type tactics designed to inflict indiscriminate harm [shall] be allowed in the City of Nogales without the Declaration of War by Congress of the United States or the Declaration of a National Emergency," it declares.
Garino said officials from US Customs and Border Protection (CBP) and US Border Patrol, the agencies which the troops are supporting, refused to meet with city officials before troops started the job in November. A spokesperson for CBP, the Border Patrol's parent agency and a component of the US Department of Homeland Security, told Quartz that Border Patrol leadership met with elected officials and law enforcement from the City of Nogales yesterday (Feb. 6) to "listen to concerns and explain the current concertina wire deployment and the requirements leading up to this action."
The spokesperson added that the additional strands of concertina wire are limited to "high-risk urban areas commonly exploited by criminal smuggling organizations," are marked by warning signs, and that there are "currently no plans" to remove them.
Troops have installed 70 miles of razor wire along the border since then, according to the Department of Defense. Another 150 miles is scheduled to be put up by March 31 and troops will stay at the border through September, officials told the House Armed Services Committee. More than $2 million worth of concertina wire purchases by the US Defense Logistics Agency (DLA) made between last November and December are listed in a public government spending database; the overall border operation has so far cost approximately $240 million.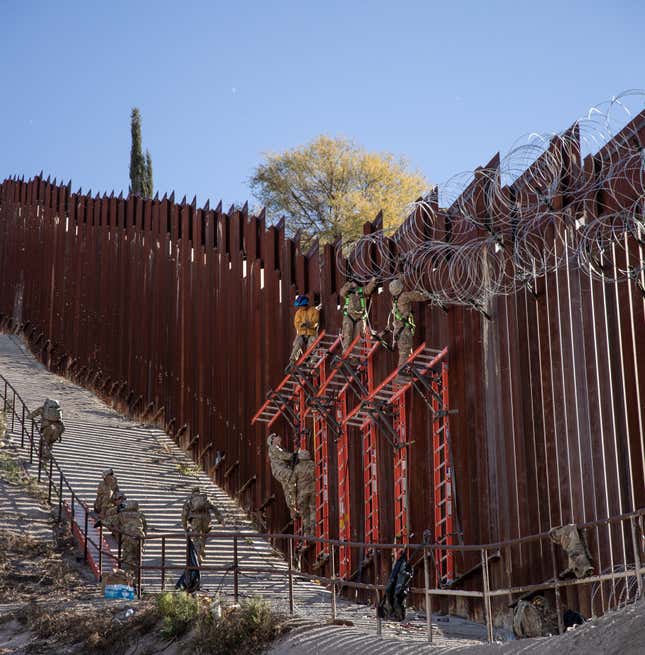 A solicitation recently issued by DLA seeks a vendor capable of supplying 126,000 50-foot rolls of "barbed tape concertina wire" a year for the next five years, at an estimated cost of $26 million. That comes to 6.3 million feet of wire, or 1,193 miles, annually.
Concertina wire installed in November along border fencing in Laredo, Texas was removed three weeks later following criticism from local lawmakers. In Hidalgo, Texas, the same type of wire was also installed but later removed.
Recent imagery of downtown Nogales doesn't appear to show a town overrun by criminal bands of fence-jumpers pouring in from Mexico. Nogales International reporter Jonathan Clark asked a local shopkeeper if the concertina wire outside his store gave him any sense of additional security.
His answer? "Absolutely not."
This post has been updated with comment from CBP.