By Tyler White | Manager and Principal Analyst, Adobe Digital Index
While many reports indicated that, overall, in-store shopping for Thanksgiving weekend was slightly down, data from the Adobe Digital Index (ADI) offers this bright spot: Online shopping on Cyber Monday hit $2.29 billion in sales, which is less than 1% off ADI's original prediction and up 16% year-over-year (YOY).
According to ADI numbers (based on an examination of 3 billion visits to retail web sites this past weekend), online sales for the five days from Thanksgiving through Cyber Monday broke all previous records–a good indication that e-commerce is becoming the shopping activity of choice in today's digital world. Total online sales since Thanksgiving Day are up 26% YOY, to a whopping $7.4 billion.
Shopping patterns this season certainly have taken some unexpected twists, as retailers delivered promotions in waves and opened stores earlier on Thanksgiving Day. Although the promotions, in-store changes, and earlier shopping hours dramatically impacted Black Friday–pushing online sales up 39% YOY–Cyber Monday shopping patterns were consistent with previous years. Cyber Monday sales peaked between 8 p.m. and 9 p.m. Eastern Time, with sales in that hour alone totaling $150 million.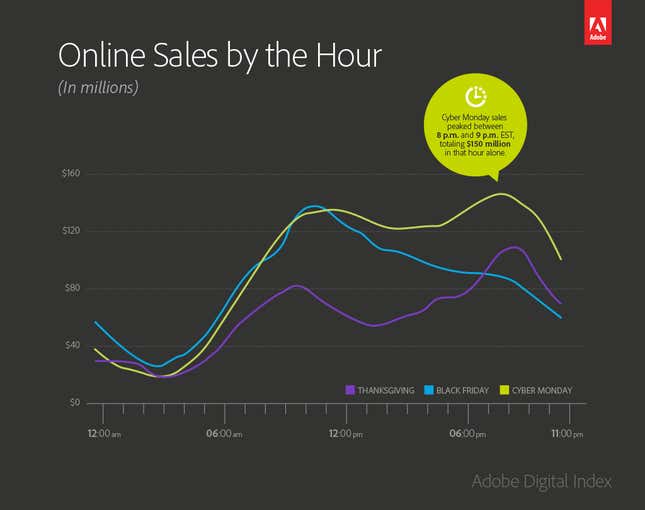 Social media referrals rock!
While ADI has previously reported that social media plays more of an influencer role in the buying process, during the past five days $150 million in revenue came from social media referrals. Twitter referrals have grown the most, with a 24% increase YOY. Pinterest came in with 17% growth, and Facebook posted 12% growth. Overall, social media referrals remain flat, at 2%, with other networks, such as Tumbler, Reddit, Blogger, and YouTube, down against last year.
Mobile plays supporting role
Mobile shattered previous records on Thanksgiving Day and Black Friday at an average sales contribution of 24% and contributed to 80% growth in mobile sales YOY. On Cyber Monday, mobile played a lesser role, as consumers seemed more than happy to sit at their work computers or at home with their laptops in the evening hours and shop. Even at the 18.3 percentage of sales on Cyber Monday, however, the total sales attributed to a tablet or smartphone this Cyber Monday was $419 million ($290 million from tablets and $129 million from smartphones). Twenty-nine percent of visits to retailers' web sites came from smartphones, but these visitors converted to sales at a much lower rate than did tablets or desktop users.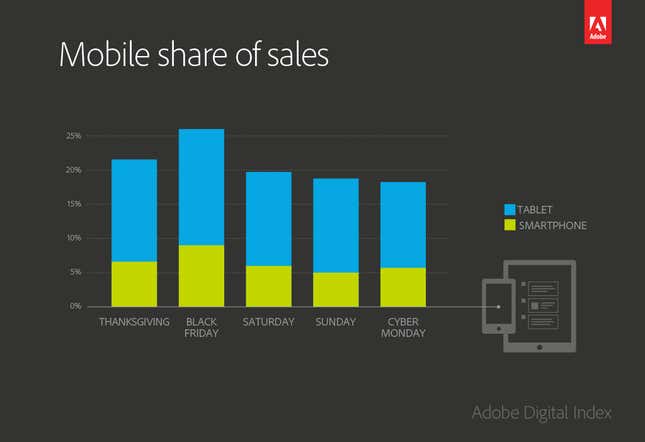 Cyber mall of America
Interestingly, the states with the highest percentage of sales from mobile devices were not the wealthiest ones. Alaska and Hawaii, which have a lower percentage of desk workers, tied for first place, with 26.6% of sales coming from tablets and smartphones. North Dakota, Rhode Island, and Wyoming (also the highest on Cyber Monday in revenue per visit online) rounded out the top five.
Green Monday on the horizon
Looking ahead, online sales will peak again next Monday (called Green Monday, a term coined by eBay), and many countries will expe­ri­ence their own Cyber Monday events.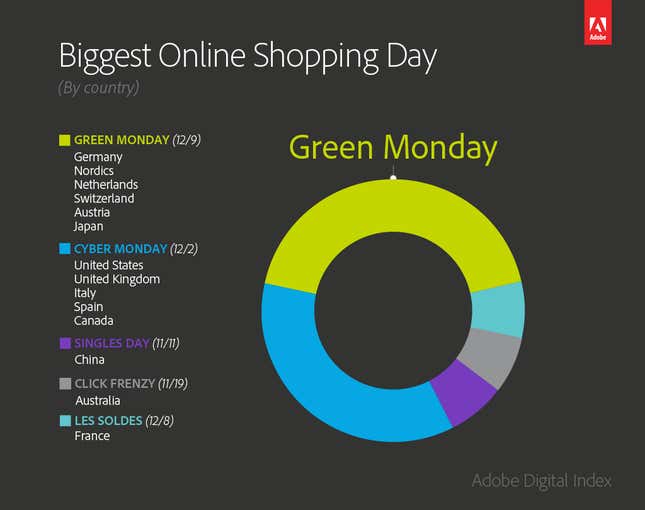 Follow @AdobeIndex on Twitter for the latest digital marketing trends and insights.
This article was produced by Adobe and not by the Quartz editorial staff.