Sixty years from now, the typical winter in Philadelphia, Pennsylvania will feel like Memphis, Tennessee does today. For example, Philly's 2080 winter will be about 9.1°F (5.1°C) warmer and 41.1% wetter than the winter of 2018. Memphis, meanwhile, will resemble Brenham, Texas, which is 10.9°F (6.1°C) warmer and 36.6% drier in winter than Memphis is now.
That is, if the world's greenhouse-gas emissions continue on the trend they are now. On the other hand, if policies including the Paris agreement are fully enacted to peak emissions global by 2040 and draw them down from there, Philadelphia in winter 2080 will feel like 2018 winter in a Maryland town called California (sorry, bear with me), typically 5.6°F (3.1°C) warmer and 3.4% drier than Philly winters today. That's still a lot warmer than today, but far less extreme of a difference than if emissions continue unabated.
A paper published Tuesday in the journal Nature Communications compared the current climates of 540 cities in the US and Canada to predicted 2080 climates, based on models that assume the global community does not dramatically and immediately draws down its emissions of greenhouse gases.
"Within the lifetime of children living today, the climate of many regions is projected to change from the familiar to conditions unlike those experienced in the same place by their parents, grandparents, or perhaps any generation in millennia," Matt Fitzpatrick, a professor at the University of Maryland and lead author on the paper, said in a statement. A person living in the majority of North American cities 60 years from now will have to drive around 500 miles north to experience the climate of their city today, he said.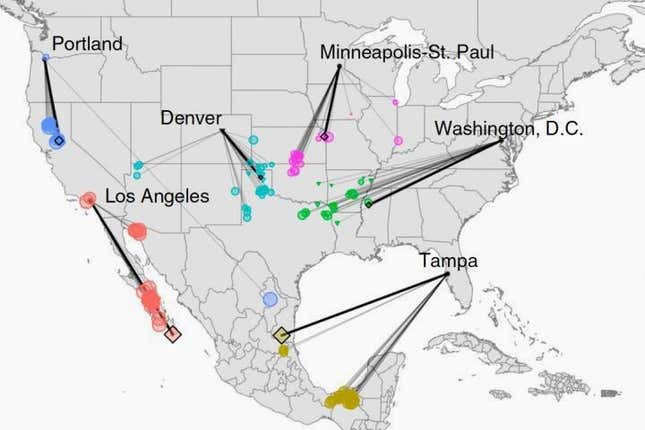 Fitzpatrick, along with Robert Dunn of North Carolina State University, built an interactive where you can search their database of 540 cities to see their 2080 climatic equivalent.
For anyone even casually familiar with North American geography, the results are remarkable. For example:
New York winter will look like winter in Jonesboro, Arkansas (8°F (4.4°C) warmer and 10.8% wetter)
Washington, DC winter will look like winter in Greenwood, Mississippi (9.8°F (5.5°C) warmer and 75.2% wetter)
Houston, Texas winter will look like winter in Ciudad Mante, Mexico (15.5°F (8.6°C) warmer and 84.3% drier)
Los Angeles winter will look like winter in Las Palmas, Mexico (8.3°F (4.6°C) warmer and 79.6% drier)
San Francisco summer will look like summer in Palos Verdes Estates, California (4.5°F (2.5°C) warmer and 42.9% drier)
Chicago winter will look like winter in Lansing, Kansas (7.2°F (4°C) warmer and 31.8% drier)
Phoenix, Arizona winter will look like winter in Esperanza, Mexico (12.4°F (6.9°C) warmer, 44.2% drier)
Charlotte, North Carolina summer will look like summer in Tallahassee, Florida (3.7°F (2.1°C) warmer and 73% wetter)
Nashville, Tennessee summer will look like summer in Saraland, Alabama (3.3°F (1.8°C) warmer and 56.3% wetter)
Detroit, Michigan winter will look like winter in Chester, Pennsylvania (8.6°F (4.8°C) warmer and 63.6% wetter)
Boulder, Colorado winter will look like winter in Clovis, New Mexico (9.6°F (5.3°C) warmer and 26.5% drier)
Toronto summer will look like summer in Secaucus, New Jersey (5.2°F (2.9°C) warmer and 35.1% wetter)
Vancouver winter will look like winter in Seattle (4.3°F (2.4°C) warmer and 24.4% drier)
Portland, Maine winter will look like winter in Baltimore, Maryland (11.6°F (6.4°C) warmer and 14.5% drier)