Donald Trump is getting a taxpayer-funded barrier built without having to declare a national emergency.
His plan to seize billions from the military and federal drug enforcement budgets for a wall on the southern border of the US is likely to be tied up in the courts for a while. But a new barrier in West Palm Beach, Florida—presumably to be used at his private Trump International Golf Club—is proceeding without any holdup.
According to government spending data, the Secret Service has allocated $12,000 for the rental of "privacy fencing and barricades needed for visits to West Palm Beach." The company providing the fencing and barricades, National Construction Rentals, has a supply yard about 15 minutes from Trump International.
Asked about the contract, the Secret Service told Quartz it could not discuss the methods it used to "carry out its protective responsibilities." National Construction Rentals did not respond to a request for comment.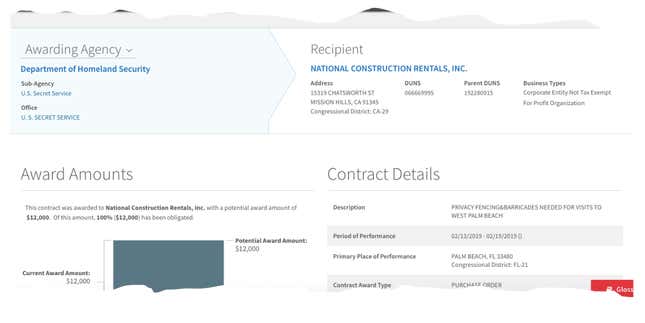 Trump spent three days this past President's Day weekend at his course, and part of the 159 days total he has been at golf clubs since he was inaugurated in 2017.
In the past, Trump clubs have blocked the press pool's view of the president playing golf by putting them in basements and covering windows with black plastic.
In 2017, a white box truck blocked CNN cameras from filming Trump while he golfed at Trump International. (The Secret Service said it was not responsible.)
Taxpayers have picked up the tab for the Secret Service to rent golf carts to protect Trump while he hits the links, including more than $90,000 this winter in Florida, bringing the agency's total golf-cart rental expenses to approximately $400,000 since Trump took office. Trump's golfing while president has so far cost taxpayers an estimated $88 million, including security and flights aboard Air Force One.
The company that's constructing the fencing also rents toilets ("among the newest and cleanest in the industry") and storage containers. Its privacy fencing fulfills many purposes, it notes, including reducing dirt and debris and providing "protection from eager fence jumpers and would-be thieves."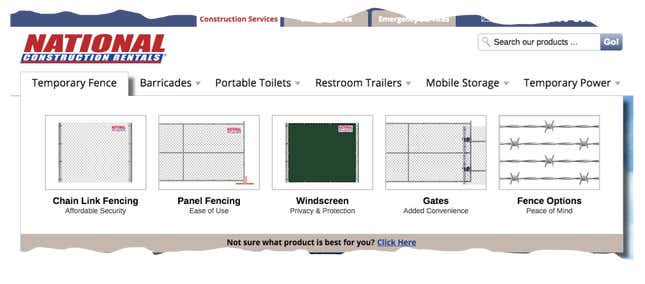 Last year, the same company was contracted by the Secret Service to put up "barricades and fencing" in Palm Beach, home of Trump's private Mar-a-Lago resort. Taxpayers were charged for that too, to the tune of $17,000.