Starbucks is jumping on the soda streaming bandwagon. And amazingly it's letting customers in certain stores globally carbonate not just juices and sodas but a selection of its coffee and tea beverages too.
The company has been secretly testing the market for "handcrafted sodas" since this past spring, using Sodastream-like carbonation machines behind counters in certain stores to add fizz to the beverages when a customer orders them. Starbucks' customers have been asking to carbonate a slew of other drinks, including teas and coffees, and Starbucks has actually been allowing it.
The offering was an experiment limited to certain stores in Japan, Singapore, Atlanta, and Austin, Texas. Starbucks now says it's pleased with the results and has moved to trademark the name Fizzio as part of its still-unofficial plans to launch a bona fide soda line, or at the very least official carbonation add-on.
CEO Howard Schultz is now calling out soda as a new initiative for the coffee giant going forward. "Carbonation. That is a new category for us," Shultz told investors at the company's most recent earnings call. "We think it's a significant opportunity," he added, calling the recent tests "very encouraging."
As part of the tests, customers have been encouraged to try the three carbonated drinks—lemon ale, ginger ale and spiced root beer. Starbucks has selectively marketed them like this: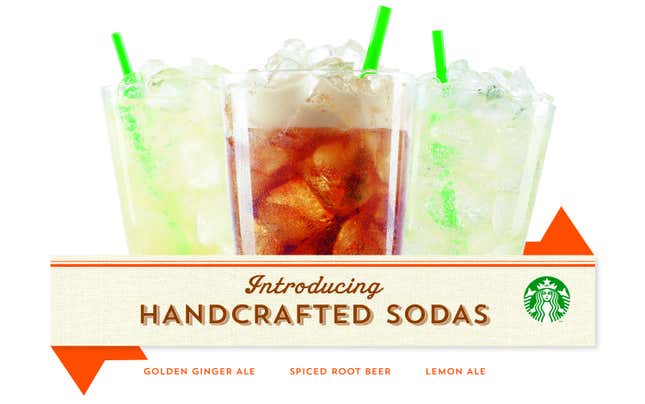 But it's more likely you haven't heard about this—the company has kept its experiment pretty hush hush. It's also been pretty quiet about the fact that its three advertised offerings aren't the only drinks customers can have baristas bubble up. They're adding fizz to most things a customer requests. The only real, hard constraints so far have been espresso drinks and Frappuccinos, which the company can't yet handle carbonating, a Starbucks spokesperson told Quartz.
Part of the original impetus for testing sodas, according to the spokesperson, is an understanding that customers prefer lighter, more refreshing drinks later in the day, and carbonated ones offer exactly that. But Starbucks isn't merely offering canned or bottled fizzy stuff; it's latching on to the popularity of soda streams by carbonating drinks, on the spot, behind the counter.
Given Starbucks' willingness to carbonate more than just the three advertised beverages, including its coffees, the company could also be positioning itself to make carbonation the newest run-of-the-mill add-on. That means that asking for a tall, unsweetened, carbonated tea could soon be the norm, and making sure your order is uncarbonated could soon be a must if you're not into that sort of thing.
Whether Starbucks actually launches a carbonated drink line called Fizzio remains to be seen, but there's plenty to suggest that at the very least you can expect your Starbucks barista to be fiddling with a carbonator in the near future. Asked if Starbucks' goal is to get on-the-spot carbonation to a point where carbonating a drink is akin to, say, adding a pump of vanilla or extra shot of espresso, a company spokesperson replied: "I would say that it's a next natural step in our customization options."