It's official. When you clumsily offend half of the human race it damages your brand and hurts your business.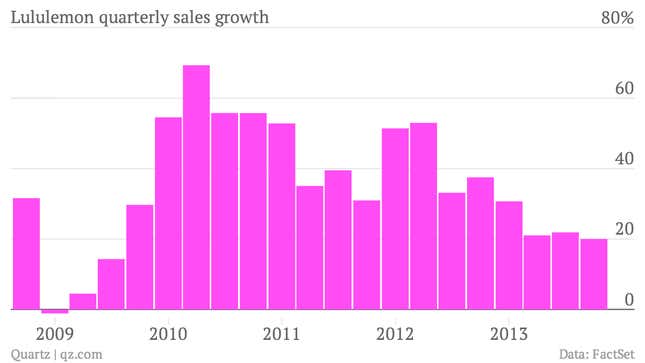 Lululemon posted its third-quarter earnings this morning and Wall Street isn't impressed. Sales were up 20%, but that is the slowest growth since July 2009, and it's only adding to concerns that the yoga-pants maker's incredible run of growth, completely at odds with the woes most brick-and-mortar retailers have been experiencing in the last few years, could be behind it.
The company also cut its earning forecasts for next year, and its shares have tanked about 10% in early trading. For the first time, the company admitted that comments by its founder and recently departed chairman, Chip Wilson, who tried to blame the fact that some of its signature black yoga pants were somewhat transparent on the shape of some women's thighs, is having a significant impact.
"We are seeing a slowdown in traffic to our stores," chief financial officer John Currie revealed on the company's post-earnings conference call today. "I think anytime there is negative PR for our company, there is an impact on the business. I'm not saying we can see a one-to-one correlation, but let's face it. We've had lots of PR issues this year… And there is undoubtedly some impact on traffic and therefore on the business."
In an attempt to reconnect with its customers, Currie mentioned that the company has instituted a new program in stores called no humbug that focuses on "random acts of kindness." The comments from readers on the company's blog post about the no humbug program suggest winning over skeptics is going to be an uphill struggle.
On a more positive note, Currie said, the company is getting good feedback on its "Full-On Luon" pants, which are available in "all tight bottom styles". Laurent Potdevin, who joined as the company's new CEO this week, might be wondering what he's got himself into.