Costco sees opportunity in Spain's deadbeat economy.
The massive global wholesaler recently announced its plans to open 36 new stores next year, including the company's first two in Spain next spring. This might seem strange, considering how poorly the Spanish economy has been performing, but it happens to be just the reason for Costco's attraction.
Retail in Spain is a bristly sector for foreign companies, even by European standards. Despite relaxing its market regulation a good deal over the last decade, the sector is still a lot harder to penetrate than most in Europe.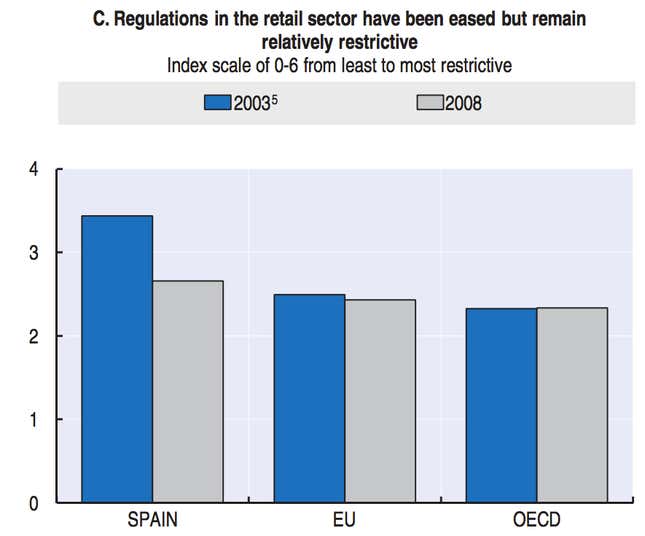 Spanish regulators have eased up on the sector since the eurozone crisis in the hopes of spurring  jobs and growth, the OECD pointed out in a report released last year. Costco has taken note. "It's an opportunity for us to get in when historically it was a little harder," CFO Richard Galanti said in the company's most recent earnings call on Dec. 11. "We provide [those] good high paying jobs."
The company is also banking on an economic comeback in Spain to jolt consumer demand. The country's retail sales, while beginning to recover from last year's lows, are still tepid. But Costco sees hope in Spain's recent emergence from a two-year recession. "When we look at Spain, we think the economy is a little better than some of the numbers would portray," Galanti said.
Consumers in Spain may also be less resistant to bulk shopping than, say, consumers in France, where the company has yet to venture. Galanti went as far as likening Americans' taste for fine European goods, like leather and cashmere, to Europeans' taste for the company's Kirkland Signature discount line. "Guess what," he said on the call. "Some of these other countries like big American stuff at great value and prices."