During Chinese president Xi Jinping's visit to Italy starting tomorrow (March 21), the euro zone's third-largest economy is expected to officially back the Belt and Road Initiative (BRI), China's global push to extend its political and economic clout abroad.
The move, which is alarming European allies and the US, bears the stamp of a relative newcomer to Italian politics: Michele Geraci.
Xi's visit to Italy, which will be followed by stops in Monaco and France (paywall), comes after discussions in Europe that have seen China labeled a "systemic rival" and amid efforts by the US to bar Chinese firms from participating in the roll-out of 5G telecom by allies over concerns about network security.
Italy would be the first BRI member from the G7, a grouping of democratically governed advanced economies that has long played a role in shaping policy globally. The other members include France, Germany, the UK, Canada, the US, and Japan. A endorsement for BRI, a re-invention of the historic Silk Road trading routes launched by China in 2013, can signal the likelihood of a country breaking ranks with traditional allies to side with China over politically charged themes. More than 60 countries are involved in the initiative.
The US has publicly criticized the Italian move.
Behind Italy's move to deepen ties with China—even as global concern about Chinese investment has increased—is Geraci, one of the most ardent admirers of China in the Italian government. Now serving as Italy's undersecretary for economic development, Geraci lived in China for over a decade teaching finance, and has written approvingly about the country's approach to everything from China's stern controls (link in Italian) on internal migration, to its security apparatus, to its investment strategy on the African continent.
Geraci has presented the agreement to be signed during Xi's visit as a way to both boost Italian exports and "bring China in line with international standards," according to a CNBC interview uploaded on YouTube by Geraci. He said the understanding will give Italian businesses "a choice, but not an obligation," to collaborate on projects overseas, and downplayed concerns from elsewhere in Europe and from within his own government.
The decision has been accompanied by relative opacity about what exactly this means for the country, prompting the Italian press to clamor for greater information on the deal. Italian news sites have leaked two different (link in Italian) versions of the document, both of which are fairly vague.
Prime minister Giuseppe Conte, who is expected to attend the Belt-and-Road summit in Beijing next month, has said the agreement (link in Italian) will be an opportunity for Italian businesses to expand into China, and doesn't involve telecom technology. While the economic development ministry also insists that telecoms are not part of the agreement, the undersecretary for foreign affairs, Guglielmo Picchi, who has expressed doubts about Italy signing on to the initiative, tweeted that the document also involves "telecommunications, interoperability, and infrastructures."
The disputing communications are characteristic of Italy's fragmented government, which consists of a coalition between the populist Five Star Movement and the far-right, anti-European Union Northern League.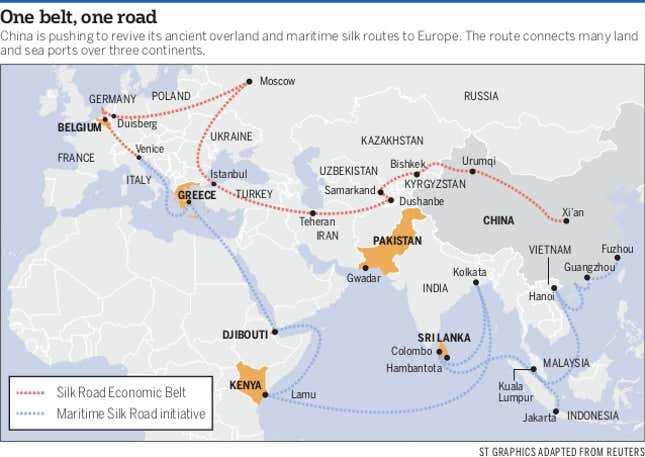 Geraci, who is from the Sicilian city of Palermo—which Xi will visit on this trip—has been keen to attract greater investment from China to Italian ports, in particular in Genova, Palermo, and Trieste. "All of these ports have the benefit of being closest to Africa," Geraci told the New York Times (paywall), "without being in Africa."
In a detailed profile (link in Italian) in the Italian newspaper Il Foglio, Geraci is also described as having asked all his staff at the ministry to download WeChat, the popular Chinese instant messaging (and everything else) app that represents both China's high-tech innovation and its surveillance of online communication. At least once, according to the same article, he pretended to miss a plane on a ministerial trip to Korea and Japan, in order to spend extra time in China.
Geraci did not respond to requests for comment from Quartz.
In response the US campaign around Huawei, Geraci has said the national security debate should be about whether to allow foreign telecom providers, not about saying "yes or no" to Huawei (paywall). On his personal website, dispatches cover the delivery of an Italian cruise ship to cater to Chinese travelers, while videos explain how Italy can attract Chinese investment while avoiding predatory takeovers.
Xi's visit comes as Italy entered a recession in the last half of 2018, and has butted heads with Europe over a budget deemed too extravagant. Foreign investment from China could help boost the economy, it hopes, and fund updates of ageing infrastructure.
By getting Italy's endorsement, China is successfully proceeding in its strategy of making deals with single countries inside the EU. This has made the bloc less effective at presenting itself in front of Beijing with a single voice.
In 2017, for the first time, the EU was unable to present a statement on China's human rights record before the UN Human Rights Council, after Greece—Europe's biggest recipient of Chinese investment and loans—blocked it. This took place soon after China's Cosco Shipping, a state-owned firm and one of the world's largest shipping companies, acquired 51% of Greece's Piraeus port, the country's largest. Similar worries have emerged from Viktor Orban's Hungary, and other smaller European nations.
Deputy prime minister Luigi Di Maio, leader of the Five Star Movement, dismissed the idea that the agreement is a major win for China's expansion abroad, or has ramifications apart from commercial ones. He even declared (link in Italian) that by signing the BRI accord, "the Made in Italy brand wins." Both Di Maio, who is also minister of economic development, and Geraci have remarked that Italy lags in exports to China, and should catch up with Germany, the UK, and France—none of which are signatories to the BRI.
The Italian decision, however, is taking place against a backdrop of China's slowing economy, and a fall in Chinese investment in the US and other European countries. The shift in political commitments that the BRI project might entail for Italy may not even end up reaping the economic benefits its government so eagerly seeks.