Dozens of nations have grounded the Boeing 737 Max. Thus far, the US has not.

That's despite reports of US-based pilots formally complaining about the aircraft, further stoking concerns. Passengers are reportedly refusing to board scheduled flights on the single-aisle aircraft. US politicians across the political spectrum have called for the Federal Aviation Authority to pull the planes out of service, with senators Elizabeth Warren and Mitt Romney among those publicly in favor of grounding the plane.
Both Boeing and the FAA maintain that the aircraft is safe. But the authority is running with reduced capacity, like many US federal agencies. For the past 14 months, it has been without a permanent top official, while for the past two years, the White House has pushed for its budget to be slashed. The recent government shutdown resulted in officials delaying approvals for necessary safety upgrades.
This morning, Canada followed in the footsteps of 50 other nations and instituted a late-stage ban of its own, grounding the planes and barring them from the country's airspace.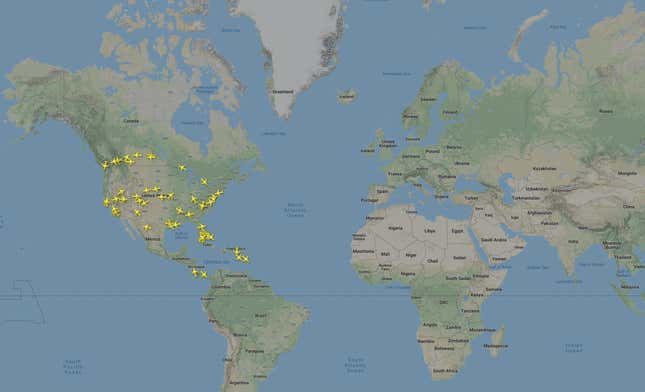 As this Flightradar scan shows, Boeing 737 Max planes are still flying—but only in a very limited sense. Because of the plane's smaller size, they generally aren't used for long haul international travel. Worldwide, just four routes exceed seven hours in length. For American Airlines, and Southwest, global restrictions on the 737 Max likely aren't making much difference to scheduled domestic routes. Whether prospective passengers feel comfortable getting onto those planes, however, is another matter.
This story has been updated to reflect Canada's ban on Boeing 737 Max planes.