If you have ever bought bitcoin, chances are that you placed your order in a specific, deliberate increment. Maybe you bought $25 or $100 worth of the cryptocurrency, or perhaps 1 or 2 bitcoins. (At the moment, one unit of the cryptocurrency costs about $4,000.)
Predictable purchasing patterns like these are apparent in the order books of legitimate crypto exchanges. Transactions around whole numbers and activity corresponds to customers' sleep-wake schedules. As shown in the histogram below, bitcoin is frequently purchased in whole amounts: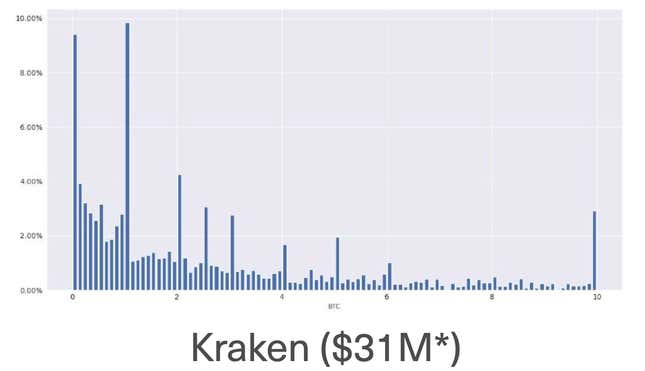 However, exchanges suspected of artificial trading activity often lack these markers of human trading. Instead, they reflect purchases that are evenly distributed across order sizes.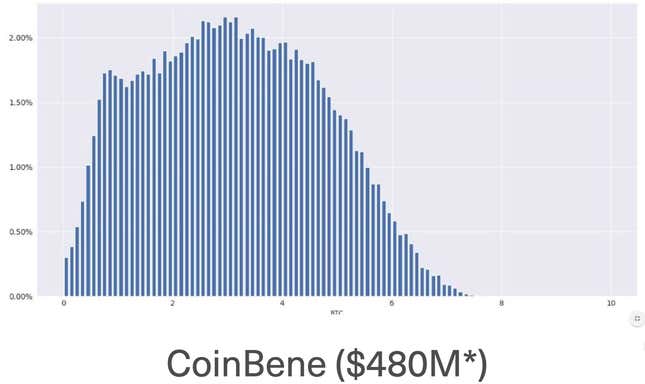 Close to 95% of reported bitcoin trading is fake, claims Bitwise, a San Francisco-based crypto index fund provider. The firm is currently lobbying (pdf) the US Securities and Exchange Commission to approve an exchange-traded fund that tracks the price of bitcoin. To convince the agency, Bitwise claims it can sift through the noise and focus on the much smaller but authentic bitcoin market.
Another indicator of artificial volume is buy and sell orders that occur in pairs. Note CoinBene's alternating red and green market trades on the far right of the graphic below. This is similar to alternating heads and tails on coin flips. It suggests that the trading activity is not being randomly generated by users.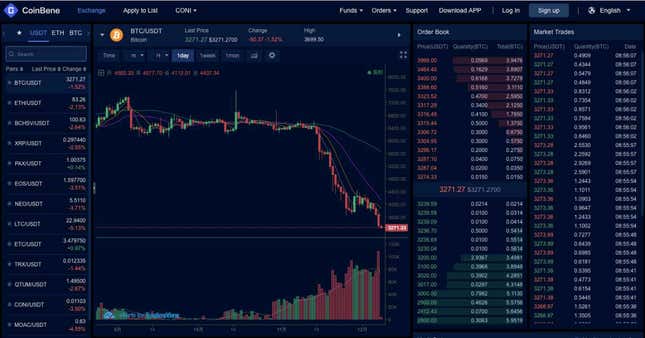 Actual trading behavior is predictably, well, unpredictable. Buy and sell streaks vary in duration, says Bitwise.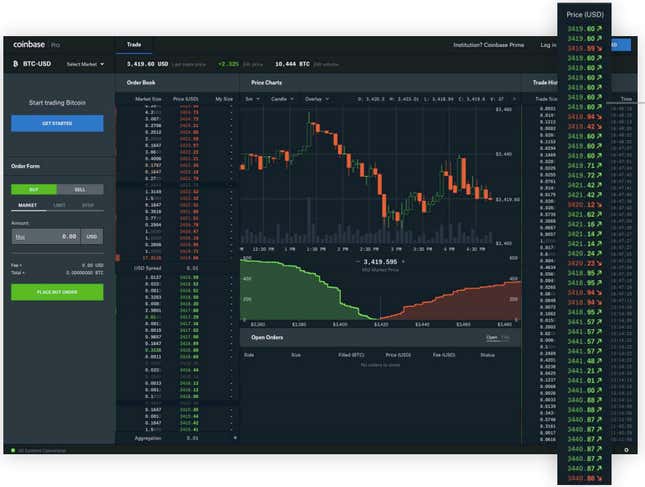 While it's still possible to trade on crypto exchanges with artificial volumes, investors stand a better chance of getting a good price—and good service—from exchanges with legitimate trading activity. CoinBene, the "suspicious" exchange noted above did not reply to a request for comment.