A pilot for a US airline told managers months before October's Lion Air crash in Indonesia that he was uncomfortable with the level of training he had received before he was scheduled to fly the Boeing 737 Max for the first time. But when he asked for more training, he faced difficulties in getting it—and even a form of reprimand.
Like pilots at other US airlines using the 737 Max—which has been involved in two deadly crashes in less than five months that have killed nearly 350 people—this pilot was only required by the US Federal Aviation Administration (FAA) to take a video tutorial on the new jet, as he was already certified to fly earlier variants of the 737 aircraft, on which the Max is based.
The US airline pilot contacted Quartz to detail his experience prepping to fly the Max, but asked for his name and airline not to be identified as he is not authorized to speak to media.
After the Indonesia accident, airlines using the model said they were beefing up their training to cover a new flight system that Boeing had installed in the plane, but which pilots were not informed about until after that tragedy. The model was grounded after last month's Ethiopian Airlines crash. The preliminary report on that crash is due today (April 4), and the aviation community—and lawyers—will be looking closely at the findings.
Boeing already faced lawsuits in the wake of the Lion Air crash. But the Ethiopian disaster has focused attention more closely on the plane's design, and Boeing's training recommendations, increasing the risk it could face a trial in the US. Today (April 4), law firms in the US plan to file the first wrongful death claim on behalf of a US national against Boeing. Sanya Stumo, who died in the March crash, is a niece of one-time US presidential candidate Ralph Nader.
"Just a different airplane"
The pilot Quartz spoke to has about two decades experience with his current airline, and additional experience beyond that. He was assigned a two-hour video tutorial, in line with the FAA's recommendation for pilots certified to fly an earlier variant of the 737, to which the 737 Max is related.
"After completing it, over the next couple of days I got to thinking that, you know, they said it wasn't a different airplane, it was just the same airplane with some differences," he said. "But I went back over my notes, and I went back in the iPad and reviewed some of the information and I realized it was actually, it was the same airframe, but it had different instrumentation, some of the things were in different places, it sat on the ground differently, and it was just a different airplane."
At least two communications sent around by the airline noted pilots would see some differences between what was shown in the iPad tutorial and the actual Max. He told his superiors he wasn't comfortable flying the plane and requested simulator training.
"I was going to see the airplane for the first time 45 minutes before departure, and have 45 minutes to adjust to this new aircraft, after which I was going to have 189 people in the back that I was responsible for," he said. "So I filed a report with the company that I'm not comfortable flying as a pilot in command of this."
His simulator request was denied as the carrier didn't have simulators for the Max—even now, few airlines have Max simulators ready for training. A request to fly with an instructor the first time was also denied initially. Eventually, after a 45-minute conversation with the head of the airline's 737 training department, he said the airline agreed that he could fly with an instructor on his first Max flight, which was scheduled for July between two US west coast cities.
"When we arrived in Los Angeles there was no instructor and so I called the flight duty manager to ask where the instructor was and he said he'd call back," said the pilot. A few minutes later his chief pilot called him to say that he was off the trip if he was unwilling to fly.
"I was punished not just from being taken off the trip and having the pay subtracted from me but by having a 'missed trip' put in my schedule, which is the same as same as not showing up for the trip," he said. "I've never had a missed trip and I was shocked that even though I was sitting in the seat in the airplane when I was taken off the trip, that I was given a missed trip."
The missed trip amounted to about $3,000 in lost pay, as well as being a black mark on his record of reliability. He raised the issue with the union, and filed reports internally and with the FAA. As information about his experience percolated to other pilots, several told him they had shared his concerns on training for the Max. "After this happened it became pretty well known, and since then I've probably had, I'm going to guess, 50 pilots speak to me," he said.
The FAA did not respond to a query on whether, prior to the Lion Air crash, US pilots had expressed concern to the regulator about the level of training they had received on the Max.
"Muscle memory" and the Max changes
The video tutorial assigned to pilots before the Lion Air crash did not cover a new anti-stall flight system capable of sharply pointing the plane downward, whose role was highlighted in the preliminary investigation of that crash. That system is called the Maneuvering Characteristics Augmentation System, or MCAS, for short. Another vital change linked to the new system—that a control column to counteract such maneuvers would no longer work as it used to—was also not communicated to pilots.
"Under normal circumstances, everything's working correctly we can make it work with a high degree of accuracy," said the pilot. "But if something goes wrong and we're looking for something—for example with a fire, or an engine failure—just those extra few seconds looking for the information could cause a problem."
For this reason, he strongly believes simulator training for the Max is vital. "That I think would be the acceptable level of training," he said. "Give me the MCAS scenario just to establish a muscle memory of how to deal with it."
The pilot said his concerns about the 737 Max—which he eventually flew for the first time only in December, less than two months after the Lion Air crash, with an instructor who had also previously not flown the aircraft either—deepened after the Ethiopian disaster, and that he's keenly interested to see what investigators have found.
"I assume every 737 pilot in the world was briefed extensively after the Lion Air crash" to deal with automatic nose-down maneuvers by the flight system, he said. "So I kind of harbor a secret concern that maybe there's something bigger than this and maybe just turning off [switches to override MCAS] isn't going to fix the problem. I hope that's not correct, I hope it will, but part of me says that it's bigger than that and it's not going to work."
The Wall Street Journal reported this week that black-box data shows the Ethiopian pilots had carried out steps (paywall) recommended by Boeing and the FAA in the wake of the Lion Air crash. But they were unable to get the plane to climb again, and appear to have reversed some of them. The plane crashed six minutes after takeoff.
The Seattle Times said that former Boeing engineer Peter Lemme had expressed concern that there might be circumstances in which it is not possible to complete the checklist as prescribed, which involves stabilizing the plane with a control wheel, after flipping two switches to cut power to the MCAS. Forces acting on the plane's tail could potentially become too powerful for the pilots to be able to move the wheel to counter them, Lemme hypothesized.
Separately, a NASA-run database of confidential safety reports from US pilots recorded complaints from at least two pilots who flew the Max who said that they experienced the plane's nose pitching down when they were in autopilot, which they were able to stop by shutting off autopilot. However MCAS is not supposed to activate when pilots are in autopilot mode—only when they are in manual flight mode. Boeing said it could not comment on those reports.
What US airlines said
In order to keep the pilot's identity private, Quartz couldn't seek comment on the specifics of his particular situation from his airline. However, Quartz contacted major airlines that had been flying the Max in the US—American, Southwest, and United—if they had pilots who had requested more training beyond the iPad video tutorial that was assigned prior to the aircraft's induction, and if so, how they were accommodated.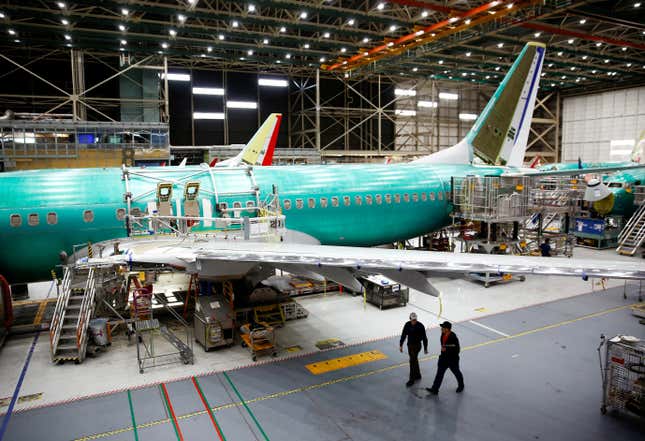 Southwest did not respond to the request for comment.
American referred Quartz to an earlier comment about the training pilots received for the 737 Max, in which it had said:
Boeing 737-800 pilots were required to receive some additional training on the MAX 8, which included an hour lesson on some differences. Additional training was not required, as the 737-800 and the MAX 8 have same type certification.
It also referred Quartz to a November statement in which it said:
We value our partnership with Boeing, but were unaware of some of the functionality of the Maneuvering Characteristics Augmentation System (MCAS) installed on the MAX 8. The work with the FAA and Boeing is on-going, and we will continue to keep pilots informed of any updates.
United said:
Nothing is more important to United Airlines than the safety of our customers and employees. We have been in close contact with investigators as well as Boeing to share data and fully cooperate with regulatory authorities. We have also made clear our pilots are properly trained to fly the MAX safely.
It also shared an update from the union representing United that said:
Since May of 2018, we have flown more than 23,000 hours and analyzed thousands of safety data points in our 737 MAX 9 operation. Not one of these data points has been attributable to performance or mechanical deficiencies. We will immediately relay any pertinent factual information that affects our pilots and will take any action necessary.