Why are airships the dream that never dies?
After three-quarters of a century of neglect, only a few dozen airships remain in the world today. But if two companies succeed, that number will soon double, and airships will be hauling hundreds of tons of cargo from the Arctic to the Amazon.
A rigid framework encasing lighter-than-air gases provided the first powered flight in 1852, and airships were deployed widely in World War I. But they used highly flammable hydrogen to stay aloft, and several dramatic catastrophes—"oh, the humanity!"—had put the giant floating cucumbers in mothballs.
Today's airships use helium to provide their lift. Those remaining in service ply the skies mainly for advertising, research or surveillance purposes. Many are made by Zeppelin Luftschifftechnik, a German company that suceeds the firm founded by Count Ferdinand von Zeppelin, who is credited with inventing the modern airship in 1900 and deploying it in the Germany military. The company made Goodyear's fleet, whose website boasts that passengers riding in them experience "the flight of dreams."
But plans to deploy zeppelins in transit haven't had much luck. In the 1960s, US firm Aereon Corp. attempted to develop a flying "deltoid pumpkin seed" that would use a lighter-than-air vessel's lifting power to bring heavy cargo to hard-to-reach areas, an enterprise that ultimately failed for lack of funds. In 1966, a Boston University professor proposed a never-built nuclear-powered airship for "the jet age." In 2000, another German company, Cargolifter, held an initial public offering to finance its attempt to build a cargo-moving blimp, but was bankrupt by 2002. The enormous dome it built to house its airship has been turned into a tropical spa and resort.
The industrial zeppelin business offers an array of challenges. Between air travel for passengers and sea and rail for freight, there's just not as much demand for airships, which are neither as fast as airplanes nor as capacious as ships and trains. Zeppelins traditionally don't handle heavy weather too well, and aren't that maneuverable. Landings require a large crew of people to assist in pinning to the ground a vessel designed to float away from it.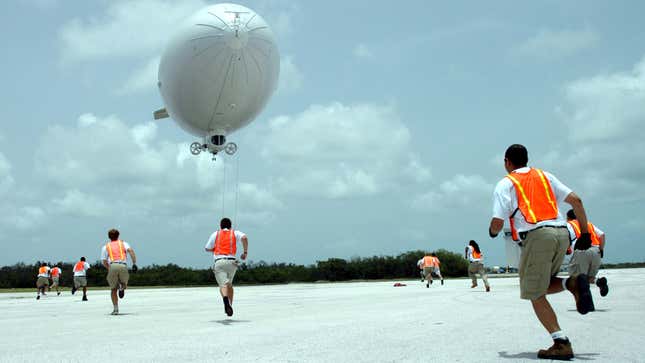 Two companies, Worldwide Aeros Corporation in the United States and Hybrid Air Vehicles in the UK, say they have solved many of these problems. Both have developed airships that require minimal, if any, crew, can haul tons of cargo, and can land and take off almost anywhere without outside assistance, infrastructure or ballast. And these ships are energy-efficient, using a third as much fuel as cargo planes and 10% as much as helicopters to haul the same cargo the same distance, according to the manufacturers. New materials and technology have helped make the difference, including modern meteorology and satellite navigation to dodge heavy weather.
Perhaps more importantly, there is clearer demand for their airships' unique qualifications: Shippers and miners in areas with little infrastructure, like the Arctic, say they could be more economical for moving large cargoes—some of Worldwide Aeros' planned ships can hoist as much as 250 tons (226 tonnes)—than other kinds of transit. They could also carry supplies to disaster areas when infrastructure is destroyed, as many of the Philippines' ports were after Typhoon Haiyan came ashore. And, let's face it, it'll only be a matter of weeks before luxury blimps are the new trend in Silicon Valley and San Francisco.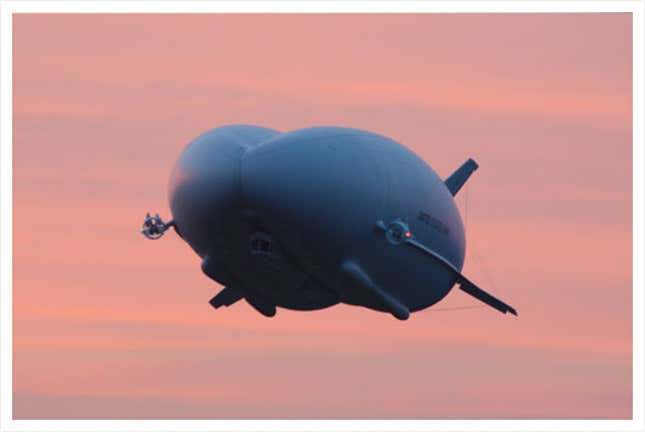 Hybrid Air has built a number of airships, including one for the US military to use in Afghanistan. It has plans to build several more for mining concerns in Canada that could carry as much as 200 tons. It also has built a zeppelin drone—a terrifying concept—which can stay aloft for surveilling for 21 days, or five days with passengers on board.
Worldwide Aeros, meanwhile, has signed deals to manufacture 24 of its Aeroscraft airships larger than the prototype in the video above by 2021. Its partners include Luxembourg's Cargolux Airlines and Icelandair Cargo. The company will provide piloted, 500 foot (152 meter) long, 100 mile-an-hour (160 km/h) blimps-as-a-service. Renting out a 66-ton carrier will cost $25 million for a year's use and the 200-ton model will cost $55 million, according to Frederick Edworthy, the company's head of business development. Aeros, originally founded in Ukraine before its CEO, Igor Pasternak, immigrated to the United States, has already obtained Federal Aviation Administration (FAA) experimental certification for its prototype and hopes to have full FAA certification in 2016, a major hurdle for the new breed of airship.
One of the problems for airship makers is that helium is being used more and more often for a variety of high-tech purposes, sending its prices higher. Those prices almost went up some 35% last September when the US contemplated shutting down its national helium reserve, originally set up in the 1920s when blimps were still strategically important weapons of war. A few days later, US lawmakers reversed the decision.
That was a lucky break for an industry not known for its good fortune. Zeppelins have been the vehicle of the future since the 19th century. Perhaps the time has come for them be more than romantic billboards.