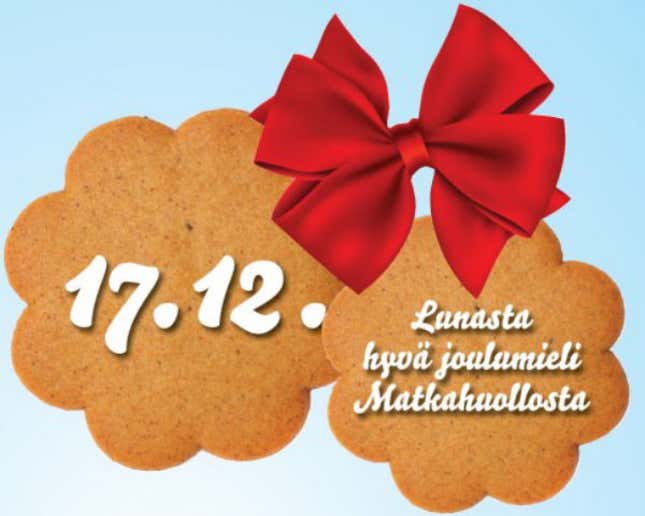 Bitcoin may have its problems, but it is still a more solid alternative currency than one introduced in Finland today.
In a quaint Christmas promotion, Finnish long-distance bus operator Matkahuolto announced that passengers could exchange gingerbread cookies for a one-way ticket to travel today (link in Finnish). The only rules were that the cookie's decoration needed to show the desired origin and destination, and it needed to be edible. Eager bus riders have been posting photos of their creations on Twitter under the hashtag #piparilippu (roughly, "cookie-ticket.") The longest routes run into the hundreds of euros, so taking the time to bake your own ticket could represent a big return.
Demand fast outstripped supply. The bus operator boosted its initial allocation of gingerbread-swappable tickets from 500 to 1,000, but these too were quickly snapped up. Scores of lovingly baked cookies were turned away at the ticket window by early morning (video in Finnish). State-owned broadcaster Yle reported on the travails of one spurned passenger:
"I was up baking the Matkahuolto ticket until 10pm last night, and I woke up today at 6 so that I could get a free ticket to Helsinki," Minna from Jyväskylä told the local Yle service. "Five people were in front of me when they put a note at the ticket desk. I am going to buy a train ticket to Helsinki as a protest."
Disgruntled bakers-cum-bus riders are now taking to Twitter, dubbing the fiasco #piparigate, a strange amalgam of Finnish and Nixonian English terminology. Some put a lot of effort into their "tickets"—a few of the highlights are below. Despite the failure of Finland's limited experiment with a gingerbread-backed monetary system, it did have one clear advantage over more established alternative currency regimes: You can't eat a bitcoin.