The Olive Garden isn't exactly a hotspot for coastal American foodies. But its Italian-themed, family fare has satisfied the tastes of less fussy American diners who appreciate its super-size-me portions and affordability.
And yet, there are limits to a corporate restaurant chain's reach before it loses its brand appeal. At least that's the view of New York-based activist investment fund Barington Capital, which this morning released a new, detailed presentation, pushing for a break-up of Darden Restaurants, the Florida-based owners of the Olive Garden, as well Red Lobster and six other restaurant chains.
Barington argues that Darden has become too complex of a corporate beast; it juggles eight disparate brands with different demographics, price points, menus and marketing needs. As a result, the company, and the Olive Garden in particular, has underperformed restaurant industry peers like Nasdaq-listed chains Del Frisco's steakhouse and The Cheesecake Factory, both in terms of underlying business performance (i.e. same-store-sales growth and profit margins) and shareholder returns.
An example of the Olive Garden's loss of focus, Barington argues, is its widely-ridiculed recent plans to introduce hamburgers to its menu.
Splitting up the company, Barington says, would tighten the focus of the restaurants Darden owns by separating its "mature" chains (The Olive Garden and Red Lobster) from its new, faster growing chains (such as The Capital Grille steakhouse and Yard House, a classic rock-themed eatery).
A good model to follow, according to the investment group, is McDonald's, which has had success in spinning off smaller businesses and focusing on its core operations.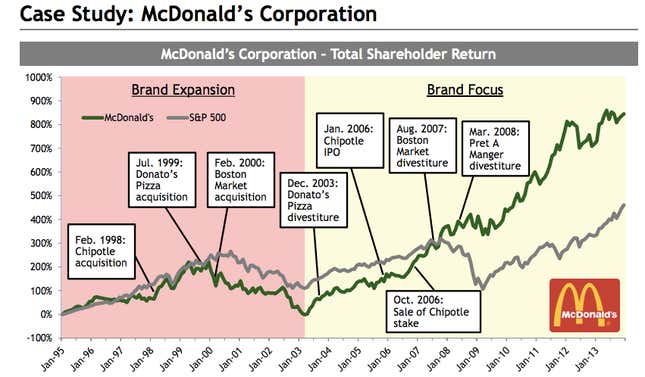 The investment group also suggests spinning off Darden's real estate investment trust, which houses the 1,048 sites Darden owns around the country, plus another 802 buildings it owns on leased ground. Barington says this portfolio could be worth $4 billion, and is undervalued inside the current structure (Darden's market cap is currently less than $7 billion).
Darden has yet to respond to the presentation, but Barington claims that if followed, these initiatives could lift the company's share price to as high as $80 (about 52% above current levels).  For Olive Garden's customers, that might mean fewer so-so hamburgers and more good pastas. Or perhaps not: Barington is also pushing for cost reductions and fewer price promotions, a bad omen for its famed all-you-can-eat soup, breadsticks and pasta bowl deals.