For years China's white-collar tech workers have been some of the most privileged in the country—and were prepared to put in any number of working hours in return. Now, as the economy slows and tech giants announce layoffs, pent-up anger over working hours is bubbling over.
The most prominent protest over work hours is the 996.ICU project launched at the end of March on Microsoft's GitHub code-sharing community. In days, the attempt to catalog companies who demand a 996 schedule—9 am to 9 pm, six days a week—became the site's most book-marked or "starred" project, racking up more than 190,000 stars.
"By following the "996" work schedule, you are risking yourself getting into the ICU (Intensive Care Unit)," says the "996.ICU" project description, whose creators aren't known. It calls on tech workers to add names and evidence of excessive hours to a "blacklist," proposes requiring companies to agree to an "anti-996 license" as a condition for using open-source software, and urges people to "go home at 6 pm without feeling sorry."
Media reports on deaths of young tech workers from heart attacks have also raised concern about the deep-seated culture of overwork, even though it's unclear whether they were related to work stress.
"The overwork culture is rooted in China's tech industry. I worked 996 for nine months. During that time, I had serious insomnia due to the high pressure. So, I quit, " said GitHub member Zhang, a former software developer who put a star on the project to show his support.
Zhang, who asked to be identified only by his last name, said putting the anti-996 complaints on GitHub made sense for tech workers—it's a place they naturally gather, and more importantly, it's not blocked in China given its usefulness to developers and tech firms alike. "If you protest on Weibo or WeChat, more likely it will be controlled by either tech companies or the government," he said.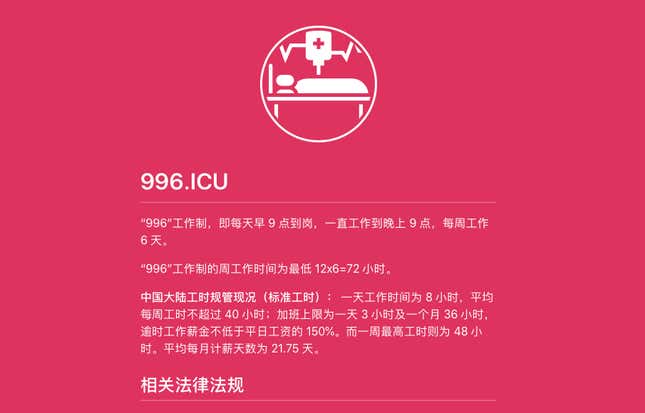 The page has been widely shared in China—on messaging app WeChat,  the microblog Weibo, and the Quora-like Zhihu site (link in Chinese), as well as on professional networking sites. Anonymous workers from nearly 90 companies have posted about how much they work in the name of "flexible working hours." The names of tech majors like Tencent, parent of the ubiquitous WeChat app, and e-commerce giant Alibaba, appeared on the list. The companies didn't immediately reply to requests for comment.
Outside of China, too, the developer community has taken note.
More than 90 projects on GitHub have adopted the "anti-996" license template, which was drafted by Katt Gu, a lawyer focused on advanced technologies who works with Shanghai-based digital privacy start-up Dimension, and Suji Yan, the startup's CEO. (Gu and Yan say they weren't involved in the creation of the 996.ICU project itself.) The license requires companies who wants to use open-source software from those projects to commit to complying with local labor laws and International Labour Organization standards.
"Most people aren't brave enough to use their own strength to fight with the whole company. But if they have a license as a back-up, it will be much easier," Gu told Quartz. It's unclear right now how developers would track or restrict use of their software by companies that don't respect the license conditions.
Given the fate of recent activism over factory workers' rights, the project has been careful to distance itself from politics—and put the focus on Chinese law.
"This is not a political movement. We firmly uphold labor law and request employers to respect the legitimate rights and interests of their employees," says the 996.ICU page.
There are some signals the government is listening—in a Weibo post (link in Chinese) on Friday (April 5), state-run newspaper People's Daily urged authorities to review working hours in the industry: "The legitimacy of the 996 work system is clearly questionable, and it is almost impossible for individuals to say 'no,' to this mechanism."
But it's unclear how much tech firms will or can respond, especially as they face a challenging economic climate (paywall).
A group of people from Shachiku, a Beijing-based WeChat account that's a forum for people with complaints of unfair workplace treatment, went to nine companies on the blacklist at the start of this month in order to submit petitions against illegal overtime, and asked the companies to respond publicly.
Five companies accepted the petition—Alibaba, ride-hailing giant Didi, search engine Sogou, streaming site iQiyi (a subsidiary of Baidu), and online games company NetEase. At Sina, parent company of Weibo, and Bytedance, parent of the TikTok mini-video app, they were unable to get past security. Tencent and search giant Baidu, rejected the effort to submit the petition.
Several tech companies have sent the message that they need more from their workers right now. In a January WeChat post, the founder of e-commerce firm Youzan called on workers to embrace 996 culture. "If you feel no pressure working at a company, you should leave, for your employer is dying," said Zhu Ning, writing under a pen name.
And over the past weekend, logistics and e-commerce giant JD.com, whose name also appeared on the 996.ICU list, said in an internal email it would weed out workers who weren't "fighting hard" regardless of their personal circumstances. "JD.com is a competitive workplace that rewards initiative and hard work, which is consistent with our entrepreneurial roots. We're getting back to those roots as we seek, develop and reward staff who share the same hunger and values," a JD representative told Quartz yesterday (April 8).
In recent days, users have said Chinese domestic browsers, including Tencent's QQ browser, Alibaba's UC browser and Qihoo's 360 browser, have restricted access to the 996.ICU repository, telling users the website contains illegal or malicious information.
"Programmers who demanded work and life balance had to work overtime to block the website," joked a Chinese programmer surnamed Pan.
Echo Huang contributed reporting to this story.