There are 671 Americans who have filed paperwork to run for president in 2020, 654 of whom you probably haven't heard of before.
Even if you're not familiar with them, there's an easy way to sort all of the hopefuls by name, party, campaign funds raised, and how much they've spent so far.
Donald Trump, perhaps the only Republican presidential candidate on most people's radar, has brought in a total of $67.5 million for his 2020 re-election campaign, according to Federal Election Commission filings: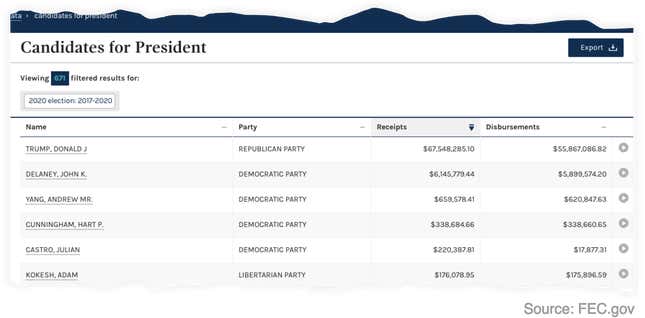 Trump likely won't face much competition from GOP challenger Danny Hawkins Jr., a bellman at the Circus Circus casino hotel in Reno, Nevada, who reports raising $151.97 in contributions and a $213.11 loan, the filings show. The Committee to Elect Danny Hawkins Jr. has spent $326.61 on his run through March 31, which left him with $38.47 in the bank.
Another Republican hopeful, Robert E. Smith of Nevada, Missouri, reports contributions of $785 and expenditures of $781. Smith's FEC filing says he had $5 on hand. The party affiliation of John Edward "Kingtamer" D'Aura is classified by the FEC as "Other," though D'Aura lists it in his handwritten statement of candidacy as "Making America Even Greater." He has not yet raised a dime in this election cycle, according to his FEC filings. (The next filing deadline is April 15, and all figures will be updated to include activity during January, February, and March.)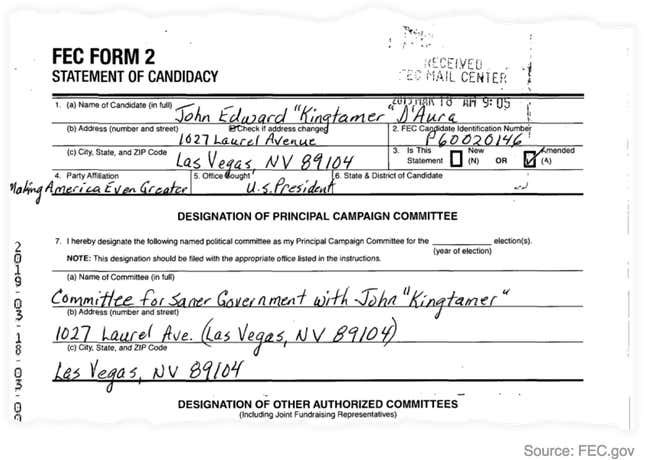 The 16 well-known Democrats who have filed with the FEC include Julian Castro of Texas, John Delaney of Maryland, Bernie Sanders of Vermont, Kamala Harris of California, and Cory Booker of New Jersey. The 200-odd other Democratic challengers are lesser-knowns such as Susanne Atanus of Niles, Illinois, a former Republican who has raised $746 in the current cycle; Ray Seney of East Nassau, New York, who has raised $1,924.33 in contributions and loans, and Stetson Hardwick of Pomona, New Jersey, who has raised $100.
Paperwork has been filed for three Communist Party candidates. One is registered with the FEC as "Chiyo Mihama," a fictional Japanese anime character, and another goes by "Pew Die Pie," the name of a Swedish YouTube star with documented neo-Nazi tendencies.
All 671 of the 2020 candidates can be sorted by name, party, and receipts on the FEC website.