US Customs and Border Protection (CBP) is at a "breaking point" as it faces an "unprecedented humanitarian and border security crisis," Brian Hastings, CBP's chief of law enforcement operations, said recently. In February the agency apprehended 76,000 people at the southern border, including 36,000 traveling with family members—the highest number in 12 years. CBP expects to make 150,000 arrests at the southern border in April.
CBP says its existing facilities weren't built to accommodate this many people. Detention centers in the El Paso area are reportedly at operating at triple or even quadruple their maximum capacity, and the agency was pilloried for temporarily housing thousands of migrants, including children, in a holding pen underneath a bridge in near-freezing temperatures. The detainees were later moved to indoor facilities at local shelters and a nearby US Border Patrol station.
CBP is now expanding its capacity to take custody of even more people, spending as much as $37 million over the next eight months to build two new tent cities for children and families detained in Texas, according to a newly-issued federal contracting notice reviewed by Quartz.
The work order says the "temporary (8 months) soft-sided facilities" will be located in Donna, TX and El Paso, TX and are meant to give CBP "additional capacity to accommodate family units and UAC [unaccompanied children] arriving in surging numbers to the southwest border," housing up to 500 people at each location.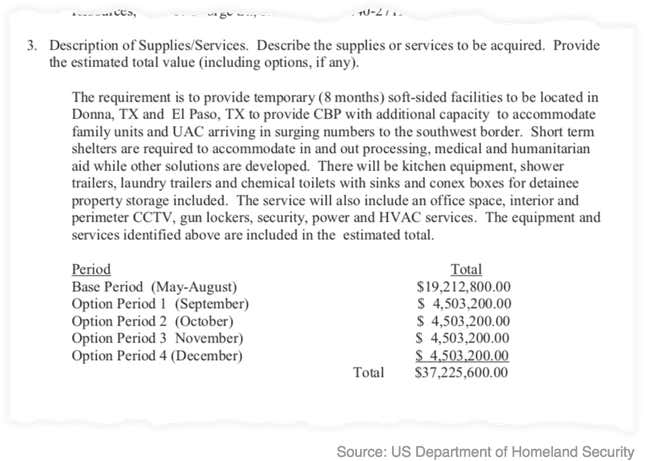 "These facilities will provide temporary housing, meals, showers, clean clothing and medical area for the family units and UACs," CBP says in an attached document, allowing "35 square feet per detainee of open space plus 12 square feet to account for sleeping mat space."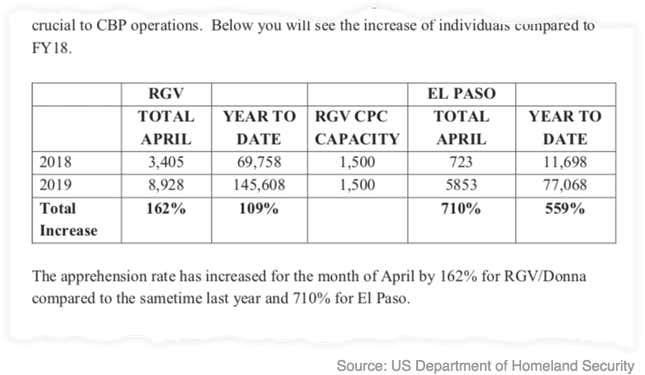 CBP says kitchen equipment, shower trailers, laundry trailers, chemical toilets with sinks, and shipping containers for "detainee property storage" will be provided. The contract also includes office space for border enforcement officials, surveillance cameras both inside and outside the facility, security guards, electricity, HVAC services, and gun lockers.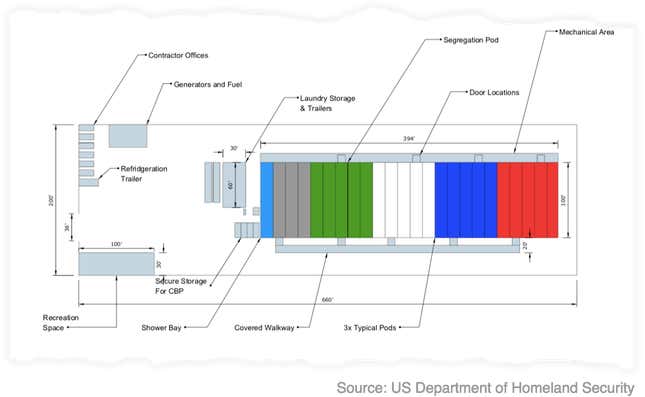 CBP's filing justifies awarding the job to a company the agency has worked with before because it "has the knowledge and resources to meet our target date" of April 30. "If the Government was to compete the services, it would delay the ability to provide the humanitarian and medical aid to the migrants that can lead to some [sic] death."
The same contractor, Deployed Resources of Rome, NY, has "historial [sic] experience with CBP [having] set-up two temporary soft-sided facilities for BECD [Border Enforcement Contracting Division] in 2016."
The 2016 Donna tent city cost just $3.8 million, per immigration officials cited at the time by the San Antonio Express-News. CBP officials were not immediately available for comment; this post will be updated if/when they respond.
Read the full text of the new CBP contracting document here: